Risk: How much can you take?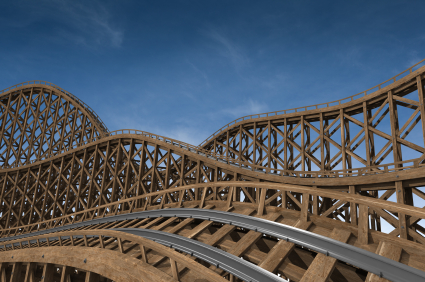 By Alexis Kobin
Financial markets are becoming a stronger test for weak stomachs. The Volatility Index, which measures investors' fear of losing money, surged 20% on as many days in the last three years, as it did in the 17 years before that.
Before you ride that rollercoaster, you need to prepare yourself.
How did the volatility in the markets over the last few years make you feel? Did you lose sleep? Were you mildly bothered but confident that the market would eventually right itself? The lure of potential gains has clouded investors' vision in the past, but recent realities have started to clear their view. The Great Recession has forced many investors to rethink what level of investment risk they're comfortable with.
Risk tolerance refers to investors' ability to bear the effect of market volatility on their portfolio balances. If you haven't already, you should begin reassessing your risk tolerance because the increased market volatility that we have been experiencing may continue.
To help you think about it, consider these four categories of risk tolerance:
Conservative – Conservative investors are typically content with minimal returns in exchange for minimal exposure to investment loss. They are willing to give up potential returns because they are not comfortable with risking losses.
Individuals who fall into this category include retirees who are pulling income from their investments and are on a limited budget. Individuals who cannot emotionally handle seeing their portfolio balances go down each month also are included.
Example types of investments: High-quality short- to intermediate-term bonds
Moderately Conservative – Moderately conservative investors have the ability to take on slightly more risk for the possibility of higher returns. But they are still uncomfortable with huge swings in the market.
Individuals who fall into this category include those who are retired and pulling income from their portfolio as well as the 'almost retired' who are planning to retire soon or one spouse is working while the other is fully retired.
Example types of investments: Primarily high-quality bonds with a smaller percentage in core equity positions as well as inflation-tracking investments.
Moderately Aggressive – Moderately aggressive investors will seek above-average returns in exchange for a fair amount of risk. They are able to manage their feelings toward market volatility.
Individuals who fall into this category usually are still working, in retirement savings mode, and have a decent amount of time before retiring.
Example types of investments: Portfolios are weighted more heavily toward equities. They still maintain a mix of mid- to high-quality bonds. The equity side of the portfolio may contain some riskier asset classes such as mid-cap and small-cap funds.
Aggressive – Aggressive investors focus on return. They understand that they could see substantial declines in their portfolio on occasion but aim to position themselves for larger potential gains in a positive market.
Individuals who fall into this category are typically younger individuals who have a long time to recoup any losses and likely haven't yet experienced a significant downturn in the market, unlike more seasoned investors.
Example types of investments: Portfolios again are more heavily weighted in equities, and in addition to the traditional asset classes, they are significantly growth-focused. These investors are comfortable holding a larger percentage of small-cap and mid-cap funds in addition to some ETFs or individual stock positions. The fixed-income securities that they hold are usually more aggressive, seeking higher returns in exchange for a larger potential loss.
Which category do you fit into?
It's tough to be honest with yourself, but the key to responsibly attain your goals without feeling too much pain is to focus on the long-term performance rather than quarterly statements.
Speak with your advisor about your risk tolerance and how it aligns with your financial goals. Sometimes your expectations are reasonable, and sometimes they are not, but it's your advisor's responsibility to help you think realistically and to keep you focused.
Few things are for free and very few rewards come without some risk. It is the same in investing. Here are some important questions to ask yourself:
How much stress am I willing to take on to meet my goals? The greater your capacity to withstand a volatile market, the greater your ability is to take on more risk.
How much risk is appropriate to meet my goals? Some investors take on more risk than they are comfortable with because they feel it's the only way to meet their goals. In that case, you may want to adjust your goals. Discuss this with your financial advisor.
Do I understand what I am invested in? Understanding that different assets play different roles in your portfolio performance can help you tolerate some of the market volatility.
Am I losing sleep at night? If you're so stressed that you're being affected physically, contact your advisor. You may need to make some adjustments to your portfolio.
Communicating with your financial advisor is important because advisors will better understand your attitude toward risk, which ultimately will help them recommend investments that fit your comfort level as well as your time horizon to meet your investment goals.
Alexis Kobin is an associate at Landaas & Company.
Read more Please click here for an article about risk tolerance from the Financial Industry Regulatory Authority.
initially posted Aug. 16, 2012
Landaas newsletter subscribers return to the newsletter via e-mail.