Life After Debt Deal
Podcast: Play in new window | Download
Subscribe: iTunes | Android | Google Play | RSS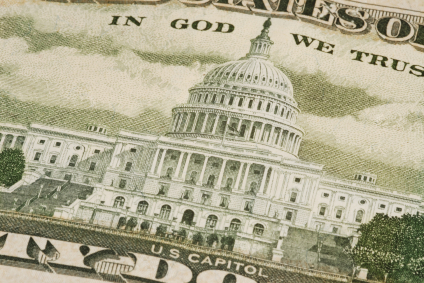 By Joel Dresang                        
Stock market valuations took off on news that the high-stakes political standoff on the federal debt ceiling was ending. Then suddenly the markets fell on another report signaling that U.S. economic growth was slowing.
Such concerns shouldn't unhinge long-term investors focused on corporate earnings and interest rates, Brian Kilb, executive vice president and chief operating officer of Landaas & Company, said in a Milwaukee radio interview.
Click the audio player above to hear the interview, from Aug. 1, 2011.
"In the long run, what matters in the markets is interest rates and earnings. So pretty much anything you tell me about the economy or about politics or anything above and beyond interest rates and earnings, in the long run, isn't going to matter – unless it affects those two things," Brian told talk show host Ted Kanavas at WISN-AM (1130).
For weeks prior to the deadline for raising the federal debt ceiling, Bob Landaas was pooh-poohing the political drama and pointing to lower yields on the 10-year Treasury note as a sign that the showdown in Washington mattered little to serious investors.
"I've been through this time and time and time again only to find that at the last minute, Congress raises the debt ceiling and nobody brings it up anymore," Bob said in a previous article. "The financial markets are telling you that they think this is a non-event."
To read more, please click here.
"We're in an incredibly low interest rate environment, with earnings numbers from the last quarter that I think were stronger than most people would think," Brian said.
"We have an earnings forecast for next year that shows 14 percent growth in earnings, as we sit now. So if you're me sitting here today looking just at interest rates and earnings of stocks, you have reason to be pretty optimistic."
Asked for his perspective, Brian said he considered the debt-limit agreement – which includes spending cuts and a bipartisan commission to recommend longer-term policies – as an early step in a necessary process.
"In the short run, in the day-to-day, in the week-to-week, it's very political. And I think people overreact to it. Certainly, our inability to manage a balanced fiscal budget is a huge problem in the long run, but I think we know that," Brian said. "As long as I see progress in the long run, I'm going to continue to remain optimistic that we're moving in the right direction."
Joel Dresang is vice president of communications at Landaas & Company.
initially posted Aug. 2, 2011
Landaas & Company newsletter subscribers return to the newsletter via e-mail.