Not every investor's target funds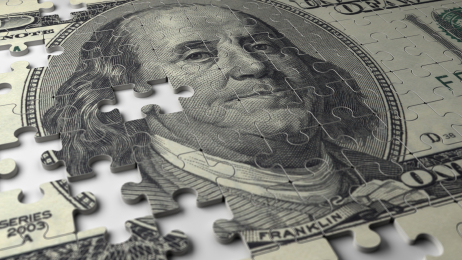 By Paige Radke
Research shows that asset allocation accounts for approximately 90% of an investment portfolio's variations in total return over time. How you divide your investment portfolio across asset classes is the "million-dollar question."
To achieve optimal asset allocation, many investors default to what is known as a hybrid fund. While these mutual funds provide investors with the benefit of ease of use, easiest is not always the best option for your investments.
A hybrid fund is a type of mutual fund where managers intertwine a stock component with a bond component (and sometimes other asset classes) to create a single diversified portfolio. According to data from the Investment Company Institute, the number of hybrid mutual funds has grown more than 30% since 2000, while the number stock funds and bond funds combined has increased by less than 2%. Hybrid funds may also be known by common subcategories, including balanced funds and asset allocation funds.
Balanced funds
Most balanced funds share one or more of a three-part objective of conserving principal, providing income and achieving long-term growth. These funds are required to adhere to a set mix of stocks for long-term growth and bonds for conserving principal. Balanced funds have become increasingly popular, with new annual sales going from $4.1 billion in 1984 to $319 billion by 2014.
Morningstar divides balanced funds into three primary categories based on risk objectives:
Conservative funds generally allocate 20-50% to stocks.
Moderate allocation balanced funds allocate between 50% and 70% to stocks.
Aggressive funds typically hold 70-90% in stocks.
Asset allocation funds
Asset allocation funds employ a specifically defined weighting of asset classes that changes over time. The most common asset allocation funds are target date funds. They are often the go-to initial investment for 401(k) retirement saving plans. Target date funds assume you will retire in a certain year, and they use a formula to adjust your asset allocation as you near retirement, when presumably you become less tolerant of risk.
Target date funds were introduced in 1994 as a simplified choice for 401(k) plans and are becoming more widely used. According to the Investment Company Institute, assets in these funds grew from $487 million in 1995 to over $702 billion by 2014.
Some of the primary benefits of hybrid funds are that they are easy to understand, they provide a relatively fixed mix of stocks and bonds, many have long track records and they eliminate the need to pick separate stock funds and bond funds.
Since many of the advantages of hybrid funds come from their ease of use, they make the most sense for investors who seek balance but may not yet be familiar with the workings of the market or desire a hands-off approach to investing.
For all their convenience, hybrid funds do not have a place in all portfolios – especially for more sophisticated investors. The one-size-fits-all approach does not work for everyone.
When investing in a hybrid fund, you give up the freedom to change the allocation, specifically when it comes to the type of stocks and bonds being used. Furthermore, there is a lack of extensive asset class diversification beyond stocks and bonds. This is especially important during times when the stock market is correlated to the bond market and alternative asset classes can provide additional protection.
A key disadvantage to hybrid funds is that they are not a substitute for safe money. Since hybrid funds contain both a stock component and a bond component, they are subject to volatility of both the stock market and the bond market.
By breaking up your investment allocation into separate funds for each asset class, you have a clearer view of where your portfolio return is coming from. You also have the flexibility to react to shifting market cycles by rebalancing your asset allocation.
Since asset allocation is a significant factor in determining the return of a portfolio, it is no wonder investors have turned to hybrid funds for both diversification and ease of use.
Hybrid funds can help investors who are just starting out and have not yet accumulated the wealth or sophistication to diversify among multiple types of funds. They can also be used for investors who desire a hands-off approach to investing, which is why hybrid funds are often found in the list of options for 401(k) plans.
Hybrid funds could have a place as part of the portfolio of more seasoned investors, but they are no substitute for an allocation tailored to the needs of an individual.
Paige Radke is an associate at Landaas & Company.
(initially posted July 30, 2015)
More information and insight from Money Talk
Landaas newsletter subscribers return to the newsletter via e-mail.