Learn Before You Leap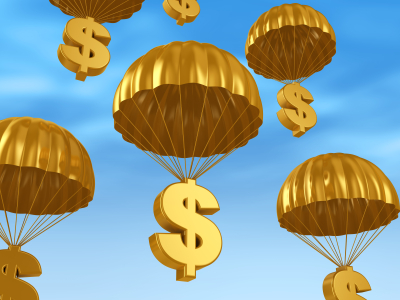 By Bob Landaas
The time to learn how to parachute is not after you jump out of the airplane. Learn to do it before. The same is true with portfolio management. Don't learn risk control after the markets have gone down. Learn it ahead of time.
Investors need to focus on the actual performance of their own portfolios and not react to what's going on around them. The whole concept of asset allocation is to be properly balanced before the storm comes. For many investors, the gains in their bond portfolios so far this year have almost offset the loss in their stock portfolios.
For example, one couple I met with recently had 48% of their account in stocks, the rest in bonds. On balance, their portfolio was up 0.4% from the beginning of the year through mid-August. During the same period, the S&P 500 stock index was down more than 5%.
Correlation theory is working. Certain asset classes tend historically to move in opposite directions.
We had a significant run-up in bond prices. That's the way it's supposed to work. If stocks get clobbered, bonds are supposed to go up, and that's exactly what has happened this year.
Learn more about asset allocation from the Financial Industry Regulatory Authority by clicking here.
If you could look at your portfolio separated between stocks and bonds, you've got half that's like watching grass grow and you've got half that jumps around. For most of our clients with a balanced portfolio of half stocks, half bonds, along with our standard 5% withdrawal for retirees, they're typically not going to need money from their stock allocations for more than 10 years.
The financial markets are working the way they're supposed to, which means ultimately stock prices follow earnings.
It's critically important for investors to focus on fundamentals at this point. Since the beginning of July, earnings estimates have actually increased for yearend 2011. Earnings are supposed to go up 17% this year, 14% next year and 11% the year after that. Should this occur, it ultimately will force stock prices higher.
We learned from Harry Markowitz in his 1990 Nobel Prize study on investment success, only 8% of how well you do is stock selection and market timing because the obvious problem is that it's almost impossible to pick the bottom.
There have been eight significant selloffs since I started managing money in the mid-1970s. We recovered from every one of them. Studies have clearly shown that those who get out get hurt. It's all a matter of planning ahead – not panicking too late.
Bob Landaas is president of Landaas & Company.
initially posted Aug. 25, 2011
Landaas & Company newsletter subscribers return to the newsletter via e-mail.