Counting steps vs. watching portfolio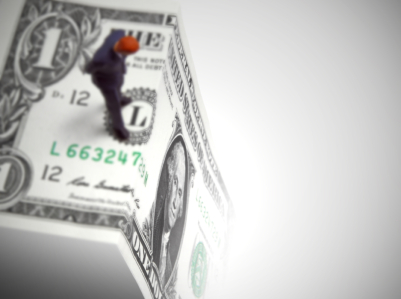 By Joel Dresang
I have one of those apps on my smartphone that counts every step I take and tracks the daily total and calculates the daily average per month.
Recently, I used an elliptical machine and placed my phone in the phone holder, so it didn't give me credit for the workout. I complained to my wife afterward, and she asked why I even counted steps. Because I'm empirically driven, I replied.
It turns out that's a thing. Sometimes called Pearson's Law, the notion is that you can improve performance by measuring it and reviewing the measurements. So, if I'm tracking my steps, I'm more conscientious about taking more.
Checking grades
The same day that I cheated myself out of steps on my app, a message from my daughter's high school prompted me to connect to her academic information online. Schools maintain websites where you can monitor a student's performance and progress, seeing what scores they earned on each assignment and how those points count toward their eventual grades.
I needed the prompt because I rarely bother to think about my daughter's assignments or scores or even her overall grades. It's not that I don't care. It's more that I trust her to know what she needs to do or to seek help if she feels she needs it.
Every school year, my wife and I attend teacher conferences to discuss expectations and offer support. I often feel the web-based student information system is intrusive, but it provides a convenient way for us to keep in touch.
Monitoring investments
Data are available daily to show how our investment accounts and their components are performing compared to the day before or since last month or any number of years earlier.
Like my daughter's school information, I need to be reminded to review our portfolio.
Again, it's not that I don't care how our investments are doing. It's more that I trust the allocations we agreed on with our advisor, and I trust our advisor to offer and communicate adjustments as needed. I'll still pay attention, of course, and make observations and ask questions, but I'm not inclined to let a periodic report spur me to demand radical changes.
Controlling behavior
The difference between my step counter and the high school website is that I can control one much more than the other. Sure, I could spot a particular concern in my daughter's scores and address it with her or even escalate it into a conversation with her teacher. But I can't take her tests for her. No one would want that.
As opposed to Pearson's Law telling us to follow the numbers, there is a growing body of research in behavioral economics that warns investors against checking their investments too frequently.
In 2002, the Nobel Prize for Economic Sciences went to a psychologist, Daniel Kahneman, who with Amos Tversky, showed that investors can make seemingly irrational decisions against their own interests.
More recent research being done by Michaela Pagel, at Columbia University, suggests that, in fact, most investors would be better off paying relatively little attention to their portfolios.
Pain moves us more than gain, behavioral economists have found, so sensing a dip in our holdings is apt to scare us into abandoning assets that were meant to benefit us in the long run.
For instance, investors sold off more than $500 billion in U.S. stock funds in the five years that began with the 2008 financial crisis. They were still bailing out of stocks when the market bottomed out in March 2009, and they missed out on the first few years of the longest bull market in history.
As investors, we're always hearing about buying low and selling high, not putting all our eggs in one basket, making a plan and sticking to it.
Apparently, there's something to be said too for the warning, "Don't look down," which individuals are advised when they find themselves atop a lofty perch and an unfamiliar perspective could panic them into a costly misstep.
Of course, everyone should periodically review their portfolio – at least annually, Art Rothschild says, in order to check that allocations are keeping balanced. Focusing on balance, Marc Amateis adds, can help prevent you from making rash decisions if you look at your portfolio more frequently.
Technology allows me to obsess about counting my steps or monitoring my daughter's classwork. But just because I can doesn't mean I should. At the same time, round-the-clock access to dizzying amounts of data about my investments is nice to have – as long as I control my intake.
Joel Dresang is vice president-communications at Landaas & Company.
Learn more
Why investments outperform their investors, a Money Talk Video with Kyle Tetting
5 ways rebalancing calms anxious investors, a Money Talk Video with Marc Amateis
When Should I …rebalance my portfolio, by Art Rothschild
The Importance of Balance for Investors, a Money Talk Video
What investors need to know about volatility, from the Financial Industry Regulatory Authority
Your one-minute guide to stock volatility, from the Financial Industry Regulatory Authority
Joel Dresang is vice president-communications at Landaas & Company.
(initially posted January 29, 2019)
Send us a question for our next podcast.
Not a Landaas & Company client yet? Click here to learn more.
More information and insight from Money Talk
Money Talk Videos
Follow us on Twitter.
Landaas newsletter subscribers return to the newsletter via e-mail.