Money Talk Podcast, Friday Oct. 21, 2022
Podcast: Play in new window | Download
Subscribe: iTunes | Android | Google Play | RSS
Landaas & Company newsletter  October edition now available.
Advisors on This Week's Show
Week in Review (Oct. 17-21, 2021)
Significant Economic Indicators & Reports
Monday
No major announcements
Tuesday
The Federal Reserve reported that industrial production rose 0.4% in September and capacity utilization remained above its long-term average for the seventh month in a row. The capacity rate, the highest since March 2008, was another sign of inflation because traditionally companies raise prices as they run out of ability to keep up with orders. The monthly report showed production rebounding after a slight decline in August. Factories increased output for the third month in a row, although the pace of such growth slowed in the third quarter, and the production of consumer goods declined. The capacity rate for manufacturing remained above its 50-year average for the 12th month in a row.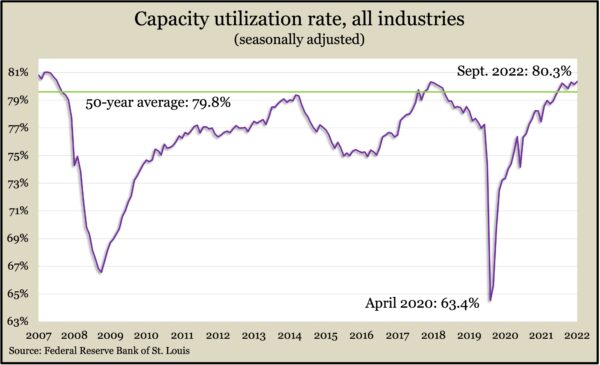 Wednesday
The U.S. housing market continued to cool in September as the pace for both housing starts and building permits slowed from post-financial crisis highs reached earlier in the year. Figures from the Commerce Department showed new construction below its pre-pandemic rate for the third month in a row. Starts for single-family houses dipped to their lowest level since May 2020. Housing permits, an indicator of commitments to future homebuilding, rose from their pace in August but only for multi-family units. Single-family housing permits dropped for the seventh month in a row. And though new construction has been slowing, the report showed that the rate of houses under construction reached 1.7 million units in September, the highest in data going back to 1970.
Thursday
The four-week moving average for initial unemployment claims rose for the third week in a row and was 11% higher than its low point just before the pandemic. Still, the measure of employers' reluctance to let workers go was 43% behind the long-term average, dating back to 1967. According to Labor Department data, total jobless claims fell to 1.2 million in the latest week, down 2.5% from the week before. The year before, total claims reached 3.3 million.
The pace of existing home sales continued sinking in September as mortgage rates rose.  Houses sold at an annual rate of 4.7 million, down 1.5% from August and down 24% from September 2021, the National Association of Realtors reported. It was the slowest pace in a decade. The trade group said despite weakened demand, inventories remained low. One in every four houses sold in September went for more than the asking price. The median price was $348,800, decreasing for the third month in a row from a record $413,800 in June. The median price in September was 8% higher than the year before, marking a record 127 consecutive months of year-to-year price increases.
The Conference Board said its index of leading economic indicators declined 0.4% in September, deepening a negative trend that suggests a U.S. recession before the end of the year. The business research group said its index was down 2.8% in the last six months, following a 1.4% gain in the previous six. Citing high inflation, slowing job growth and rising interest rates, the group forecast a 1.4% economic expansion for 2022 with further slowing into the new year.
Friday
No major announcements
MARKET CLOSINGS FOR THE WEEK
Nasdaq – 10860, up 538 points or 5.2%
Standard & Poor's 500 – 3753, up 170 points or 4.7%
Dow Jones Industrial – 31083, up 1448 points or 4.9%
10-year U.S. Treasury Note – 4.21%, up 0.20 point
Not a Landaas & Company client yet? Click here to learn more.
More information and insight from Money Talk
Money Talk Videos
Follow us on Twitter.
Landaas newsletter subscribers return to the newsletter via e-mail.