Money Talk Podcast, Friday Oct. 14, 2022
Podcast: Play in new window | Download
Subscribe: iTunes | Android | Google Play | RSS
Landaas & Company newsletter  October edition now available.
Advisors on This Week's Show
Week in Review (Oct. 10-14, 2022)
SIGNIFICANT ECONOMIC INDICATORS & REPORTS
Monday
No major announcements
Tuesday
No major announcements
Wednesday
Prices on the wholesale level rose in September, the first increase in three months and another reminder of stubbornly high inflation. The Bureau of Labor Statistics said its Producer Price Index rose 0.4% from August largely affected by higher costs for services as well as increases for food and home heating. The core index number, which excludes volatile prices for food, energy and trade services, also rose 0.4%. Compared to the year before, the PPI gained 8.5%, slowing for the third month in a row and the lowest wholesale inflation since July 2021. Core PPI rose 5.6% from September 2021, the same as in August; that was down from as high as 7.1% in March.
Thursday
The Bureau of Labor Statistics said its Consumer Price Index rose at a slower annual pace, though its core rate increased at its fastest since 1982. Considered the broadest measure of inflation, the CPI gained 0.4% from August, led by higher prices for shelter, food and medical care. The core rate, stripping out volatile costs for food and energy, increased by 0.6%. Year to year, headline inflation rose 8.2%, its lowest since February. The core CPI was up 6.6% from the year before, the biggest gain since August 1982. The core increase was led by a 15% rise in shelter costs and a 9% gain in new car prices. Based on CPI data, the Social Security Administration announced an 8.7% adjustment to benefits in 2023. That was the biggest raise for Social Security recipients since an 11.2% boost in 1981.
The four-week moving average for initial unemployment claims rose for the second week in a row but also the second time in nine weeks. Claims averaged 211,500 in the most recent reading from the Labor Department, 43% below the 55-year average. Altogether, more than 1.2 million Americans claimed jobless benefits in the most recent week, up 0.6% from the week before but one-third of the 3.6 million claims one year earlier.
Friday
With consumer spending driving about 70% of the U.S. gross domestic product, no change in retail spending in September suggests at least a momentary pause in momentum. Of 13 retail categories, seven experienced lower sales in September, the Commerce Department reported. Among the decliners were gas stations, electronics and appliance centers and furniture stores. Bars, restaurants and grocery stores were among the top gainers. Adjusted for inflation, retail sales fell for the fifth time in seven months and were 13% above the level just before the COVID-19 pandemic.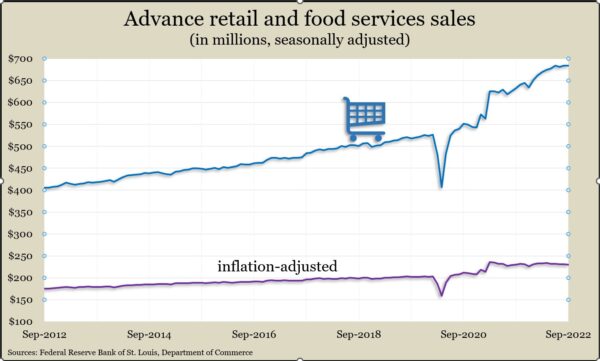 A preliminary October reading of consumer sentiment suggested that uncertainty continued to dampen outlooks. The survey-based index from the University of Michigan rose marginally from September furthering a gradual recovery from an all-time low in June. suppress expectations amid lingering coronavirus concerns and supply-chain disruptions. Opinions of current conditions rose slightly, but expectations stayed low because of doubts about prices, economies and financial markets globally. Anticipation of higher gas prices in the next year rose for the first time in three months.
MARKET CLOSINGS FOR THE WEEK
Nasdaq – 10321, down 331 points or 3.1%
Standard & Poor's 500 – 3584, down 56 points or 1.5%
Dow Jones Industrial – 29644, up 347 points or 1.2%
10-year U.S. Treasury Note – 4.01%, up 0.13 point
Send us a question for our next podcast.
Not a Landaas & Company client yet? Click here to learn more.
More information and insight from Money Talk
Money Talk Videos
Follow us on Twitter.
Landaas newsletter subscribers return to the newsletter via e-mail.