Money Talk Podcast, Friday May 26, 2023
Podcast: Play in new window | Download
Subscribe: iTunes | Android | Google Play | RSS
Landaas & Company newsletter  June edition now available.
Advisors on This Week's Show
Week in Review (May 22-26, 2023)
Significant Economic Indicators & Reports
Monday
No major reports
Tuesday
The annual sales rate of new houses increased un April for the third month in a row and was up nearly 12% from the year before. The pace was 2% below where it was at the onset of the COVID-19 pandemic and down 33% from its recent peak in late 2020. The Commerce Department said the median price fell 8% from April 2022 to just under $421,000.
Wednesday
No major reports
Thursday
The four-week moving average for initial unemployment insurance claims was unchanged with just one increase in the last six weeks, according to new data from the Labor Department. An indication of employer reluctance to let workers go, the moving average was down 37% from its long-time average going back to 1967. Some 1.6 million Americans received jobless benefits in the latest week, down 2.8% from the week before but up 24% from the year before.
The U.S. economy grew slightly faster than initially estimated in the first quarter, rising at an annual rate of 1.3%. At first, the Bureau of Economic Analysis figured gross domestic product grew at a 1.1% annual pace, but consumer spending, exports, government spending and commercial investments increased more than estimated. Offsets occurred in part through declines in inventories and decreased residential spending – for the eighth consecutive quarter. The inflation-adjusted level of GDP was up 1.6% from the first quarter of 2022 and was 6.8% above the pre-pandemic peak. The Federal Reserve Board's preferred inflation indicator showed a 4.2% increase from the year before, unchanged from previous estimates.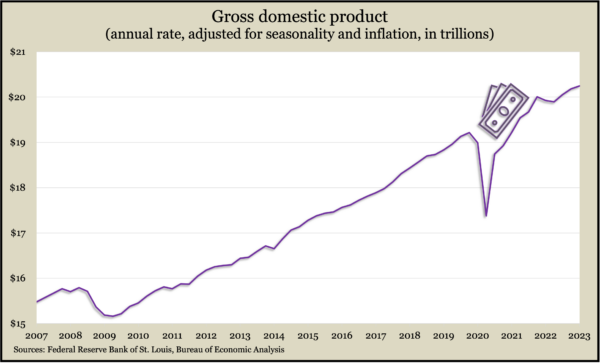 The National Association of Realtors said its pending home sales index was unchanged in April but down more than 20% from April 2022 and down about 21% from what the trade group considers normal. The association blamed limited inventory and affordability challenges for a lull in commitments from homebuyers. Having more houses for sale, the Realtors said, would spur sales.
Friday
The Bureau of Economic Analysis said consumer spending rose 0.8% in April, the fourth gain in a row and the highest since January. Personal income meanwhile rose 0.4%, sending the personal saving rate down to 4.1% of disposable income, the first dip in seven months. In the same report, the Federal Reserve's preferred gauge of inflation rose 4.4% from April 2022, up from 4.2% in March. That's down from a four-decade high of 7% last June but more than double the Fed's long-term target of 2% inflation.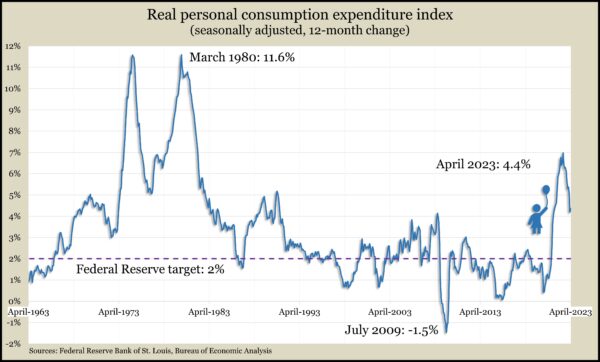 A precursor to spending, consumer sentiment, declined further in May, erasing half the gains made since hitting an all-time low last June. The University of Michigan said descending sentiment mirrored how consumers reacted to the partisan debt ceiling standoff in 2011. Surveys showed consumers steady on inflation expectations and personal financial outlooks but worried that a recession would inflict lasting pain.
The Commerce Department said military aircraft boosted durable goods orders 1.1% in April. Excluding the volatile transportation sector, orders slipped 0.2%; excluding military equipment, orders declined 0.6%. Since April, total orders rose 2.6% but were up just 0.3% excluding transportation and up 1.1% excluding defense orders. A proxy for business investments rose 1.4% from March and was up 2.7% from April 2022.
MARKET CLOSINGS FOR THE WEEK
Nasdaq – 12976, up 318 points or 2.5%
Standard & Poor's 500 – 4205, up 13 points or 0.3%
Dow Jones Industrial – 33093, down 333 points or 1.0%
10-year U.S. Treasury Note – 3.81%, up 0.17%
Not a Landaas & Company client yet? Click here to learn more.
More information and insight from Money Talk
Money Talk Videos
Follow us on Twitter.