Money Talk Podcast, Friday July 28, 2023
Podcast: Play in new window | Download
Subscribe: iTunes | Android | Google Play | RSS
Landaas & Company newsletter  August edition now available.
Advisors on This Week's Show
Week in Review (July 24-28, 2023)
SIGNIFICANT ECONOMIC INDICATORS & REPORTS
Monday
No major releases
Tuesday
The year-to-year change in residential prices declined in May for the second month in a row. The S&P CoreLogic Case-Shiller national home price index fell 0.5% from the year before, compared to a 0.1% decline in April. Month to month, though, prices have been rising, prompting an S&P housing analyst to suggest that a deceleration in price increases that began last June bottomed out in January. For the first time in five years, cold-weather cities — Chicago, Cleveland and New York — topped the locations posting the highest price increases.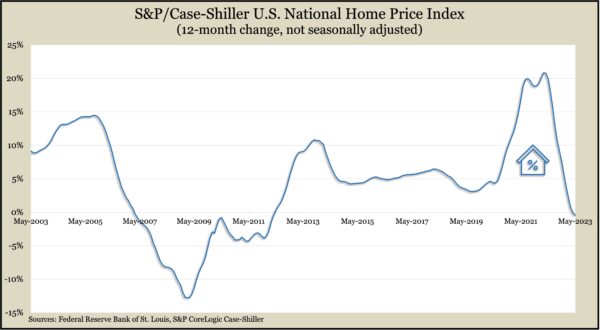 The Conference Board said its consumer confidence index rose to its highest level in two years. The business research group said slowing inflation and a tight job market boosted consumers' views of current conditions and their outlooks. Consumer near-term expectations exceeded a level historically linked to recession, the Conference Board said. Even so, the organization repeated its forecast for a U.S. economic downturn by the end of the year.
Wednesday
The annual rate of new home sales fell in June, dropping 2.5% from May's pace but up 24% from June 2022, when mortgage rates were starting to rise. The Commerce Department reported that the inventory of unsold houses improved marginally from May, when it was the lowest level in more than a year. The median price of new houses was $415,400, down 4% from the year before.
Thursday
U.S. economic growth accelerated in the second quarter of 2023. According to an advance report on gross domestic product from the Bureau of Economic Analysis, the economy expanded at an annual rate of 2.4% from the first three months of the year, up from a 2% pace in the first quarter. Faster growth was attributed to businesses investing in their operations and building inventory. Adjusted for inflation, real GDP was up 2.6% from the same time in 2022. Housing investments fell for the ninth quarter in a row. The PCE inflation index rose 4.4% from the second quarter of 2022, the lowest in two years.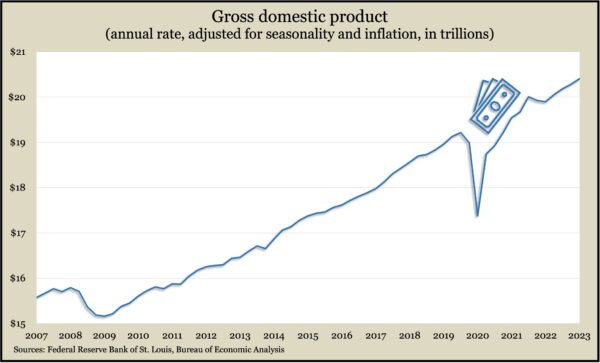 The four-week moving average for initial unemployment claims fell for the fourth week in a row, more evidence of a tight labor market. Data from the Labor Department showed the moving average was 36% below the 56-year average, suggesting employers are reluctant to let workers go. In the latest week, 1.9 million Americans claimed jobless benefits, up 9% from the week before and up 30% from the 1.5 million the same time last year.
Manufacturing demand stayed steady in June, with durable goods orders rising for the fourth month in a row. Orders rose 4.7% from May, led by a jump in contracts for commercial aircraft. Excluding the volatile transportation category, the value of orders rose 0.6% from May, according to figures from the Commerce Department. Compared to June 2022, total orders rose 4.6% and were up 0.5% excluding transportation. Core capital goods orders, a proxy for business investment, rose 0.2% from May and 2.6% from June 2022.
The National Association of Realtors said its pending home sales index rose in June for the first time in three months. The trade association reported a 0.3% rise in the index from May with a decline of 16% from June 2022. An economist for the Realtors declared the housing recession over and said mortgage rates have topped out but a recovery in sales has not yet begun. He forecast 2023 existing home sales at 4.38 million, which would be 13% below the 2022 total. He also projected a 16% rebound to 5.06 million in 2024.
Friday
The Bureau of Economic Analysis said consumer spending – which accounts for about two-thirds of GDP – rose 0.5% in June, up from a 0.2% gain in May. Spending outpaced personal income, which rose 0.3% in June. Adjusting for inflation, spending rose 0.4%, led by goods consumption, especially automotive products. The personal consumption expenditures index, which the Fed follows for inflation, rose 3% from June 2022, the lowest in 27 months. A year ago, the PCE index reached a four-decade high of 7%.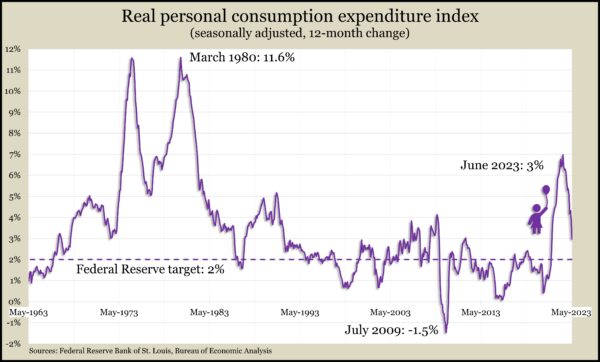 Often a pre-cursor to spending, consumer sentiment rose to its highest level in October 2021. The University of Michigan said its survey-based index benefited from slowing inflation and a solid labor market. Optimism improved broadly among consumers but particularly in sentiment toward business conditions. Expectations for inflation ticked up to 3.4% from 3.3% in May.
MARKET CLOSINGS FOR THE WEEK
Nasdaq – 14317, up 284 points or 2.0%
Standard & Poor's 500 – 4582, up 46 points or 1.0%
Dow Jones Industrial – 35459, up 231 points or 0.7%
10-year U.S. Treasury Note – 3.97%, up 0.13 point
Not a Landaas & Company client yet? Click here to learn more.
More information and insight from Money Talk
Money Talk Videos
Follow us on Twitter.