Money Talk Podcast, Friday Aug. 11, 2023
Podcast: Play in new window | Download
Subscribe: iTunes | Android | Google Play | RSS
Landaas & Company newsletter  August edition now available.
Advisors on This Week's Show
Week in Review (Aug. 7-11, 2023)
Significant Economic Indicators & Reports
Monday
In a sign of weakening consumer spending, outstanding credit card debt slowed in June. The Federal Reserve reported a 0.6% decline in the annual rate of revolving consumer debt outstanding, the first decrease since April 2022. The pace of total consumer debt rose 4.3% from May, including a 6% jump in non-revolving debt – which is mostly car financing and student loans. With nearly 70% of U.S. economic growth relying on consumer spending, the drop in credit card debt suggests a drop-off in commitment to buying on credit. Credit card debt in June was still up about 30% from where it plunged after the COVID-19 pandemic.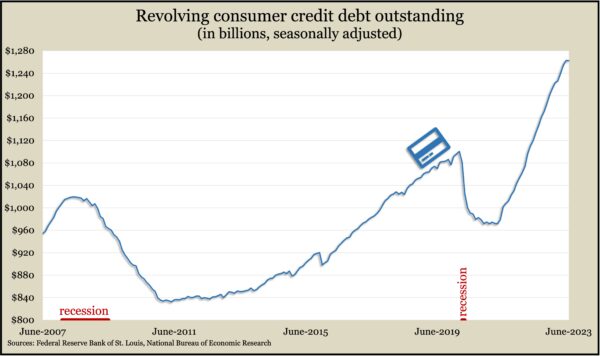 Tuesday
The U.S. trade deficit narrowed 4.1% in June to $65.5 billion, the Bureau of Economic Analysis reported. Exports declined 0.1% from May, led by industrial supplies and consumer goods. Imports fell 1%, despite higher U.S. demand for overseas automobiles, gems, artwork and non-monetary gold. Through the first half of 2023, the balance between what Americans buy from overseas and what they sell abroad narrowed 22% from the same time last year. Exports fell 2.5% in that period; imports fell 4%.
Wednesday
No major releases
Thursday
Higher costs for shelter accounted for 90% of the rise in inflation in July. The Bureau of Labor Statistics said the Consumer Price Index, the broadest measure of inflation, rose 0.2% from June. Prices for car insurance and education also rose, while the cost of air fare, used vehicles and medical care declined. Compared to the year before, the CPI rose to 3.2% from a 3% inflation rate in June. That was the first acceleration in the rate since it crested above 9% in June 2022. The core CPI, which excludes volatile food and energy costs, rose less than 0.2% from June, tied with June for the smallest gain since February 2021. The core CPI rose 4.7% from the year before, the lowest since October 2021.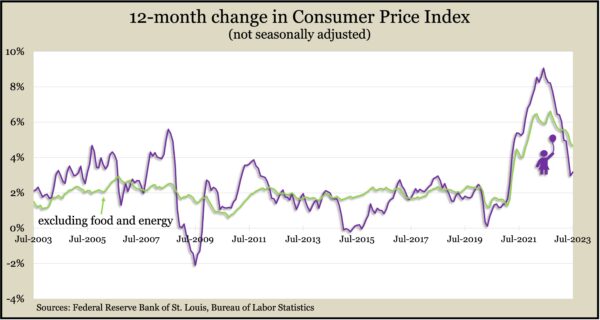 The four-week moving average for initial unemployment claims rose for the first time in six weeks but stayed below the all-time average by 37%, according to data released by the Labor Department. The total number of claims fell 0.4% from the week before to 1.8 million, up from fewer than 1.5 million the year before.
Friday
Inflation on the wholesale level rose 0.3% in July, led by increased prices for services. The Bureau of Labor Statistics said its Producer Price Index rose 0.8% from July 2022, up from 0.7% in June but down from 11.7% in March 2022. Excluding volatile prices for energy, food and trade services, the core PPI rose 0.2% for the month – the biggest increase since a 0.3% gain in February. Since July 2022, the core PPI rose 2.7%, the lowest 12-month move since February 2021.
Consumer opinions toward the economy and their personal finances stayed above year-ago lows but below historical averages in August, according to the University of Michigan consumer sentiment index. The longstanding index hit 71.2 in a preliminary August reading, up about 42% from a record low last summer but down from the long-time average of 86. Since July, consumers felt slightly better about current conditions and slightly worse about future expectations. Survey respondents said they anticipate inflation to be about 3.3% in August 2024 and 2.9% longer term.
MARKET CLOSINGS FOR THE WEEK
Nasdaq – 13645, down 264 points or 1.9%
Standard & Poor's 500 – 4464, down 14 points or 0.3%
Dow Jones Industrial – 35281, up 216 points or 0.6%
10-year U.S. Treasury Note – 4.17%, up 0.11 point
Not a Landaas & Company client yet? Click here to learn more.
More information and insight from Money Talk
Money Talk Videos
Follow us on Twitter.