When Should I …check my Social Security Statement?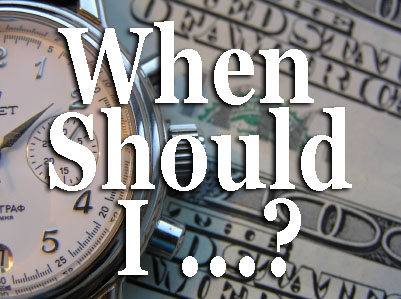 Check your Social Security Statement annually.
One reason is to verify that the earnings Social Security has posted in your account are correct. Those earnings form the basis for the benefits you eventually receive.
Another reason to check your Social Security Statement once a year is to update your retirement plans. The statement includes estimates on how much you should expect each month if you retire at 62, at your full retirement age and at 70. It also shows estimates of your disability payments and survivor benefits.
To learn more and to set up a secure online account, go to:
Contributing: Lisa Lewitzke
Learn more
Social Security Statements: Retirement prep, by Lisa Lewitzke
Planning retirement via Social Security, a Money Talk Video with Lisa Lewitzke
Social Security: Know your options, a Money Talk Video with Lisa Lewitzke
Thinking of retiring? from Social Security
When Should I …?
As our financial lives evolve, we often wonder at what point or how frequently to take certain actions toward our long-term goals. In an ongoing feature, investment advisors from Landaas & Company provide answers.
(initially posted Feb. 27, 2017)
More information from Money Talk
Money Talk Videos
Follow us on Twitter.
Landaas newsletter subscribers return to the newsletter via e-mail.