Money Talk Podcast, Friday Sept 9, 2022
Podcast: Play in new window | Download
Subscribe: iTunes | Android | Google Play | RSS
Landaas & Company newsletter  September edition now available.
Advisors on This Week's Show
Week in Review (Sept. 5-9, 2022)
Significant Economic Indicators & Reports
Monday
Markets and government agencies closed for Labor Day
Tuesday
The U.S. service sector expanded in August for the 27th month in a row and at a slightly faster pace for the third consecutive month, according to the Institute for Supply Management. The industry group surveyed purchasing managers who said business activity, new orders and employment all grew at higher rates in August. Survey respondents also reported improvements in supply chains, logistics and costs, despite ongoing materials shortages. Based on its index, the ISM suggested the country's gross domestic product was growing at an annual pace of 2.5%.
Wednesday
The U.S. trade gap narrowed by nearly 13% in July to $70.6 billion, down four months in a row after reaching a record $107 billion deficit in March. The Bureau of Economic Analysis reported exports rose 0.2% in July, including increased sales abroad of cars, foods, industrial supplies and travel services from the U.S. At the same time, imports declined by 2.9%, led by sales of consumer goods from other countries. Through the first seven months of 2022, the trade deficit rose 29% from the year before to $137 billion, with a 20% rise in exports and a 22% rise in imports.
Thursday
The four-week moving average of initial unemployment claims fell for the third time in four weeks, dropping to the lowest point since July and 37% below the 55-year average. New claims had been rising marginally since hitting an all-time low in April, but they're a fraction of their level at the onset of the COVID pandemic. In further evidence of the strength of the employment market, the Labor Department reported that total claims declined nearly 2% from the previous week to 1.4 million, as opposed to nearly 12 million claims the year before.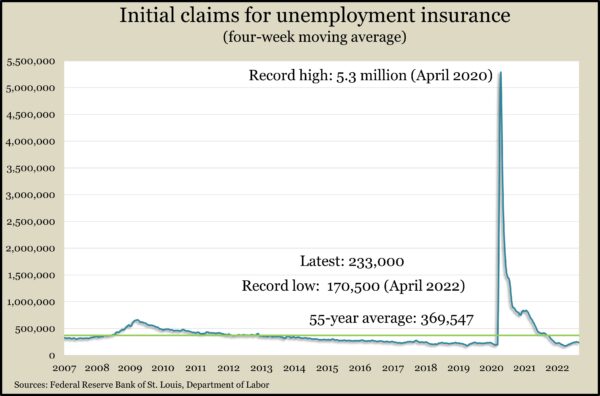 In a sign of continued consumer spending, the Federal Reserve Board reported another rise in consumer credit debt outstanding in July. Total debt rose at a 6% annual rate. More significantly, revolving credit climbed at a nearly 12% clip. Revolving credit mostly includes credit card debt and is indicative of consumer spending, which drives nearly 70% of U.S. economic activity. Revolving debt surpassed its pre-pandemic level in April and was 3.5% above that mark in July. It took a decade for revolving credit to recover from the financial collapse that precipitated the Great Recession.

Friday
No major releases
MARKET CLOSINGS FOR THE WEEK
Nasdaq – 12112, up 481 points or 4.1%
Standard & Poor's 500 – 4067, up 143 points or 3.6%
Dow Jones Industrial – 32152, up 833 points or 2.7%
10-year U.S. Treasury Note – 3.32%, up 0.13 point
Send us a question for our next podcast.
Not a Landaas & Company client yet? Click here to learn more.
More information and insight from Money Talk
Money Talk Videos
Follow us on Twitter.
Landaas newsletter subscribers return to the newsletter via e-mail.