Money Talk Podcast, Friday Sept. 18, 2020
Podcast: Play in new window | Download
Subscribe: iTunes | Android | Google Play | RSS
Landaas & Company newsletter  September edition now available.
Advisors on This Week's Show
Week in Review (Sept. 14-18, 2020)
SIGNIFICANT ECONOMIC INDICATORS & REPORTS
Monday
No major announcements
Tuesday
Recovery in U.S. industrial output slowed in August, rising for the fourth month in a row but at just 0.4%, the Federal Reserve reported. Overall production was down 7.3% from where it was in February, before the COVID-19 pandemic disrupted demand, supply chains and operations. Manufacturing output rose 1% from July slowing for the second consecutive month. Capacity utilization rose for the fifth straight month to 71.4%, up from 64.2% in April but down from 76.9% in February and the long-term average of 79.8%. More capacity for industries to expand suggests less pressure for inflation.
Wednesday
With consumer spending accounting for more than two-thirds of economic output, record retail sales again in August marked a continued comeback from the recession that began in February. The Commerce Department reported revenue increasing in nine of 13 retail categories from July, led by sales gains of 4.7% at bars and restaurants, 2.9% at clothing shops and 2.1% at furniture stores. Overall sales increased above their pre-pandemic level for the third month in a row. A longer view showed some retailers still lower from the pandemic, including bars and restaurants, while others, such as online outlets, were thriving.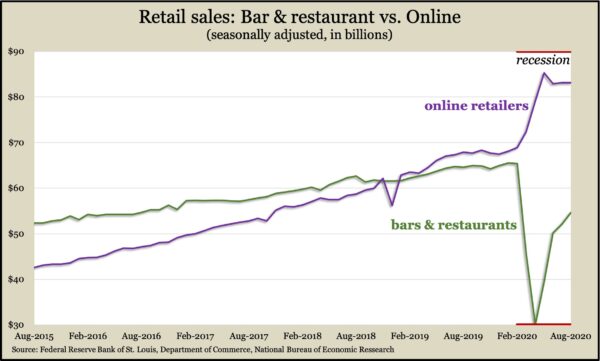 Thursday
The four-week moving average for initial unemployment claims declined for the seventh week in a row and the 20th time in 21 weeks, but the measure remained more than four times its pre-pandemic mark. The Labor Department said 29.8 million Americans were receiving jobless benefits, up about 100,000 from the week before, compared to fewer than 1.5 million at the same time last year.
The U.S. housing industry showed mixed results in August. Both housing starts and building permits declined for the first time in four months after sinking dramatically amid pandemic quarantines. The annual rate of housing starts was still 12.4% below the post-Great Recession peak in February. Permits were down 4.3% from their recent crest in January. However, Commerce Department data showed more strength in single-family construction, with starts up four months in a row, within 2.5% of their pre-pandemic peak. Permits for single-family houses rose to their highest level since May 2007.
Friday
A leading indicator of consumer spending, consumer sentiment, recovered to its highest point so far since plummeting in April, according to a preliminary report on surveys by the University of Michigan. An economist with the longstanding report credited improved economic outlook for raising the sentiment index to 78.9 from 74.1 at the end of August. It stood at 93.2 the year before. The economist warned of two possible triggers for steep declines in sentiment in the months ahead: delays in vaccines for COVID-19; and how the presidential election is decided.
The Conference Board's index of leading economic indicators rose 1.2% in August, the smallest of four consecutive increases. The business research group said the economic recovery was losing steam and remained in recession, with the index 4.7% below where it was in February. Based on slowdowns in building permits, consumer confidence, business investments and financial conditions, the Conference Board cited risks to the recovery and "substantially weakened economic conditions" as 2021 begins.
MARKET CLOSINGS FOR THE WEEK
Nasdaq – 10793, down 60 points or 0.6%
Standard & Poor's 500 – 3319, down 22 points or 0.7%
Dow Jones Industrial – 27657, down 9 points or 0.0%
10-year U.S. Treasury Note – 0.69%, up 0.03 point
Send us a question for our next podcast.
Not a Landaas & Company client yet? Click here to learn more.
More information and insight from Money Talk
Money Talk Videos
Follow us on Twitter.