Money Talk Podcast, Friday Sept. 16, 2022
Podcast: Play in new window | Download
Subscribe: iTunes | Android | Google Play | RSS
Landaas & Company newsletter  September edition now available.
Advisors on This Week's Show
Week in Review (Sept. 12-16, 2022)
Significant Economic Indicators & Reports
Monday
No major announcements
Tuesday
Inflation remained relatively high in August, though it continued to recede from recent levels. The Bureau of Labor Statistics said the Consumer Price Index added 0.1% from July. That followed no change in July but was below the 12-month average of 0.7%. The critical year-to-year inflation rate was 8.3%, down from 8.5% in July and a 40-year high of 9.1% in June. Gasoline prices fell 11% for the month, offsetting broad gains including shelter, medical care and household furnishings. Gas was up 26% from August 2021. Excluding volatile food and energy prices, the core CPI rose 0.6% in August. Year to year, the core CPI was up 6.3%, up from 5.9% in both June and July.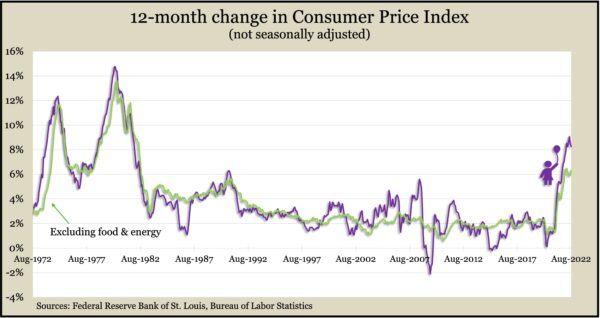 Wednesday
Inflation on the wholesale level also eased in August, the Bureau of Labor Statistics reported. The Producer Price Index declined for the second month in a row, led by a decrease in prices for goods, heavily influenced by a 13% drop in gasoline prices. Excluding volatile prices for foods, energy and trade, the core PPI advanced 0.2% from July. Wholesale inflation rose 8.7% from August 2021, the smallest 12-month increase in a year. The core measure rose 5.6% year to year, the weakest since June 2021.
Thursday
The Commerce Department reported a 0.3% rise in retail sales in August, led by online stores, where sales grew nearly 3% from July. Sales rose at eight of the 13 major retail categories. Sales at bars and restaurants gained 1%. Gas stations led decliners with a 4% drop in revenue because of lower prices. Adjusted for inflation (the lower line in the graphic below), retail sales rose in August for the first time in four months; they were 14% ahead of where they were in February 2020, just before the pandemic.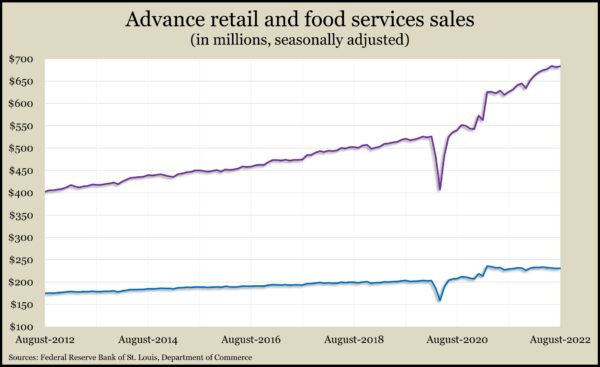 The four-week moving average for initial unemployment claims fell for the third time in four weeks., dropping to its lowest level since mid-June. According to Labor Department data, the average moved to 224,000 new applications, down from a record 5.3 million in April 2020 and 39% below the 55-year average. Just under 1.4 million Americans claimed jobless benefits in the latest week, down nearly 2% from the week before and down from more than 12 million the year before.
U.S. industrial output fell 0.2% in August, the first decline in three months. A 2.3% drop in production from utilities dragged the measure down, the Federal Reserve reported. Output from factories rose 0.1% while the mining industry registered no change. Since August 2021, overall industrial production rose nearly 4%. Capacity utilization continued to show inflation pressure. Although it declined slightly to 80% from 80.2% in July, the operating rate stayed above the 50-year average of 79.6% for the sixth month in a row.
Friday
Consumer sentiment continued improving slightly in September from "extremely low" levels earlier in the summer, the University of Michigan reported. A preliminary look at survey data suggested ongoing uncertainty over inflation, though the most optimistic outlook for long-term prospects in a year or more. Sentiments toward personal finances and big-ticket buying plans remained relatively low, a possible signal that consumers may be pulling back on spending, which probably would slow economic growth.
MARKET CLOSINGS FOR THE WEEK
Nasdaq – 11448, down 664 points or 5.5%
Standard & Poor's 500 – 3873, down 194 points or 4.8%
Dow Jones Industrial – 30822, down 1330 points or 4.1%
10-year U.S. Treasury Note – 3.46%, up 0.13 point
Send us a question for our next podcast.
Not a Landaas & Company client yet? Click here to learn more.
More information and insight from Money Talk
Money Talk Videos
Follow us on Twitter.
Landaas newsletter subscribers return to the newsletter via e-mail.