Money Talk Podcast, Friday Sept. 1, 2023
Podcast: Play in new window | Download
Subscribe: iTunes | Android | Google Play | RSS
Landaas & Company newsletter  September edition now available.
Advisors on This Week's Show
Week in Review (Aug. 28-Sept. 1, 2023)
Significant Economic Indicators & Reports
Monday
No major releases
Tuesday
Higher mortgage rates may be dampening demand for home buying, but house prices continued to rise in June, according to the S&P CoreLogic Case-Shiller national index. Prices were unchanged from the year before, but the fifth monthly increase in the index suggested a return to accelerating prices after months of slowdown pegged to higher mortgage rates. Half of the cities in a 20-city composite index hit record prices in June.  And though broad gains "could be truncated by increases in mortgage rates or by general economic weakness," a spokesperson for the longstanding measure said analysts foresee further price gains.
With lower expectations for stocks and higher expectations for interest rates, consumer confidence waned in August, offsetting two prior months of gains, the Conference Board reported. The business research group saw renewed concerns about prices for groceries and gas despite months of slower inflation, and consumers expressed less confidence in the job market. The Conference Board said expectations overall were barely above a level that typically indicates recession.
Employer demand for workers slowed in July with job openings declining to 8.8 million posts, the lowest since March 2021. As many as 12 million openings were posted in the spring of 2022, according to the Bureau of Labor Statistics, but demand still remained well above the pre-pandemic high of 7.6 million openings. In a sign that workers may be losing confidence in the labor market, the number of workers quitting their jobs to seek other positions decreased in July, especially at larger employers.
Wednesday
The U.S. economy grew at a 2.1% annual pace in April through June, down from an initial estimate of 2.4%. The Bureau of Economic Analysis said it revised gross domestic product lower because inventory buildups and fixed commercial investments weren't as strong in the second quarter as earlier data suggested. State and local governments spent slightly more than initially estimated. The pace of consumer expenditures, which generate about two-thirds of economic activity, was revised up to 1.7%. The Federal Reserve Board's favorite measure of inflation, the Personal Consumption Expenditures index, rose 3.7% from the second quarter of 2022, the slowest pace in more than two years.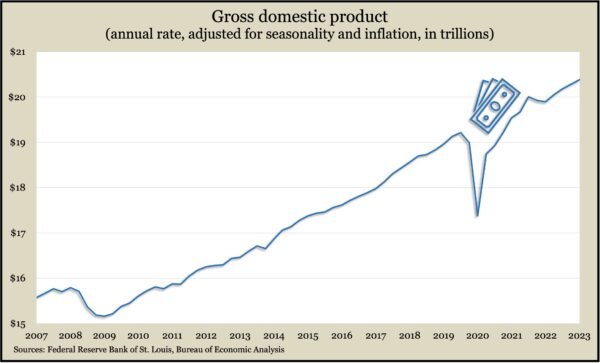 The National Association of Realtors said its pending home sales index rose 0.9% in July. The monthly gain was the second in a row, but commitments to buy houses were down 14% from July 2022. The trade association said it sees potential for further growth in home sales but acknowledged ongoing challenges from higher mortgage rates and limited inventory.
Thursday
The four-week moving average for initial unemployment claims rose for the fourth week in a row, though it remained 35% below the 56-year average, suggestingcontinued reluctance by employers to let workers go. According to the Labor Department, total claims rose 0.5% from the week before to 1.7 million, which was up 27% from the 1.4 million claims the same time last year. Two years ago, claims exceeded 12 million.
Personal spending rose 0.8% in July, the most since January, the Bureau of Economic Analysis reported. The spending increase dwarfed the month's 0.2% gain in personal income, resulting in the personal saving rate declining to 3.5% of disposable income, down from 4.3% in June and 9.3% just before the COVID-19 pandemic. The PCE inflation index rose 3.3% from July 2022, up from a 3% rate in June.
Friday
U.S. employers continued adding jobs in August, and the unemployment rate ticked up as more job seekers entered the pool. The Bureau of Labor Statistics said payrolls expanded by 187,000 jobs, a quicker pace than in June and July but down from a 12-month average of 271,000. Health care and leisure/hospitality businesses added the most jobs. The average hourly wage rose 4.3% from the year before, outpacing overall inflation for the fourth month in a row. The unemployment rate jumped to 3.8% from 3.5% in July, reaching the highest rate in a year and a half.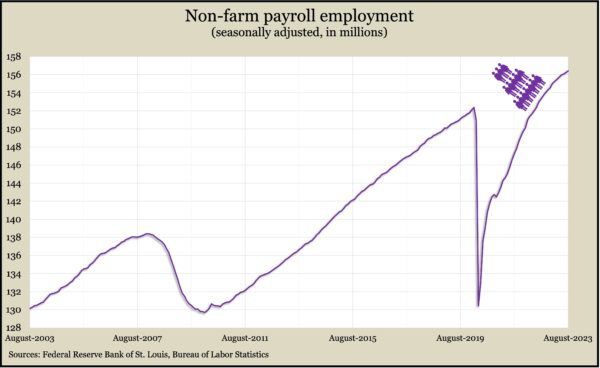 The manufacturing sector contracted in August for the 10th month in a row. The Institute for Supply Management reported that the contraction slowed slightly from July but said none of the components in its index suggested growth. Based on past relationships between the index and gross domestic product, the group said the overall economy was receding at a 0.4% annual rate.
The Commerce Department said construction spending rose 0.7% in July, driven by spending on housing and manufacturing. Residential spending accounts for 45% of the total outlay and increased 1.4% from June, led by single-family housing. Manufacturing, representing 10% of all construction spending, grew 1.1% for the month and was up 71% from the year before.
MARKET CLOSINGS FOR THE WEEK
Nasdaq – 14032, up 441 points or 3.2%
Standard & Poor's 500 – 4516, up 110 points or 2.5%
Dow Jones Industrial – 34838, up 492 points or 1.4%
10-year U.S. Treasury Note – 4.17%, down 0.07 point
Not a Landaas & Company client yet? Click here to learn more.
More information and insight from Money Talk
Money Talk Videos
Follow us on Twitter.