Money Talk Podcast, Friday Oct. 28, 2022
Podcast: Play in new window | Download
Subscribe: iTunes | Android | Google Play | RSS
Landaas & Company newsletter  October edition now available.
Advisors on This Week's Show
Week in Review (Oct. 24-28)
Significant Economic Indicators & Reports
Monday
No major releases
Tuesday
The year-to-year gain in housing prices slowed more in August than in any month in about three decades of data. The S&P CoreLogic Case-Shiller national home price index rose 13% from August 2021, down from a 15.6% increase in July. And though prices continued advancing at a double-digit pace, August marked the fifth straight month of deceleration since hitting a record high of 20.8% in March. A spokesman for the index said further slowing in price gains should be expected, considering how rising mortgage rates are affecting housing affordability.
The Conference Board said its consumer confidence index dipped in October for the first time in three months as concerns grew about inflation. The business research group said holiday sales could be challenging and called consumers' short-term outlook "dismal." The group said expectation levels suggested economic recession. At the same time, consumers surveyed increased plans for buying houses, cars and major appliances.
Wednesday
The annual rate of new home sales slowed nearly 11% in September, the third decline in four months, the Commerce Department reported. The volatile indicator was 18% behind its pace in September 2021. Southern states accounted for most of the slowing from August while the south and west were the only regions declining from the year before. Even though sales overall were off, the median price for a new house continued to climb, rising to $470,600 in September, up 14% from the year before. The median time new residences were on the market was one and a half months, the briefest in 47 years of data.
Thursday
Demand for long-lasting manufactured products rose 0.4% in September, the sixth gain in seven months. The Commerce Department said durable goods orders  through the first nine months of 2021 were up 11% from the same time in 2021. Orders for automobiles and commercial aircraft led the monthly increase, but excluding the volatile transportation category showed a 0.5% decline. Year to year, orders excluding transportation rose 8%. Core capital goods orders, a proxy for business investment, fell 0.7% from August and were up 9.5% from September 2021.
The four-week moving average for initial unemployment claims fell for the fourth week in a row, rising 14% above its low point just before the pandemic. The Labor Department reported the new-claim average was still 41% below the 55-year average, a reminder of the relatively tight labor market. In the latest week, 1.2 million Americans claimed jobless benefits, down 0.2% from the week before and down from 2.8 million the year before.
The U.S. economy rose at an annual pace of 2.6% in the third quarter, reversing two previous quarters of shrinking. Adjusted for inflation, gross domestic product reached a record $20 trillion and was up 4.2% from the peak prior to the 2020 recession, according to the Bureau of Economic Analysis. Consumer spending, which generates about 70% of economic activity, advanced at a slower pace than in the second quarter. Spending on housing declined at a 26% annual rate, the worst in six straight quarters of decline. The Federal Reserve Board's preferred measure of inflation rose 6.3% from the third quarter of 2021, the lowest since a 5.7% rate at the end of 2021 but still far beyond the long-term target of 2%.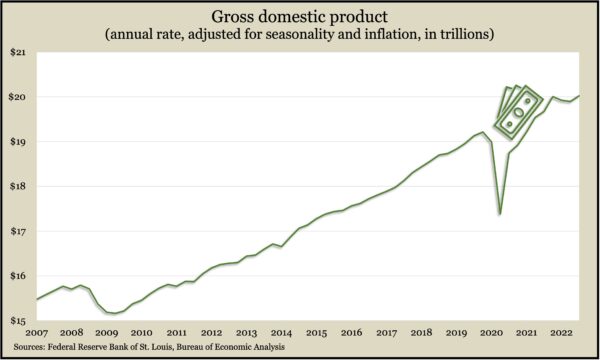 Friday
The Bureau of Economic Analysis said consumer spending rose 0.6% in September, as personal income gained 0.4%. The personal saving rate continued to fall, dropping to 3.1% in September, dropping from a record high of 33.8% in April 2020. The personal consumption expenditures index, which the Fed follows for inflation, increased 6.2% in September, the same as in August and the lowest since January. The rate hit a 40-year high of 7% in June.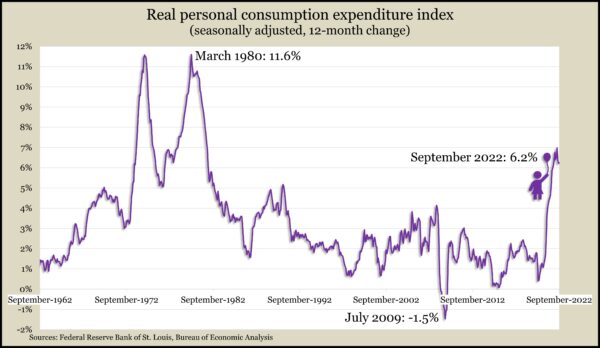 The National Association of Realtors said its index of pending home sales fell 10.2% in September, the fourth consecutive decline. The trade group said inflation was suppressing buyers, who are less likely to afford houses, as well as sellers, who are reluctant to give up lower-rate mortgages. The association predicted 30-year fixed-rate loans will hover around 7% awhile, about double the mortgage rate of a year ago.
Often a pre-cursor to spending, consumer sentiment rose slightly overall in October but stayed near all-time lows registered this summer, according to a University of Michigan survey. Uncertainty about inflation, policy responses and global security resulted in consumer views "consistent with a recession ahead," a Michigan economist said. Although attitudes toward current conditions brightened a bit from September, expectations dimmed, especially among upper-income consumers most influenced by the volatile stock market.
MARKET CLOSINGS FOR THE WEEK
Nasdaq – 11102, up 243 points or 2.2%
Standard & Poor's 500 – 3901, up 148 points or 4.0%
Dow Jones Industrial – 32861, up 1779 points or 5.7%
10-year U.S. Treasury Note – 4.01%, down 0.20 point
Not a Landaas & Company client yet? Click here to learn more.
More information and insight from Money Talk
Money Talk Videos
Follow us on Twitter.
Landaas newsletter subscribers return to the newsletter via e-mail.