Money Talk Podcast, Friday Oct. 20, 2023
Podcast: Play in new window | Download
Subscribe: iTunes | Android | Google Play | RSS
Landaas & Company newsletter  October edition now available.
Advisors on This Week's Show
Week in Review (Oct. 16-20, 2023)
Significant Economic Indicators & Reports
Monday
No major announcements
Tuesday
In a further sign of economic resilience, retail sales advanced 0.7% in September. The Commerce Department reported that 10 of 13 major categories had sales increases in September, including a 1.1% gain for online retailers and a 1% bump for car dealers. Appliance stores, home-and-garden centers and clothing stores experienced declines. Sales at bars and restaurants rose by 0.9%, an indication that consumers remain comfortable spending. Consumer spending drives nearly 70% of U.S. economic activity.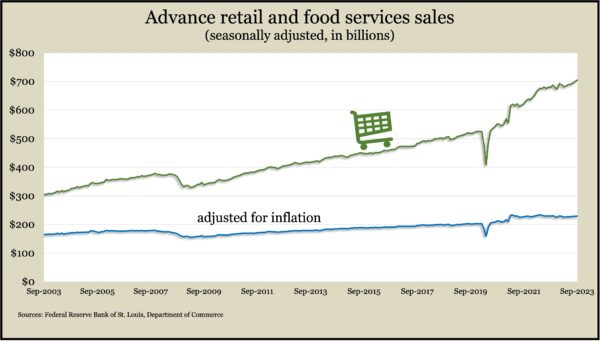 The Federal Reserve reported that industrial production rose 0.3% in September and capacity utilization advanced to its long-term average for the first time in five months. The capacity rate, a measure of potential inflation pressure, suggested that factories, mines and utilities were regaining balance after months of underusing their operations. The capacity rate for factories stayed below its long-run average for the fifth month in a row. The Fed said total industrial output was up just 0.1% from September 2022 and had grown at an annual rate of 2.5% in the third quarter. Manufacturing production rose 0.4% in September and was down 0.8% from the year before.
Wednesday
The U.S. housing market continued to suggest weakness in September as the pace for both housing starts and building permits stayed below pre-pandemic levels. Figures from the Commerce Department showed new construction, including multi-family units, about 25% below its pace in mid-2022. Starts for single-family houses have been below their pre-COVID level since May 2022. The pace of housing permits, an indicator of commitments to future homebuilding, also has hovered lower since the Fed began raising interest rates in 2022. Single-family housing permits, however, rose in September for the eighth month in a row, though still below the pre-pandemic level. And though new construction has been slowing, data showed that the rate of houses under construction stayed near record level, despite 14 consecutive declines for single-family units.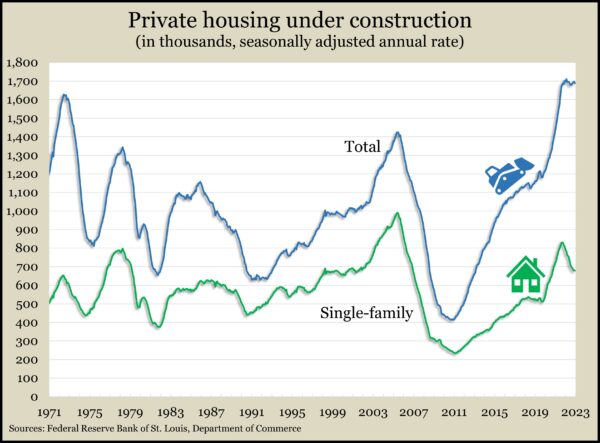 Thursday
The four-week moving average for initial unemployment claims fell for the seventh week in a row, dipping to its lowest point since the beginning of February. The measure of employers' reluctance to let workers go was 44% behind the long-term average, dating to 1967. According to Labor Department data, total jobless claims fell below 1.6 million in the latest week, down nearly 2% from the week before, though up 29% from the year before.
The pace of existing home sales sank 2% in September, descending to its lowest mark in 13 years. The National Association of Realtors cited limited inventory and low affordability fueled by rising mortgage rates. Houses sold at an annual rate of 3.96 million, down 15.4% from September 2022, the Realtors reported. Inventory rose 2.7% from August to 1.1 million houses, the lowest for September since 1999. The trade group said the median sales price in September was $394,300, up 2.8% from the year before.
The Conference Board said its index of leading economic indicators declined 0.7% in September, shrinking for the 18th month in a row. Of 10 components in the index, nine were either negative or flat. The six-month pace of contraction slowed from the preceding six months. Still, the business research group forecast a shallow recession for the first half of 2024.
Friday
No major announcements
 MARKET CLOSINGS FOR THE WEEK
Nasdaq – 12984, down 423 points or 3.2%
Standard & Poor's 500 – 4224, down 104 points or 2.4%
Dow Jones Industrial – 33126, down 544 points or 1.6%
10-year U.S. Treasury Note – 4.92%, up 0.30 point
Not a Landaas & Company client yet? Click here to learn more.
More information and insight from Money Talk
Money Talk Videos
Follow us on Twitter.