Money Talk Podcast, Friday Nov. 11, 2022
Podcast: Play in new window | Download
Subscribe: iTunes | Android | Google Play | RSS
Landaas & Company newsletter  November edition now available.
Advisors on This Week's Show
Week in Review (Nov. 7-11, 2022)
Significant Economic Indicators & Reports
Monday
The Federal Reserve reported that revolving consumer credit rose at an annual rate of 8.7% in September. The increase suggests consumer spending – which drives about two-thirds of the U.S. economy – remained resilient in the face of high inflation and rising interest rates. It also indicates consumers are financing more of their spending as government subsidies from the onset of the COVID-19 pandemic have dwindled and as wage increases have not kept up with inflation. The pace of credit card debt slowed from an 18% annual rate in August and was the slowest since May. The indicator took two years to recover from its pre-pandemic peak. It took a decade to recover from the financial collapse and the Great Recession.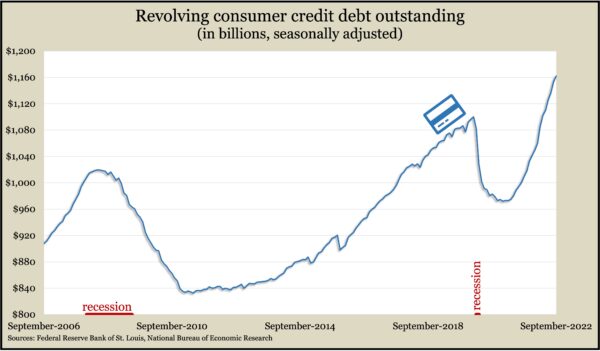 Tuesday
No major releases
Wednesday
No major releases
Thursday
The broadest measure of inflation showed price increases easing in October, though they're still outpacing Federal Reserve Board targets. The Consumer Price Index gained 0.4% from September and 7.7% from October 2021. Shelter costs, the price of gasoline and food bills weighed heavily on the monthly increase, though food prices rose at the slowest pace since December, the Bureau of Labor Statistics reported. The year-to-year inflation rate marked four months of declines from 9.1% in June, which was the steepest pace since 1982. The core CPI, which excludes the volatile categories of food and energy, rose 0.3% from September, the lowest in three months. Compared to October 2021, the core CPI was up 6.3%, just under the 6.6% peak hit in September, the highest in 40 years. The Fed's long-range target for inflation is 2%.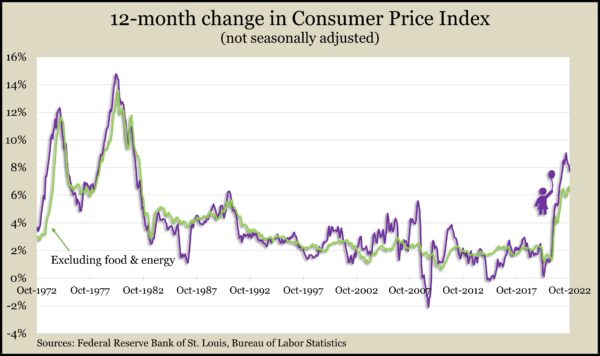 The four-week moving average for initial unemployment claims declined marginally for the second week in a row. Data from the Labor Department showed the four-week average still down 41% from its 55-year average but 14% above its low just before the COVID-19 pandemic. Nearly 1.3 million Americans were claiming jobless benefits in the latest week, up 1% from the week before but down from 2.6 million the year before.
Friday
The University of Michigan said consumer sentiment declined from the end of October, losing about half of the gains made since slumping to an all-time low in June. Uncertainty from global factors and U.S. election outcomes mean continued instability for sentiment, which economists consider key to consumer spending. Survey respondents registered broad declines in their both their outlooks and their assessments of current conditions. Rising interest rates and high inflation dampened plans to buy big-ticket durable goods. Expectations for inflation were little changed at about 5% for a year from now and around 3% long term.
MARKET CLOSINGS FOR THE WEEK
Nasdaq – 11323, up 848 points or 8.1%
Standard & Poor's 500 – 3993, up 222 points or 5.9%
Dow Jones Industrial – 33748, up 1343 points or 4.1%
10-year U.S. Treasury Note – 3.81%, down 0.32 point
Not a Landaas & Company client yet? Click here to learn more.
More information and insight from Money Talk
Money Talk Videos
Follow us on Twitter.
Landaas newsletter subscribers return to the newsletter via e-mail.