Money Talk Podcast, Friday May 6, 2022
Podcast: Play in new window | Download
Subscribe: iTunes | Android | Google Play | RSS
Landaas & Company newsletter  May edition now available.
Advisors on This Week's Show
Week in Review (May 2-6, 2022)
Significant Economic Indicators & Reports
Monday
The manufacturing sector continued expanding in May for the 23rd month in a row, though at the slowest rate since July 2020. The Institute for Supply Management continued to describe the business environment as "demand-driven, supply chain-constrained." The trade group's surveys of purchasing managers showed supply and pricing issues as the industry's biggest concerns. Survey respondents noted that recent progress on hiring had slowed. They also cited the instability of global energy since the Russian invasion of Ukraine.
The Commerce Department said construction spending grew to another record high in March, led by expenditures on housing. At a seasonally adjusted annual rate of $1.73 trillion, construction spending rose 0.1% from February and nearly 12% from March 2021. Housing, which accounted for more than half of the spending, was up 1% from the month before, while government outlays for construction and private non-residential spending both declined.
Tuesday
The tight hiring market was displayed in a Bureau of Labor Statistics report showing record numbers of both job openings and workers quitting their jobs in March. The monthly report showed 11.5 million openings with employers, with expanded listings particularly in retail trade and durable goods manufacturing. At the same time, 4.5 million workers voluntarily left their jobs, presumably with expectations of moving to better positions. Registering the most quits were workers in professional and business services, in construction and at bars and restaurants. Both job openings and quits hit the highest levels in 22 years of data.
Another sign of manufacturing's expansion was a 2.2% rise in factory orders in March, the 22nd gain in 23 months. Orders were up 14.2% from the year-ago level with broad monthly gains and a rise in automotive demand offsetting a decline in aircraft orders. Excluding volatile numbers for transportation equipment, orders rose 13.4% from March 2021, the Commerce Department reported. A proxy for business investments rose 10.2% from its year-earlier level.
Wednesday
The U.S. trade deficit rose 22.3% in March to a record $109.8 billion. The value of exports rose 5.6% while imports rose 10.3%. The Bureau of Economic Analysis said the first-quarter deficit widened 41.5% from the year before as exports rose by 17.7% while imports rose 23.8%. The imbalance illustrates how the U.S. economy has been outpacing its trading partners since the pandemic, with U.S. consumers demanding more imported goods such as cars, computers and other consumer goods. U.S. exports were led by industrial supplies and materials, including oil products.
The service sector of the U.S. economy kept growing in April, although it decelerated for the fourth time in five months. The Institute for Supply Management said its index for the service sector rose for the 23rd month in a row after contracting for two months in 2020 for the first time in 11 years. A decline in new orders and a contraction in employment slowed the index in April, despite continued strong business activity. Purchasing managers surveyed by the trade group cited ongoing challenges from inflation, capacity constraints and logistics. They also noted rising costs of energy products and chemicals because of war in Ukraine.
Thursday
The four-week moving average for initial unemployment claims rose for the fourth week in a row after reaching a record 55-year low in March. The moving average was 49% below the all-time average, and the level of insured unemployment — another measure of employers' reluctance to let workers go — dipped to its lowest point since 1970. The Labor Department said fewer than 1.5 million Americans claimed jobless benefits in the latest week, down 2% from the week before, and down from 16.2 million the year before.
The Bureau of Labor Statistics said worker productivity sank at an annual rate of 7.5% in the first quarter, the largest decline since 1947. The pace of productivity fell based on a decreased annual output rate of 2.4% and a 5.5% rise in the rate of hours worked. Compared to the first three months of 2021, productivity dropped 0.6% — the most since 1993 — as output rose 4.2% but was outgained by a 4.8% increase in hours worked. Since the first quarter of 2021, labor costs rose 7.2%.
Friday
U.S. employers added 428,000 jobs in April, putting them within 1.2 million or 0.8% of where they were before COVID-19 hit in February 2020. According to payroll data from the Bureau of Labor Statistics, about one in five of the new jobs was in the leisure and hospitality industry, which remained down from pre-pandemic levels by 1.4 million jobs or 8.5%. A separate survey of households showed many measures of unemployment near their February 2020 marks. The unemployment rate remained at 3.6% for the second month in a row. It was 3.5% just before the pandemic. It was 3.5% just before the pandemic. It reached a record 14.7% two years ago. The number of Americans wanting to work but not currently applying for jobs was 5.9 million, up from 5 million in February 2020. Nearly 600,000 of those sidelined workers said COVID was preventing them from looking for work, but that was down from almost 900,000 in March.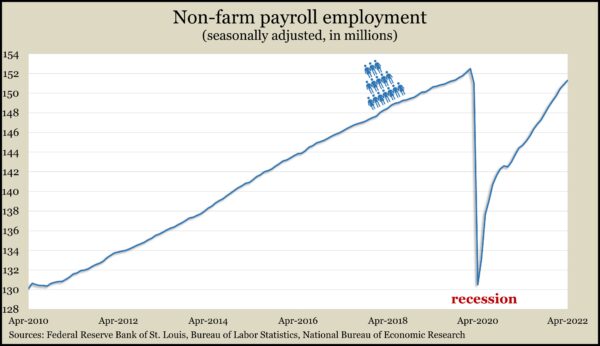 The Federal Reserve said consumer credit card debt rose by an annual rate of 35.3% in March. That put the measure of consumer demand and confidence within 0.3% of its all-time high, just before the pandemic. After the financial collapse in 2008, it took a decade for co-called revolving credit to recover.
MARKET CLOSINGS FOR THE WEEK
Nasdaq – 12145, down 190 points or 1.5%
Standard & Poor's 500 – 4124, down 8 points or 0.2%
Dow Jones Industrial – 32901, down 76 points or 0.2%
10-year U.S. Treasury Note – 3.12%, up 0.23 point
Send us a question for our next podcast.
Not a Landaas & Company client yet? Click here to learn more.
More information and insight from Money Talk
Money Talk Videos
Follow us on Twitter.
Landaas newsletter subscribers return to the newsletter via e-mail.