Money Talk Podcast, Friday May 5, 2023
Podcast: Play in new window | Download
Subscribe: iTunes | Android | Google Play | RSS
Landaas & Company newsletter  May edition now available.
Advisors on This Week's Show
Week in Review (May 1-5, 2023)
Significant Economic Indicators & Reports
Monday
The manufacturing sector continued contracting in April for the sixth month in a row, according to the Institute for Supply Management. The trade group's index, based on surveys of purchasing managers, showed employment as the only component to grow from March. Although April's contraction slowed from March, manufacturing's business activity started dropping off last June. With declines in demand for manufactured goods, the ISM noted improved responsiveness from supply chains.
The Commerce Department said construction spending rose in March for the first time in four months. Increased spending on manufacturing construction helped offset a 2% drop in residential expenditures. At a seasonally adjusted annual rate of more than $1.8 trillion, construction spending rose 3.8% from March 2022. Housing, which accounted for about 46% of total spending, was down 9.8% from the year before. Government outlays for construction rose 0.2% for the month and 15% over the year, including big increases for conservation and development.
Tuesday
The tight hiring market loosened a little in March as job openings declined and layoffs and discharges rose. The Bureau of Labor Statistics said openings shrank for the third month in a row to 9.6 million, the lowest in two years, though they remained above the pre-pandemic peak of 7.6 million. More employers let workers go in March, especially in construction and at hotels and restaurants. The number of workers quitting their jobs – a sign of employment confidence – also fell. Still, open jobs continued to far outnumber the 5.8 million unemployed job seekers in March.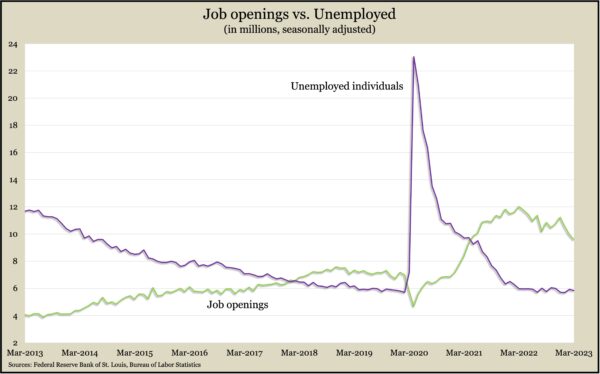 The Commerce Department said factory orders rose in March for the first time in four months, though a surge in demand for commercial aircraft tipped the scale. Excluding orders for transportation equipment, demand for manufactured goods fell for the fourth time in five months. Compared to March 2022, the dollar amount for total orders rose 2.4%, vs. a 1.4% gain excluding transportation. A proxy for business investments rose 3.2% from its year-earlier level but declined for the fourth time in five months.
Wednesday
The service sector of the U.S. economy kept growing in April, accelerating slightly from March, signaling a fourth consecutive expansion. The Institute for Supply Management said its index for the service sector showed growth for the 34th time in 35 months. An uptick in new orders and continued improvements in capacity and logistics boosted the index from March. Purchasing managers surveyed by the trade group cited ongoing concerns about inflation and economic slowdown. The ISM said the index suggested the overall economy was growing at a 0.7% annual rate.
Thursday
The U.S. trade deficit shrank 9.1% in March to $64.2 billion as the value of exports rose 2.1% while imports declined 0.3%. Leading the increase in exports were industrial products such as crude oil. Consumer goods, including cell phones, led imports lower. The Bureau of Economic Analysis said the first-quarter deficit widened 27.6% from the year before as exports fell 8.7% while imports fell 1.6%. Trade deficits detract from gross domestic product, the key measure of economic growth.
The four-week moving average for initial unemployment claims rose for the first time in three weeks. The moving average was 35% below the all-time average. The Labor Department said fewer than 1.8 million Americans claimed jobless benefits in the latest week, down 2% from the week before but up 20% from about 1.5 million the year before. Two years prior, total claims exceeded 16 million.
The Bureau of Labor Statistics said worker productivity sank at an annual rate of 2.7% in the first quarter, as the pace of output barely budged at 0.2% while hours worked rose 3%. Compared to the first quarter of 2022, productivity fell 0.9% – the fifth consecutive year-to-year decline, which never occurred before in 75 years of data. And while output per hour fell in the first quarter, compensation per hour rose. Employers' labor costs rose at a 6.3% annualized rate or 5.8% if measured from the first quarter of 2022.
Friday
U.S. employers added 253,000 jobs in April, putting them 3.3 million or 2.2% ahead of where they were before COVID-19 hit in February 2020. According to payroll data from the Bureau of Labor Statistics, the additional jobs were short of the 290,000 six-month average but showed a broad-based resilience amid some signs of the economy slowing. The leisure and hospitality industry continued adding jobs, though it remained down from pre-pandemic levels by 402,000 jobs or 2.4%. A separate survey of households showed the unemployment rate dipping back to 3.4%, where it was in January, the lowest since 1969. The unemployment rate for Black Americans reached an all-time low of 4.7%, and the labor force participation rate of 25- to 54-year-olds rose to 83.3%, the highest since 2008.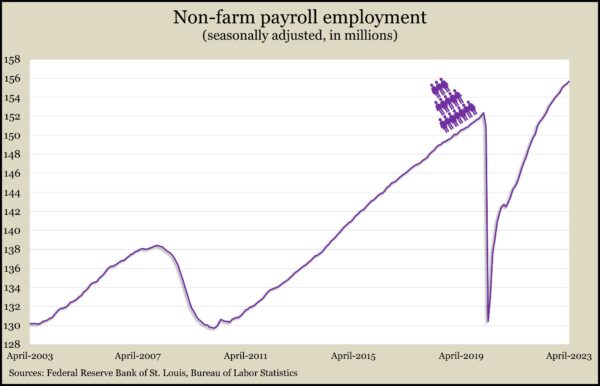 MARKET CLOSINGS FOR THE WEEK
Nasdaq – 12235, up 9 points or 0.1%
Standard & Poor's 500 – 4136, down 33 points or 0.8%
Dow Jones Industrial – 33674, down 424 points or 1.2%
10-year U.S. Treasury Note – 3.45%, no change
Not a Landaas & Company client yet? Click here to learn more.
More information and insight from Money Talk
Money Talk Videos
Follow us on Twitter.