Money Talk Podcast, Friday May 20, 2022
Podcast: Play in new window | Download
Subscribe: iTunes | Android | Google Play | RSS
Landaas & Company newsletter  May edition now available.
Advisors on This Week's Show
Week in Review (May 16-20, 2022)
Significant Economic Indicators & Reports
Monday
No major announcements
Tuesday
Inflation may be adding to consumer spending but has not yet stopped it, according to retail sales figures from April. The Commerce Department reported a 0.9% rise in sales from March, the fourth monthly gain, to a record $678 billion, not adjusted for inflation. Sales rose broadly for the month, led by car dealers and restaurants and bars. Revenue at gas stations declined 2.7% in April, largely because of a temporary drop in prices at the pump. Compared to April 2021, gas station sales rose 37%.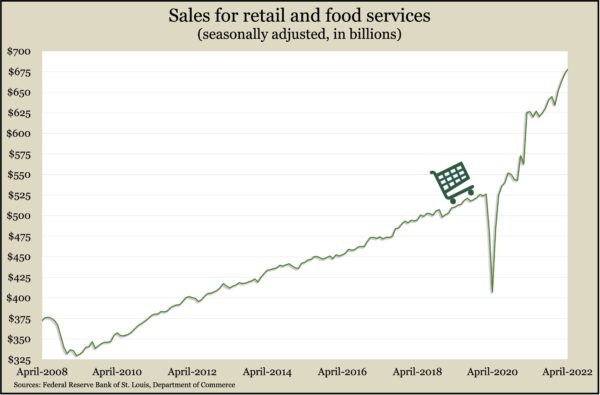 In another sign of continued economic growth, the Federal Reserve said its industrial production index rose 1.1% in April to an all-time high. Output increased for the fourth month in a row and the sixth time in seven months. Auto manufacturing led the boost with a 3.9% production gain in April. Industry's capacity utilization rate, which can be an early indicator of escalating inflation, rose to 79%, the highest since December 2018 but still below the 55-year average of 79.5%. Manufacturing's capacity rate rose to the highest point in 15 years and exceeded the long-time average for the second month in a row.
Wednesday
The supply of new houses showed signs of slowing in April as the annual pace of both building permits and housing starts declined slightly from March. The Commerce Department reported that new construction remained near levels from 16 years ago after the peak of the housing bubble. For both housing starts and permits — considered a precursor to further building — single-family housing development slowed more than apartments. Residential construction had been on the upswing in recent years to address historically low inventories amid strong demand. The number of houses under construction reached a record high in April, based on government records dating to 1970.
Thursday
The four-week moving average for initial unemployment claims rose for the sixth week in a row after hitting a record low in April. Averaging just under 200,000 claims, the level was the highest since February but 46% below the 55-year average. The average reached a record 5.3 million claims in April 2020. The Labor Department reported another measure of employers' reluctance to let go of workers: The level of insured unemployment clipped to the lowest point since 1969.
The Conference Board said its leading economic indicators shrank 0.3% in April, largely because of weaker consumer expectations and fewer housing permits. The business research group said a flat trend for the index recently suggests continued moderate growth for the economy. It forecast a 2.3% gain in GDP for 2022. The group noted challenges to growth, including inflation, interest rates, pandemic lockdowns and supply delays.
High prices and rising mortgage rates are curbing demand from home buyers, sending existing home sales down 2.4% in April, according to the National Association of Realtors. The annual rate of sales fell to 5.6 million houses, down 5.9% from April 2021. The trade group said it expected sales to continue to fall back to pre-pandemic levels. Cooler demand meant inventories rose to a 2.2 months' supply, which was still historically low. The median sales price rose to $391,200, up 14.8% from April 2021, the 122nd consecutive year-to-year price gain.
Friday
No major announcements
MARKET CLOSINGS FOR THE WEEK
Nasdaq – 11355, down 450 points or 3.8%
Standard & Poor's 500 – 3901, down 123 points or 3.0%
Dow Jones Industrial – 31261, down 936 points or 2.9%
10-year U.S. Treasury Note – 2.79%, down 0.15 point
Send us a question for our next podcast.
Not a Landaas & Company client yet? Click here to learn more.
More information and insight from Money Talk
Money Talk Videos
Follow us on Twitter.
Landaas newsletter subscribers return to the newsletter via e-mail.