Money Talk Podcast, Friday May 19, 2023
Podcast: Play in new window | Download
Subscribe: iTunes | Android | Google Play | RSS
Landaas & Company newsletter  May edition now available.
Advisors on This Week's Show
Week in Review (May 15-19, 2023)
Significant Economic Indicators & Reports
Monday
No major announcements
Tuesday
Consumers returned to car dealerships and home improvement centers and kept going to bars and restaurants in April, as retail sales rose for the first time in three months. The Commerce Department reported a 0.4% increase from March as revenue rose in seven of 13 categories. Spending at retailers advanced 1.6% from April 2022, with higher sales in six categories, including online and at restaurants and bars. Corrected for inflation, sales inched up 0.1% from March and were down 3.2% from April 2022, the fifth year-to-year decline in six months.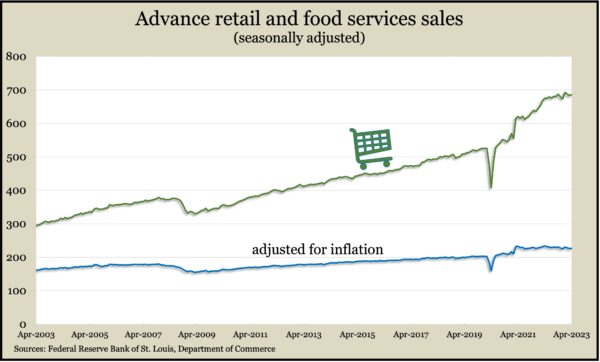 The Federal Reserve said its industrial production index rose 0.5% in April after two months of moving sideways. A 1% surge in output boosted the index amid a minimal rise in the mining sector and a decline in utilities production resulting from mild weather. Auto making led the lift in manufacturing, which was up for the third time in four months. Total capacity utilization rate rose to 79.7%, the highest since November and on par with its average since 1972. Manufacturing capacity was near its long-term average, and mining capacity remained above normal. Meanwhile, utilities continued to be using less capacity than they have historically.
Wednesday
Construction of new houses quickened slightly while plans for more stepped back in April, according to a Commerce Department report on building permits and housing starts. The figures showed a 2% rise in the annual pace of starts compared to March at the same time permits fell nearly 2%. Relative to April 2022, both indicators were down more than 20%, coinciding with steep interest rate increases. Both starts and permits stayed below the pace heading into the COVID pandemic. The number of houses under construction remained near record highs, especially for multi-family housing.
Thursday
The four-week moving average for initial unemployment claims fell for the first time in three weeks after hitting its highest level in 18 months. The average remained above the low point heading into the pandemic but was 34% below the 56-year average. Total claims fell 2% from the week before, just under 1.4 million applications, which was 23% higher than the year before, according to Labor Department data.
The Conference Board said its leading economic indicators shrank 0.6% in April, the 13th consecutive decline, signaling recession. The business research group noted that weakness rose from a decline of 1.2% in March, but the six-month drop of 4.4% exceeded the fall during the prior six months. Based on its index, the Conference Board forecast a mild recession for the U.S. economy beginning midyear.
A combination of strong job market, vacillating mortgage rates and limited supply is causing existing home sales to bounce around, resulting in a 3.4% decline in April, according to the National Association of Realtors. The annual sales rate fell to below 4.3 million houses, down 23.2% from April 2022. The trade group said inventories rose only slightly and were just 2.9 months' supply at the current sales pace. The median price fell to $388,800, down 1.7% from the year before. It was the second straight year-to-year price drop after nearly 11 years of consecutive gains.
Friday
No major announcements
MARKET CLOSINGS FOR THE WEEK
Nasdaq – 12658, up 373 points or 3%
Standard & Poor's 500 – 4192, up 68 points or 1.6%
Dow Jones Industrial – 33426, up 126 points or 0.4%
10-year U.S. Treasury Note – 3.69%, up 0.23%
Not a Landaas & Company client yet? Click here to learn more.
More information and insight from Money Talk
Money Talk Videos
Follow us on Twitter.