Money Talk Podcast, Friday May 13, 2022
Podcast: Play in new window | Download
Subscribe: iTunes | Android | Google Play | RSS
Landaas & Company newsletter  May edition now available.
Advisors on This Week's Show
Week in Review (May 9-13, 2022)
SIGNIFICANT ECONOMIC INDICATORS & REPORTS
Monday
No major releases
Tuesday
No major releases
Wednesday
By a couple of measures, inflation slowed in April, though still staying near 40-year highs. The Bureau of Labor Statistics reported that its Consumer Price Index rose a seasonally adjusted 0.3% from March, the lowest gain since August. Since April 2021, the index was up 8.3%, down from an 8.5% rate in March. Food costs rose about 1% for the month and more than 9% for the year. Gasoline dropped more than 6% in price in April but was up 44% from April 2021. The core CPI. excluding volatile prices for food and energy items, rose 6.2% from the year before, down from 6.5% in March. Costs for transportation and shelter added to the core CPI gains. Used-car prices rose nearly 23% from April 2021, though they have declined in the last three months.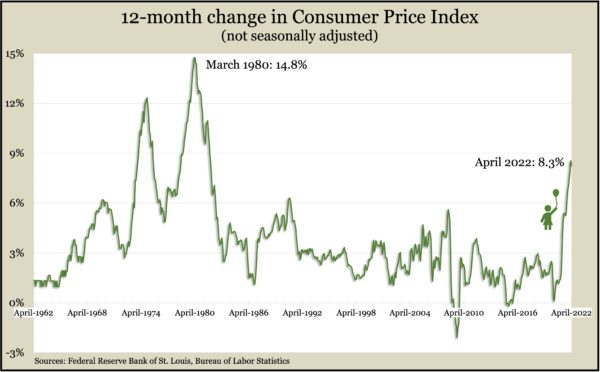 Thursday
The four-week moving average for initial unemployment claims rose for the fifth week in a row after hitting an all-time low in April. Data from the Labor Department showed continued reluctance by employers to let workers go. The moving average stayed 48% below the 55-year average. Another measure of the tight job market, the level of insured unemployment, reached its lowest point since 1970. Total claims for benefits declined 2.6% in the latest week to 1.4 million, compared to 16.8 million the year before.
Inflation on the wholesale level rose 0.5% in April, the smallest gain since September. Year to year, the Producer Price Index increased by 11%, down from an 11.5% gain in March, according to the Bureau of Labor Statistics. Price increases slowed in April for energy as well as for transportation and warehousing. The core rate of wholesale inflation, stripping out volatile prices for food, energy and trade services, rose 0.6% for the month and 6.9% since April 2021. Both rates were lower than in March.
Friday
The University of Michigan said consumer sentiment declined sharply from the end of April as both expectations and current assessments fell across demographic and political lines. Feelings toward personal finances sank to the lowest level since 2013, with 36% of consumers citing high inflation. Their expectations for long-term inflation, though, remained steady at around 3%. Consumers reported the worst conditions for buying durable goods since the survey began asking the question in 1978.
MARKET CLOSINGS FOR THE WEEK
Nasdaq – 11805, down 340 points or 2.8%
Standard & Poor's 500 – 4024, down 99 points or 2.4%
Dow Jones Industrial – 32196, down 703 points or 2.1%
10-year U.S. Treasury Note – 2.94%, down 0.19 point
Send us a question for our next podcast.
Not a Landaas & Company client yet? Click here to learn more.
More information and insight from Money Talk
Money Talk Videos
Follow us on Twitter.
Landaas newsletter subscribers return to the newsletter via e-mail.