Money Talk Podcast, Friday May 12, 2023
Podcast: Play in new window | Download
Subscribe: iTunes | Android | Google Play | RSS
Landaas & Company newsletter  May edition now available.
Advisors on This Week's Show
Week in Review (May 8-12, 2023)
Significant Economic Indicators & Reports
Monday
No major releases
Tuesday
No major releases
Wednesday
Inflation continued to slow in April, though it remained well above Federal Reserve Board targets. The Bureau of Labor Statistics reported that its Consumer Price Index rose 4.9% from April 2022, the 10th consecutive reduction in pace since exceeding a four-decade high of 9% last June. It was the lowest 12 rate since April 2021 but more than double the Fed long-range target of 2% inflation. Shelter costs contributed the most to the monthly rise, but their 0.4% gain from March was the slightest for the category in 15 months. A 3% rise in gasoline prices also boosted the index as well as a 4.4% jump in the cost of used vehicles.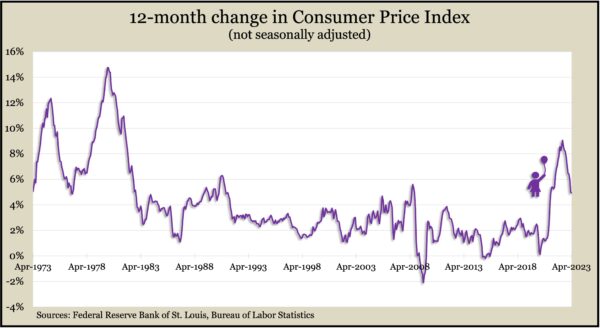 Thursday
The four-week moving average for initial unemployment claims rose for the second week in a row, reaching its highest point since November 2021. Still, data from the Labor Department showed the measure 31% below the 56-year average, suggesting continued reluctance by employers to let workers go. Total claims for benefits declined 3% in the latest week to just under 1.8 million, compared to 1.4 million the year before.
Inflation on the wholesale level registered a 2.3% annual increase in April, the lowest since January 2021. The Producer Price Index was down from as high as 11.2% last June. The Bureau of Labor Statistics said the index rose 0.2% from March, the first monthly gain in four months, mostly because of higher prices for services but also due to an increase in the cost of gasoline. The core rate of wholesale inflation, stripping out volatile prices for food, energy and trade services, also rose 0.2% for the month and was up 3.4% from April 2022.
Friday
The University of Michigan said consumer sentiment declined sharply from the end of April as both expectations and current assessments fell amid renewed concerns about the economy. Despite lack of empirical evidence, the university said, consumers are losing faith in the economy, exacerbated by political confrontations over the federal debt ceiling. The latest survey wiped out nearly half the gains made since consumer sentiment reached an all-time low last June.
MARKET CLOSINGS FOR THE WEEK
Nasdaq – 12285, up 49 points or 0.4%
Standard & Poor's 500 – 4124, down 12 points or 0.3%
Dow Jones Industrial – 33301, down 374 points or 1.1%
10-year U.S. Treasury Note – 3.46%, up 0.02%
Not a Landaas & Company client yet? Click here to learn more.
More information and insight from Money Talk
Money Talk Videos
Follow us on Twitter.