Money Talk Podcast, Friday March 10, 2023
Podcast: Play in new window | Download
Subscribe: iTunes | Android | Google Play | RSS
Landaas & Company newsletter  March edition now available.
Advisors on This Week's Show
Week in Review (March 6-10, 2023)
SIGNIFICANT ECONOMIC INDICATORS & REPORTS
Monday
A drop in commercial aircraft demand sent U.S. factory orders lower in January for the second time in three months. The Commerce Department said orders overall declined 1.6% from December and were 4.3% ahead of their level the year before. Excluding volatile orders for transportation equipment, demand rose 1.2% from the month before and was up 4.3% from January 2022. Core capital goods orders, a proxy for business investments, rose 0.8% for the month and 5.5% from the year before.
Tuesday
The Federal Reserve said credit card debt rose at an annual pace of 11.1% in January, far swifter than the overall 3.7% annualized increase in consumer debt outstanding. Measured year to year, credit card debt rose 15.6% from January 2022, the sixth month in a row to exceed 15%. Sustained use of credit cards suggests consumers continued spending at higher levels despite Fed interest rate increases aimed at weakening demand to help lower decades-high inflation.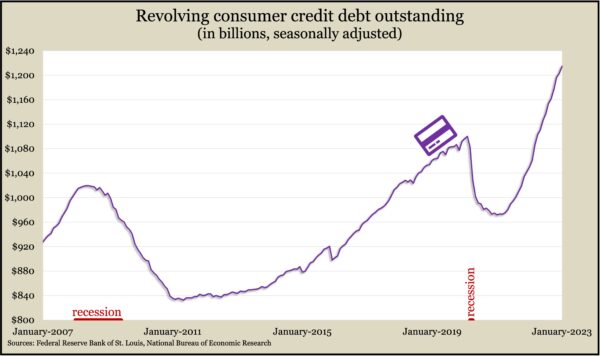 Wednesday
The U.S. trade deficit widened by 1.6% to $68.3 billion in January, the Bureau of Economic Analysis reported. During the month, exports rose by 3.4%, led by pharmaceuticals and autos, offset by a decline in service exports such as travel. Meanwhile, imports rose 3% from December, driven by automotive goods, cell phones and travel services. Compared to January 2022, the trade gap narrowed by 22% as exports rose 13% and imports grew 3.5%. Economists consider trade deficits a detraction from overall economic growth.
U.S. employers posted 10.8 million job openings in January, down from an upwardly revised 11.2 million in December. Demand for workers continued to outstrip supply as the number of unemployed workers seeking work in January reached 5.7 million, according to earlier reports from the Bureau of Labor Statistics. The biggest declines in job postings in January were at construction companies, hotels and restaurants, and financial and insurance companies. The number and rate of layoffs increased, while quits – a measure of worker confidence – declined.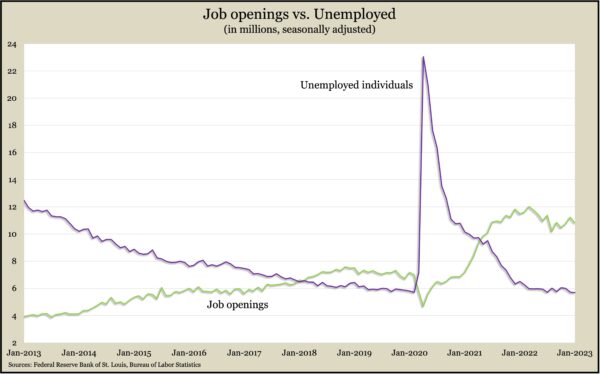 Thursday
The Labor Department reported the four-week moving average for initial unemployment claims rose for the fourth week in a row, though it remained 46% below its average since 1967. Total claims for the latest week declined 2% from the week before to 1.9 million. That was just above the mark from the year before and down from 20.8 million at the same time in 2021.
Friday
Employers added 311,000 jobs in February, and the unemployment rate edged up from its lowest level since 1969. The Bureau of Labor Statistics' monthly jobs report, combining payroll data and household surveys, showed the robust pace of hiring slowing from the six-month average of 336,000 jobs per month and the 12-month average of 362,000. The leisure and hospitality industry accounted for about a third of the jobs gain in February but remained more than 400,000 (2%) behind its level just before the pandemic. Overall payrolls were up 3 million jobs (2%) from February 2020. Meanwhile, the unemployment rate rose to 3.6% from 3.4% in January with a rise in the number of workers losing jobs or completing temporary positions.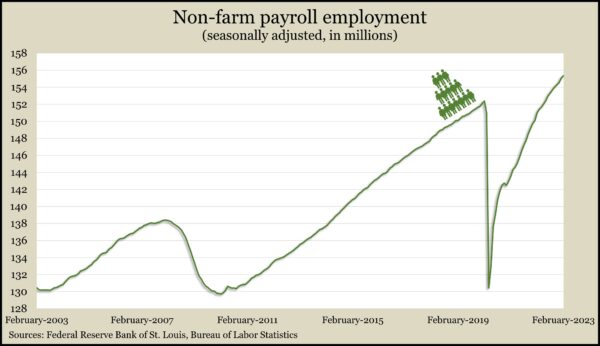 MARKET CLOSINGS FOR THE WEEK
Nasdaq – 11139, down 550 points or 4.7%
Standard & Poor's 500 – 3862, down 184 points or 4.5%
Dow Jones Industrial – 31910, down 1481 points or  4.4%
10-year U.S. Treasury Note – 3.70%, down 0.27 point
Not a Landaas & Company client yet? Click here to learn more.
More information and insight from Money Talk
Money Talk Videos
Follow us on Twitter.