Money Talk Podcast, Friday June 9, 2023
Podcast: Play in new window | Download
Subscribe: iTunes | Android | Google Play | RSS
Landaas & Company newsletter  June edition now available.
Advisors on This Week's Show
Week in Review (June 5-9, 2023)
Significant Economic Indicators & Reports
Monday
Though at a slower pace, the services industry expanded in May for the fifth month in a row and the 35th time in 36 months, according to the Institute for Supply Management. The ISM services index, based on surveys of purchasing managers, suggested stable but slowing conditions amid sluggish demand and weaker hiring. Slower growth resulted in further reduction in the supply chain challenges that clogged the industry in the early recovery from the pandemic. The ISM reported the lowest back logs and smoothest suppliers' deliveries since 2009.
The Commerce Department said factory orders rose in April for the fourth time in five months, though largely because of military orders. Overall, orders gained 0.6% from March, but excluding defense contracts, they declined 0.4%. The military accounted for about half of the 1.4% year-to-year growth in factory orders. In comparison, core capital goods orders, a proxy for business investments, rose 1.3% from March and were up 2.7% from April 2022.
Tuesday
No major releases
Wednesday
The U.S. trade deficit widened 23% in April to $74.6 billion from $60.6 billion in March. The Bureau of Economic Analysis reported that U.S. exports shrank 3.6% from March, led by goods, especially oil and industrial materials. Imports grew 1.5%, led by automotive products and cell phones. Through the first four months of 2023, the trade gap grew 24% from the year before. In that time, exports grew 6%, and imports declined 2%. Because trade deficits count against gross domestic product, the widened gap is another sign of slowed economic growth.
The Federal Reserve Board reported that outstanding revolving consumer credit debt rose again in April, though at a slightly slower rate. While total debt rose at a 5.7% annual rate from March, revolving credit, which mostly includes credit cards, increased at a 13.1% pace. That was down from 14.6% in March, marking the fourth deceleration in five months. Still, consumers increased credit card debt for the 24th month in a row. An indicator of consumer confidence, the level of credit card debt was up $146 billion or 13% from when the pandemic started. The measure took 26 months to recover from its collapse after the pandemic. In contrast, it took more than 10 years to recover from the Great Recession.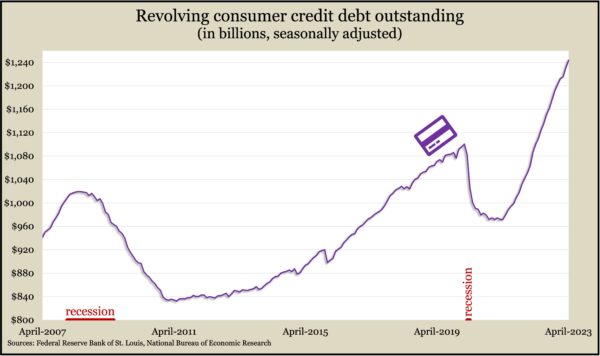 Thursday
Though still historically low, the four-week moving average of initial unemployment claims rose for the second time in three weeks. The measure of employers' reluctance to let workers go reached its highest level in five weeks but was 35% below the 56-year average, according to Labor Department data. Some 1.6 million Americans claimed jobless benefits in the latest week, down slightly from the week before but up 27% from the year before.
Friday
No major releases
MARKET CLOSINGS FOR THE WEEK
Nasdaq – 13259, up 18 points or 0.1%
Standard & Poor's 500 – 4299, up 16 points or 0.4%
Dow Jones Industrial – 33877, up 114 points or 0.3%
10-year U.S. Treasury Note – 3.75%, up0.05 point
Not a Landaas & Company client yet? Click here to learn more.
More information and insight from Money Talk
Money Talk Videos
Follow us on Twitter.