Money Talk Podcast, Friday June 30, 2023
Podcast: Play in new window | Download
Subscribe: iTunes | Android | Google Play | RSS
Landaas & Company newsletter  July edition now available.
Advisors on This Week's Show
Week in Review (June 26-30, 2023)
Significant Economic Indicators & Reports
Monday
No major releases
Tuesday
Orders for durable goods rose 1.7% in May, the third consecutive gain in the measure of manufacturing demand. A 32% increase in commercial aircraft orders and a 2% rise in automotive orders led the uptick, the Commerce Department reported. Excluding transportation equipment, durable goods orders advanced just 0.6% from April. Overall orders were up 3.5% from the year before but just 0.4% without transportation equipment. Core capital goods orders, a proxy for business investments, rose 0.7% from April and were up 2.7% from May 2022.
Housing prices declined from the year before for the first time since 2012, according to the S&P CoreLogic Case-Shiller home price index. Prices in April sank 0.2% from April 2022. The year-to-year comparison had been decelerating since peaking at a record gain of 21% last June. On a monthly basis, which gets clouded with seasonal factors, the index rose marginally from March, prompting an S&P analyst to note that a broad pricing recovery might be underway. S&P added that housing continued to face challenges from higher mortgage rates and a weakened economy.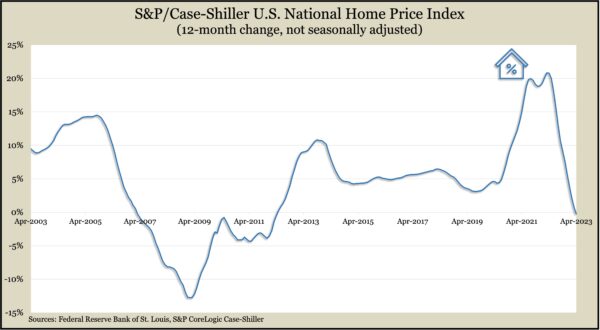 The annual rate of new home sales improved in May, rising for the third month in a row and the seventh time in eight months. At 763,000 houses a year, the rate was the highest since February 2022, just before the Federal Reserve began raising interest rates to dampen inflation. According to the Commerce Department, the inventory of new houses for sale fell to a seven-month month supply, down 12% from April and down 19% from May 2022. The median sales price was $416,300, down 8% from May 2022.
The Conference Board said its consumer confidence index rose in June to its highest level since January 2022. Consumers expressed improved views of both current economic conditions and expectations for the future. The expectations index reached 79.5, staying lower than 80 for the 15th time in 60 months. The business research group said readings below 80 suggest anticipation of a recession in the next six to 12 months. Expectations for inflation reached the lowest since December 2020. A favorable job market appeared to be fueling consumer confidence, according to the Conference Board, although plans for major purchases have been slowing and revenge vacation spending may have peaked.
Wednesday
No major releases
Thursday
The U.S. economy grew at an annual pace of 2% in the first quarter, according to the last of three estimates of the gross domestic product. The increase was up from an earlier estimate of 1.3%, in part because consumer spending was stronger than initially measured and imports – which weigh against economic growth – were lower. The 2% growth rate was down from a 2.6% pace in the final quarter of 2022. Inflation-adjusted data from the Bureau of Economic Analysis showed the economy 1.6% larger at the end of the first quarter than it was the year before.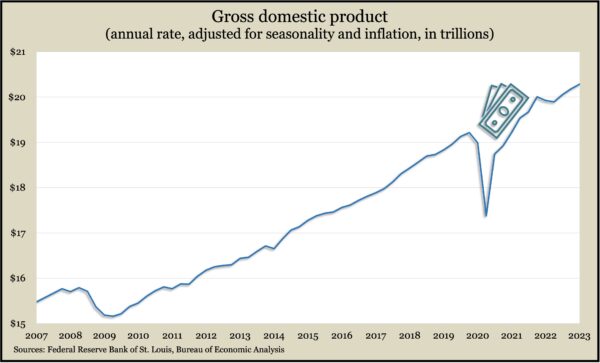 The four-week moving average for initial unemployment claims rose for the fourth week in a row, reaching its highest level since November 2021. Even so, Labor Department figures show the moving average 30% below the 56-year average, although it was 23% higher than it was just before the COVID-19 pandemic. Nearly 1.7 million Americans were claiming unemployment compensation in the latest week, up 1.4% from the week before and up 29% from the year before.
Pending home sales sank 2.7% in May, according to an index from the National Association of Realtors. Demand for existing houses was 22% below the index in May 2022. The trade group blamed lack of housing inventory for suppressing demand, noting that newly built houses were not coming on the market fast enough.
Friday
Consumer spending slowed in May as personal income remained steady, according to the Bureau of Economic Analysis. Personal spending accounts for about two-thirds of economic growth and increased by 0.1% from April. April spending was 0.6% higher than March. Controlling for inflation, consumer spending was unchanged for the third time in four months. The report also showed that the Federal Reserve Board's favorite measure of inflation eased to 3.8% from the year before, the lowest it has been in more than two years but still nearly twice the Fed's long-range target.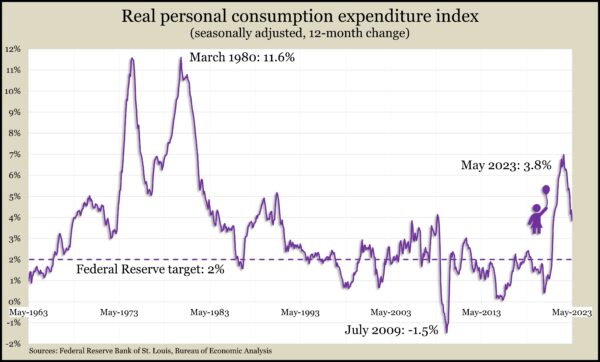 A precursor to consumer spending, consumer sentiment, improved in June with brighter economic outlooks both for the year ahead and longer. The University of Michigan said its longstanding survey found attitudes recovered from the debt ceiling controversy resolved by politicians earlier in the month. And though consumers were calming down amid signs of slower inflation, the persistence of high prices continued to weigh on their financial outlooks.
MARKET CLOSINGS FOR THE WEEK
Nasdaq – 13788, up 295 points or 2.2%
Standard & Poor's 500 – 4450, up 102 points or 2.3%
Dow Jones Industrial – 34406, up 679 points or 2.0%
10-year U.S. Treasury Note – 3.82%, up 0.08 point
Not a Landaas & Company client yet? Click here to learn more.
More information and insight from Money Talk
Money Talk Videos
Follow us on Twitter.