Money Talk Podcast, Friday June 3, 2022
Podcast: Play in new window | Download
Subscribe: iTunes | Android | Google Play | RSS
Landaas & Company newsletter  June edition now available.
Advisors on This Week's Show
Week in Review (May 30-June 3, 2022)
Significant Economic Indicators & Reports
Monday
Markets and government closed for Memorial Day
Tuesday
Housing prices continued to outpace overall inflation in March, even as mortgage rates rose. The S&P CoreLogic Case Shiller home price index grew at a 12-month rate of 20.6%, the highest in more than 35 years of data. Economists have expected price increases to moderate with higher interest rates as steeper borrowing costs lower demand among home buyers.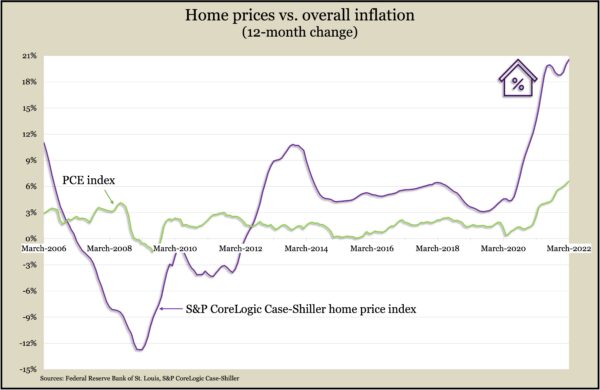 The Conference Board said its consumer confidence index declined in May after a brief gain in April. The business and research group said perceived weakness in the labor market lowered views of current conditions, but the real risk to consumer spending in coming months are attitudes toward higher prices and interest rates. Concerns about inflation stayed about where they were in April, the Conference Board reported, but consumers are shifting more of their spending from durable goods like cars to services like vacations.
Wednesday
The manufacturing sector expanded in May at a slightly faster pace. The Institute for Supply Management said its manufacturing index exceeded 50 for the 24th month in a row, suggesting the industry was growing. Purchasing managers surveyed for the index said supply chains and prices were their biggest concerns. New export orders rose slightly, a hiring component weakened and a gauge of supplier deliveries showed improvement. The trade group said its index indicates the U.S. economy is growing at an annual pace of 2.6%.
Housing led a 0.2% increase in the pace of construction spending in April, which reached a record annual rate of more than $1.7 trillion. The Commerce Department reported residential spending rose 0.9% from the March pace and was up 18% from April 2021. Public expenditures on construction were up nearly 2% from the year before, including a 6% increase on road construction.
U.S. employers posted 11.4 million job openings in April, down from a record 11.9 million in March. The Bureau of Labor Statistics also reported slight declines in the number of hires and total separations, but the number of layoffs and discharges dropped to 1.2 million, the lowest in 22 years of data. In another indication of the tight labor market, the number of unemployed job seekers per job opening fell to a record low.
Thursday
The four-week moving average for initial unemployment claims declined for the first time since hitting an all-time low in early April. A Labor Department report showed first-time applications were 44% below the 55-year average, indicating employer reluctance to let workers go in a tight labor market. About 1.3 million Americans claimed unemployment benefits in the latest week, up from more than 15 million at the same time last year.
The Bureau of Labor Statistics said worker productivity fell at an annual rate of 7.3% in the first quarter, the steepest decline since 1947. Hampered by global supply-chain snags, non-farm output contracted at a 2.3% pace while hours worked rose at a 5.4% rate. Since the first quarter of 2021, productivity dipped 0.6% as output increased 4.2% and hours worked rose 4.8%. That year-to-year decline was the biggest since 1993. Since just before the pandemic, productivity has increased by 2.6%, a rate of 1.2% per year. Labor costs rose 8.2% from the first quarter of 2021, the most since 1982.
For the 11th time in 12 months, factory orders rose in April, up 0.2% from March. Commercial aircraft contributed to the April gain, rising 2.7%. Excluding volatile transportation equipment, the Commerce Department reported, factory orders still rose 0.2% in April. Compared to the year before, total orders were up 12.6% and up 13.2% excluding transportation. Core capital goods orders, a proxy for business investment, gained 0.4% for the month and up 10.1% from the year before.
Friday
U.S. employers added 390,000 jobs in May, the lowest gain in 13 months, but drew within 822,000 jobs or 0.5% of the pre-pandemic level. According to a report from the Bureau of Labor Statistics, the leisure and hospitality field accounted for more than a fifth of the May gains but remains 1.3 million or 8% behind its February 2020 mark. The bureau's household survey showed the unemployment rate staying at 3.6% fro the third month in a row, near the 3.5% level just before the pandemic. The number of Americans wanting jobs but not actively seeking in May was 5.7 million, 14% above the February 2020 level. About 8% of the inactive job seekers said COVID concerns kept them from looking for work.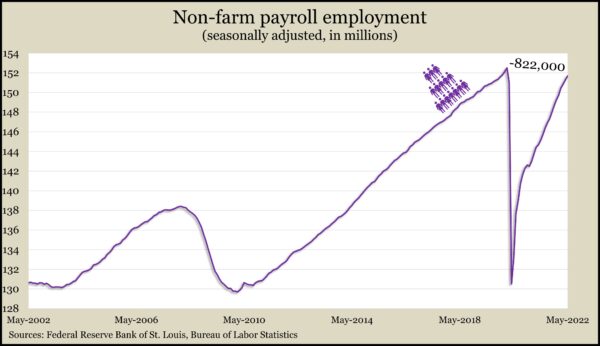 The service sector of the U.S. economy expanded in May for the 24th month in a row, though at a slower pace for the second straight month. The Institute for Supply Management said its service index showed growth for the 146th time in 148 months. And while delays in supplier deliveries eased and prices softened from a record high in April, the trade group said purchasing managers see challenges from COVID-19, Russia's war in Ukraine and the tight labor market.
MARKET CLOSINGS FOR THE WEEK
Nasdaq – 12013, down 118 points or 1.0%
Standard & Poor's 500 – 4108, down 50 points or 1.2%
Dow Jones Industrial – 32899, down 314 points or 0.9%
10-year U.S. Treasury Note – 2.95%, up 0.21 point
Send us a question for our next podcast.
Not a Landaas & Company client yet? Click here to learn more.
More information and insight from Money Talk
Money Talk Videos
Follow us on Twitter.
Landaas newsletter subscribers return to the newsletter via e-mail.