Money Talk Podcast, Friday June 24, 2022
Podcast: Play in new window | Download
Subscribe: iTunes | Android | Google Play | RSS
Landaas & Company newsletter  June edition now available.
Advisors on This Week's Show
(with Max Hoelzl, Joel Dresang, engineered by Kevin Lofy)
Week in Review (June 20-24, 2022)
Significant Indicators & Reports
Monday
Markets closed in observance of Juneteenth Day
Tuesday
The National Association of Realtors blamed rising mortgage rates in part for the fourth consecutive decline in existing home sales in May. The seasonally adjusted annual rate sank 3.4% to 5.4 million houses, down 8.6% from the year-earlier pace. The trade association said sales levels were back to where they were in 2019 and the balance between sales of houses and condominiums suggested a slowdown in the pandemic trend of urban dwellers moving to suburbs. Even with falling sales, the inventory of houses on the market was about half of what's considered enough to be sustainable. Because of tight supply, the median sales price rose nearly 15% from May 2021 to $407,600, the 123rd month in a row of year-to-year increases.
Wednesday
No major reports
Thursday
The four-week moving average for initial unemployment claims continued to rise, up for the 11th week since hitting a record low in early April. The Labor Department reported that the average level of new claims was at its highest point since January, though it was still 40% below the 55-year average. Another measure, the moving average of insured unemployment, reached a 52-year low. About 1.3 million Americans claimed  unemployment insurance benefits in the latest week, up 1% from the week before but down from 14.8 million the year before.
Friday
The Commerce Department and Department of Housing and Urban Development said the annual rate of new home sales rose 10.7% in May, the first gain in five months. The sales pace of 696,000 new houses was down 5.9% from May 2021, just above the level entering the pandemic and near where it was just before the Great Recession. The supply of new houses for sale rose to the highest point since April 2008, and the median sales price rose to a new high of $449,000, up 15% from May 2021.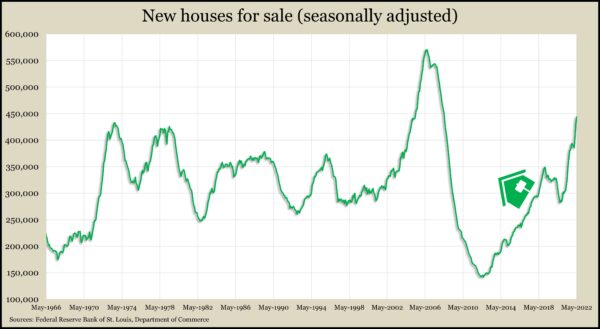 The University of Michigan's consumer sentiment index fell to its lowest mark ever in June. The survey-based gauge measured 50, down from 58,4 in May and 85.5 in June 2021. Consumers continued to cite inflation as their chief concern, with 47% blaming it for lowering their standard of living. During the Great Recession, a record 48% made that claim. Consumers expressed more confusion over long-term price increases than at any time since 1991. Even so, they forecast inflation to settle at 3.1% in the long run, which was consistent with the range in the last 10 months of surveys.
MARKET CLOSINGS FOR THE WEEK
Nasdaq – 11608, up 809 points or 7.5%
Standard & Poor's 500 – 3912, up 237 points or 6.5%
Dow Jones Industrial – 31504, up 1615 points or 5.4%
10-year U.S. Treasury Note – 3.13%, down 0.11 point
Send us a question for our next podcast.
Not a Landaas & Company client yet? Click here to learn more.
More information and insight from Money Talk
Money Talk Videos
Follow us on Twitter.
Landaas newsletter subscribers return to the newsletter via e-mail.