Money Talk Podcast, Friday June 17, 2022
Podcast: Play in new window | Download
Subscribe: iTunes | Android | Google Play | RSS
Landaas & Company newsletter  June edition now available.
Advisors on This Week's Show
Week in Review (June 13-17, 2022)
Significant Economic Indicators & Reports
Monday
No major reports
Tuesday
The Bureau of Labor Statistics said the price of gasoline contributed to rising inflation on the wholesale level in May. The Producer Price Index rose 0.8% from April, twice the rate from the month before, although half the gain between March and April. Prices rose broadly, including an 8.4% increase in gasoline prices and a 2.9% advance in the cost of trucking freight. Excluding volatile prices for food, energy and trade, the core PPI was up 0.5% in May. Compared to 12 months earlier, wholesale inflation rose 10.8% in May, which was down from 10.9% in April and 11.5% in March. Core PPI was up 6.8% from May 2021, the same rate as April.
Wednesday
The Commerce Department reported a 0.3% decline in retail sales in May as consumers forsook car dealers, appliance centers, online vendors and furniture stores. Sales rose at gas stations and grocery stores, but that was at least in part because of higher prices. The monthly decline in retail spending was the first since December. Compared to May 2021, sales rose by 8.1%, including a 43% gain at gas stations. Car dealer sales declined 5% from the year before amid ongoing supply problems.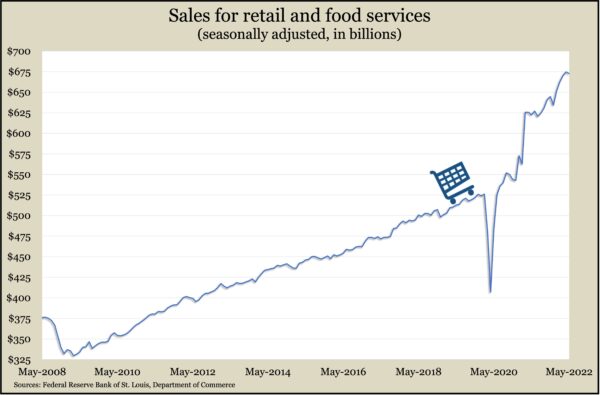 Thursday
The four-week moving average for initial unemployment claims rose for the ninth time in 10 weeks after hitting an-all time low in early April. Despite rising 25% in that time, the moving average was still 41% below the 55-year average. According to the Labor Department, the moving average for insured unemployment reached its lowest point since 1970, and the total claims for jobless benefits fell below 1.3 million, compared to 14.8 million the year before.
The annual pace of housing starts and building permits suggested the housing industry was slowing in May with the rise in mortgage rates. A joint report from the departments of Commerce and Housing and Urban Development showed starts contracting 14% from April's pace while permits declined 7%. Permits remained above their levels just before the pandemic, and although starts were down slightly from that period, the number of houses under construction in May reached a record high for the third month in a row.
Friday
U.S. industrial output rose 0.2% in May, the slimmest gain in five consecutive months of advance. The Federal Reserve reported a slight decline in manufacturing production, the first dip since December. Both the mining and utilities sectors increased output, with oil and gas extraction averaging gains of 2% each month since March. Capacity utilization rose to 79%, its highest level since October 2018. An early indicator of inflationary pressure, capacity usage remained below its 50-year average of 79.5%.
The Conference Board's index of leading economic indicators declined 0.4% in May, the same as in April. The business research group said despite a near-record level for the index, the recent downward trend, along with interest rate increases by the Federal Reserve, suggest at least a near-term slowdown in economic growth. Particular items weighing down the May index were lower stock prices, slower housing construction and soured consumer expectations.
MARKET CLOSINGS FOR THE WEEK
Nasdaq – 10798, down 542 points or 4.8%
Standard & Poor's 500 – 3674, down 226 points or 5.8%
Dow Jones Industrial – 29885, down 1508 points or 4.8%
10-year U.S. Treasury Note – 3.24%, up 0.08 point
Send us a question for our next podcast.
Not a Landaas & Company client yet? Click here to learn more.
More information and insight from Money Talk
Money Talk Videos
Follow us on Twitter.
Landaas newsletter subscribers return to the newsletter via e-mail.