Money Talk Podcast, Friday June 16, 2023
Podcast: Play in new window | Download
Subscribe: iTunes | Android | Google Play | RSS
Landaas & Company newsletter  June edition now available.
Advisors on This Week's Show
Week in Review (June 12-16, 2023)
Significant Economic Indicators & Reports
Monday
No major reports
Tuesday
The broadest measure of inflation slowed to the lowest rate in more than two years, though it was still twice as high as the long-range Federal Reserve target. The Consumer Price Index rose 4% in May, down from 4.9% in April and a decades-high 9.1% in June, according to the Bureau of Labor Statistics. Inflation inched up 0.1% from April as a 5.6% drop in gas prices offset higher costs for shelter, used vehicles and food away from home. Excluding volatile prices for food and energy, the so-called core CPI rose 0.4% for May, trending on par with April and March. Since May 2022, the core rate increased 5.3%, the lowest in 18 months.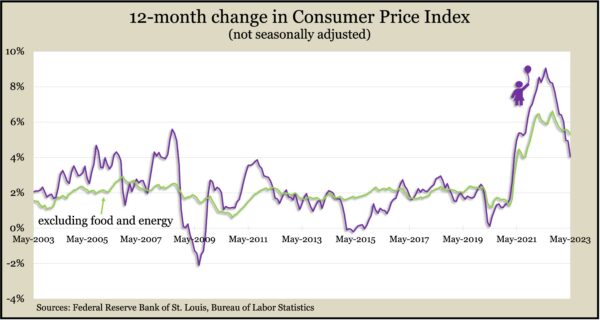 Wednesday
Inflation on the wholesale level also continued to retreat in May. The Bureau of Labor Statistics said the Producer Price Index declined 0.3% from April, falling for the third time in four months, led by a 14% drop in gas prices. Excluding volatile prices for food, energy and trade services, the core PPI was unchanged from April. Compared to 12 months prior, wholesale inflation rose 1.1% in May, the lowest since the end of 2020 and down from more than 11% last June. Core PPI was up 2.8% from May 2022, when the rate had reached 6.8%.
Thursday
Amid signs of a slowing economy, consumers continued to fuel further growth in May, sending retail sales up 0.3%. Lower prices at gas stations held back the overall gain in retail sales, which was led by car dealerships and home-and-garden centers. Adjusted for inflation, retail sales rose 0.2% from April, the first measurable increase since December. Compared to May 2022, total retail sales rose by 1.6%, including an 8% gain at bars and restaurants.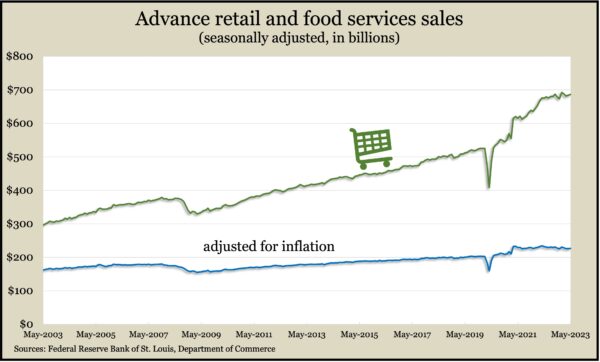 The four-week moving average for initial unemployment claims rose for the third time in four weeks to its highest level since November 2021. Still, the indicator of employers' willingness to let workers go remained 33% below its 56-year average. According to the Labor Department, total claims for jobless benefits reached more than 1.6 million, down slightly from the week before. The year before, claims were below 1.3 million; at the same point in 2021, they had reached 14.8 million.
U.S. industrial output declined 0.2% in May, the first dip in five months. The Federal Reserve reported broad modest setbacks in production except in the manufacturing of defense equipment and aerospace gear. Manufacturing output rose slightly for the fourth time in five months. Capacity utilization — often an early indicator of inflation —fell to 79.6%, just below its level in April and nearly the same as the average 7.97% rate since 1972.
Friday
With inflation cooling and the debt ceiling lifted, consumer sentiment is on the rise, according to the University of Michigan. A preliminary June reading of the university's longstanding consumer surveys showed sentiment still historically weak but up 28% from the all-time low set a year ago. While expectations for inflation are receding, consumers still anticipate a more difficult economy in the next year. Economists see consumers' sentiment as a predictor of their spending, which generates two-thirds of U.S. economic growth.
MARKET CLOSINGS FOR THE WEEK
Nasdaq – 13690, up 430 points or 3.2%
Standard & Poor's 500 – 4410, up 111 points or 2.6%
Dow Jones Industrial – 34301, up 424 points or 1.3%
10-year U.S. Treasury Note – 3.77%, up 0.02 point
Not a Landaas & Company client yet? Click here to learn more.
More information and insight from Money Talk
Money Talk Videos
Follow us on Twitter.