Money Talk Podcast, Friday June 10, 2022
Podcast: Play in new window | Download
Subscribe: iTunes | Android | Google Play | RSS
Landaas & Company newsletter  June edition now available.
Advisors on This Week's Show
Week in Review (June 6-10, 2022)
Significant Economic Indicators & Reports
Monday
No major releases
Tuesday
The U.S. trade deficit narrowed 19% in April to $87 billion after an all-time high of nearly $108 billion in March. It marked the first time the deficit shrank in six months. The Bureau of Economic Analysis said exports grew by 3.5% in April, led by oil-based industrial supplies, soybeans, aircraft and travel services. Imports declined 3.4% in April, led by consumer goods, industrial supplies and computers. Imports from China fell 18% amid COVID-19 lockdowns in some regions. Year to year, the U.S. trade deficit widened 41% with a 19% gain in exports and a 24% rise in imports. Larger deficits detract from gross domestic product and have slowed economic growth for seven consecutive quarters.
The Federal Reserve Board reported that revolving consumer credit debt outstanding surpassed its pre-pandemic high in April. While total debt rose at a 10% annual rate from March, revolving credit, which mostly includes credit cards, increased at a 20% pace. An indicator of consumer confidence, the level of credit card debt rose $133 billion or 14% since its pandemic low in January 2021. The measure took 26 months to recover, as opposed to 10 years following the great financial collapse.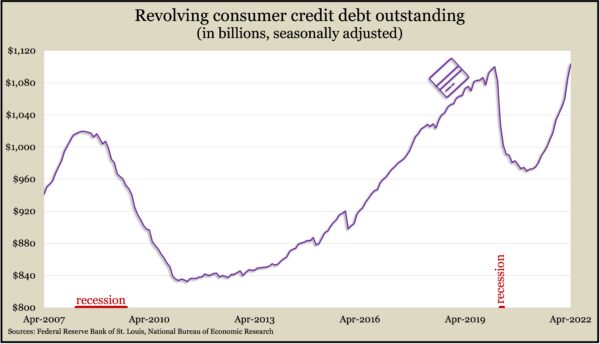 Wednesday
No major releases
Thursday
Though still historically low, the four-week moving average of initial unemployment claims rose to its highest level in four months. The measure of employers' reluctance to let workers go increased eight of the previous nine weeks after hitting a record low in April. The moving average remained 42% below the 55-year average, according to Labor Department data. Fewer than 1.3 million American claimed jobless benefits in the latest week, down from 15.3 million the year before.
Friday
The broadest measure of inflation had a 12-monthy increase of 8.6% in May, the most since December 1981. The Bureau of Labor Statistics said its Consumer Price Index rose broadly, but higher food and energy prices played a big role. Food prices rose more than 10% from May 2021, with groceries up 12%, the most since 1979. Energy costs increased 35% from the year before, with gasoline up 49% and fuel oil up 107% – the biggest jump in data going back to 1935. Excluding volatile food and energy prices, the core CPI rose 6% from May 2021. That was down from 6.2% in April and 6.5% in March.
A preliminary look at consumer sentiment in June found the lowest reading in more than four decades of surveys. University of Michigan researchers said consumers' attitudes are comparable to opinions held in the depths of the 1980 recession. Expectations especially dropped lower, with 46% of those surveyed blaming inflation, up from 38% in May. More than half made impromptu complaints about supply shortages, which happened for the ninth month in a row.
MARKET CLOSINGS FOR THE WEEK
Nasdaq – 11340, down 673 points or 5.6%
Standard & Poor's 500 – 3901, down 208 points or 5.1%
Dow Jones Industrial – 31392, down 1507 points or 4.6%
10-year U.S. Treasury Note – 3.16%, up 0.20 point
Send us a question for our next podcast.
Not a Landaas & Company client yet? Click here to learn more.
More information and insight from Money Talk
Money Talk Videos
Follow us on Twitter.
Landaas newsletter subscribers return to the newsletter via e-mail.