Money Talk Podcast, Friday July 29,2022
Podcast: Play in new window | Download
Subscribe: iTunes | Android | Google Play | RSS
Landaas & Company newsletter  August edition now available.
Advisors on This Week's Show
Week in Review (July 25-29, 2022)
SIGNIFICANT ECONOMIC INDICATORS & REPORTS
Monday
No major releases
Tuesday
The year-to-year increase in residential prices slowed in May for the second month in a row. The S&P CoreLogic Case-Shiller national home price index rose 19.7% from the year before, down from 20.6% in April. Of 20 cities tracked in a composite index, 16 had lower increases in May, but all 20 saw double-digit gains. A spokesman for the index projected that further price gains will narrow as rising financing costs for houses take a toll on demand.
The Conference Board said its consumer confidence index declined in July for the third month in a row, suggesting slower economic growth entering the third quarter and raising the risk of recession. July's drop-off in optimism occurred mostly in consumer expectations. The business research group said ongoing concerns about inflation were holding back more consumers' plans to buy big-ticket items. About 70% of the U.S. economy is driven by consumer spending.
The annual rate of new home sales fell in June, dropping 8% from May and down 17% from the pace in June 2021. The Commerce Department reported that the inventory of unsold houses rose to their highest level since May 2009. Meanwhile, the median price of new houses rose to $402,400, up 7% from June 2021. Half of the houses sold in June cost $400,000 or more, compared to 34% in all of 2020.
Wednesday
Manufacturing demand remained high in June, with durable goods orders rising for the eighth time in nine months. Orders rose 1.9% from May, with broad gains led by an 80% jump in contracts for military aircraft. Excluding the volatile transportation category, the value of orders rose 0.4% from May, according to figures from the Commerce Department. Core capital goods orders, a proxy for business investment, rose 0.5% from May and 10% from June 2021.
The National Association of Realtors blamed rising mortgage rates and high prices for dampening demand for real estate in June. The trade association said its pending home sales index dropped 8.6% from May and 20% from the year before. The Realtors said home buying is 80% more expensive than it was three years ago and that nearly a quarter of those who bought a house in 2019 wouldn't qualify to buy now. The association projected a 13% decline in sales in 2022.
Thursday
The U.S. economy sank at an annual pace of 0.9% in the second quarter, the second consecutive decline, following a 1.6% setback in the first three months of the year. Adjusted for inflation, gross domestic product rose 1.6% from the same time in 2021 and was up 2.5% from the peak before the pandemic, according to new data from the Bureau of Economic Analysis. Although two consecutive quarters of declining GDP is a common shorthand for economic recession, the actual definition is more complicated. Some officials say the latest data fall short of showing a recession yet.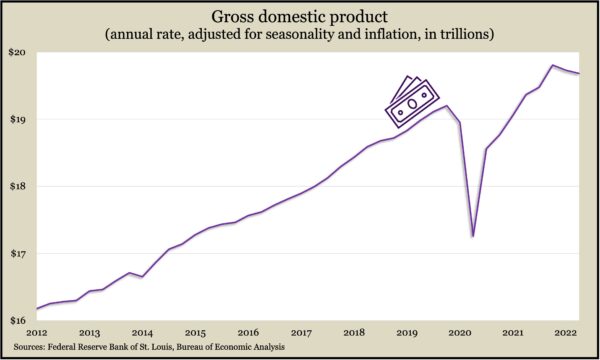 The four-week moving average for initial unemployment claims continued rising since hitting an all-time low in early April. The Labor Department reported the moving average at nearly 250,000 claims, the highest since November and up from about 170,000 in April. The level was 30% above the low point just before the pandemic yet 33% lower than the 55-year average. In the latest week, nearly 1.5 million Americans claimed jobless benefits, up 9% from the week before but down from 13.1 million the year before.
Friday
The Bureau of Economic Analysis said consumer spending rose 1.1% in June, although it was just 0.1% after adjusting for inflation. Personal income gained 0.6% in June, the same as in May. As a result of increased spending on steady income, the personal saving rate fell to 5.1%, the lowest since August 2009. The personal consumption expenditures index, which the Fed follows for inflation, rose 6.8% from June 2021, the highest since January 1982.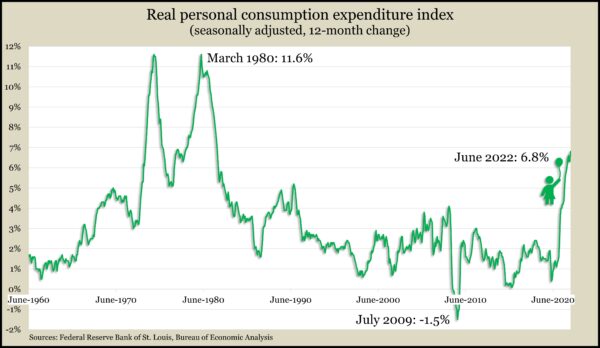 Often a pre-cursor to spending, consumer sentiment, was little changed in July after hitting an all-time low in June, according to a longstanding survey from the University of Michigan. Consumers' assessment of current economic conditions improved slightly, but inflation continued to weigh heavily on sentiments. Even so, expectations for long-term inflation stayed steady with outlooks expressed in recent months.
MARKET CLOSINGS FOR THE WEEK
Nasdaq – 12391, up 557 points or 4.7%
Standard & Poor's 500 – 4130, up 169 points or 4.3%
Dow Jones Industrial – 32845, up 946 points or 3.0%
10-year U.S. Treasury Note – 2.64%, down 0.14 point
Send us a question for our next podcast.
Not a Landaas & Company client yet? Click here to learn more.
More information and insight from Money Talk
Money Talk Videos
Follow us on Twitter.
Landaas newsletter subscribers return to the newsletter via e-mail.