Money Talk Podcast, Friday July 17, 2020
Podcast: Play in new window | Download
Subscribe: iTunes | Android | Google Play | RSS
Landaas & Company newsletter  July edition now available.
Advisors on This Week's Show
Week in Review (July 13-17, 2020)
Significant economic indicators & reports
Monday
No major releases
Tuesday
The broadest measure of inflation rose at a 0.6% annual rate in June, the Bureau of Labor Statistics said. The year-to-year increase in the Consumer Price Index matched the gain for the month, which followed three straight months of declines, unprecedented in 73 years of data. A 23.4% drop in the price of gasoline since June 2019 contributed to the low inflation rate overall. In the same period, grocery prices rose 5.6%. Excluding energy and food costs, the index rose 1.2% from June 2019, the lowest rate since 2011.
Wednesday
U.S. industrial output fell at an annual rate of 42.6% in the second quarter, the biggest setback since businesses retooled after World War II, the Federal Reserve reported. Overall industrial production increased 5.4% in June but was 10.9% lower than the output in February. Broad gains in manufacturing were led by auto makers, which more than doubled their production in May, though they remained 25% below February output. The Fed said industrial production in 2020 could wind up just even with the level in 2019. Capacity utilization rates continued to improve from record lows in April. Even so, factories were operating at about two-thirds of their potential in June.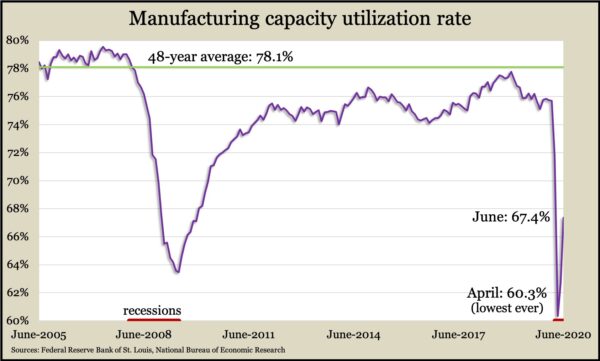 Thursday
The Commerce Department said retail sales continued to rebound in June, up 7.5% following a 18.2% surge in May. Total sales recovered from declines of 8.2% in March and 14.7% in April, signaling store reopenings and consumer stimulus payments. Sales rose in June among 10 of 13 retail categories. The only declines were among retailers that have been growing during the pandemic: home-and-garden centers, supermarkets and online retailers. Sales at bars and restaurants rose 20% in June but were down 26.3% from the year before.
The four-week moving average for initial unemployment claims fell for the 12th week in a row, remaining historically high because of job losses related to the pandemic. The Labor Department said 32 million Americans received unemployment insurance benefits, including COVID-19 relief. That compared to 1.6 million beneficiaries the year before. Weekly claims reached 1.3 million, the lowest in 17 weeks.
Friday
The U.S. housing industry continued to bounce back in June with a 17.2% increase in the annual pace of housing starts, according to the Commerce Department. Building permits, a leading indicator of future construction, increased 2.1% from May. However, both measures remained below where they were before the pandemic, with housing starts down 4% from the year before and permits down 2.5%. The pace of new construction of single-family houses was 20.6% below the post-recession peak set in December. New housing helps address the nation's relatively low inventory of residences for sale, which has resulting in housing prices accelerating faster than overall inflation.
Recent surges in coronavirus cases have dampened consumer sentiment, according to the latest University of Michigan survey. With declining expectations and lower opinions of current conditions, sentiment is now about where it was in April after a record two-month plunge. An economist with the longstanding survey said Congress needed to act fast with additional stimulus for both consumers and states to avoid "another plunge in confidence and a longer recession."
MARKET CLOSINGS FOR THE WEEK
Nasdaq –10503, down 114 points or 1.1%
Standard & Poor's 500 – 3225, up 40 points or 1.2%
Dow Jones Industrial – 26672, up 597 points or 2.3%
10-year U.S. Treasury Note – 0.63%, unchanged
Send us a question for our next podcast.
Not a Landaas & Company client yet? Click here to learn more.
More information and insight from Money Talk
Money Talk Videos
Follow us on Twitter.