Money Talk Podcast, Friday July 15, 2022
Podcast: Play in new window | Download
Subscribe: iTunes | Android | Google Play | RSS
Landaas & Company newsletter  July edition now available.
Advisors on This Week's Show
Week in Review (July 11-15, 2020)
Significant economic indicators & reports
Monday
No major releases
Tuesday
No major releases
Wednesday
The broadest measure of inflation rose at a 9.1% annual rate in June, the most since November 1981, the Bureau of Labor Statistics said. The year-to-year increase in the Consumer Price Index reflected broadly rising prices but especially for food, which was up 10% from June 2021 and gasoline, which rose 60%. Excluding volatile energy and food costs, the core index rose 5.9% from June 2021, the third month in a row that the rate of inflation declined.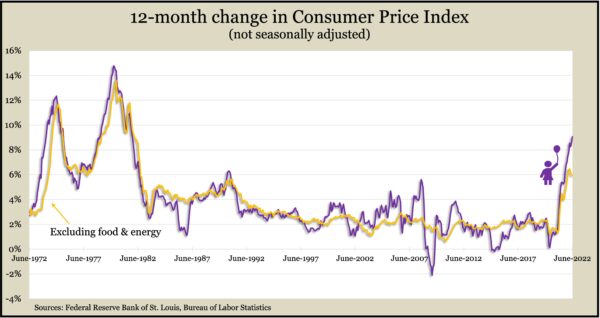 Thursday
Wholesale inflation also accelerated in June. The Producer Price Index rose 1.1% from May, following a 0.6% gain the month before. A 10% increase in energy prices led the boost, the Bureau of Labor Statistics reported. Compared to the year before, the index rose 11.3%, the highest wholesale inflation rate since an 11.6% increase in March. Excluding volatile costs for food, energy and trade services, the core PPI was up 6.4% from June 2021, decelerating for the third month in a row.
The four-week moving average for initial unemployment claims failed to fall for the 14th week in a row after reaching an all-time low in April. The average hit 235,750 claims in the latest week, still 36% behind its 55-year average. The Labor Department said 1.4 million Americans claimed unemployment insurance benefits in the latest week, up 5.5% from the week before but down from 13.8 million the year before.
Friday
The Commerce Department said retail sales resumed their climb in June, up 1% following a 0.1% decline in May. Inflation figured into the sales increases, with gas stations generating nearly 4% more than in May and 49% more than in June 2021. Of 13 retail categories, nine improved sales from May. Sales at bars and restaurants rose 13% from the year before, with a 9% decline for electronics and appliance stores.
U.S. industrial output signaled a slowdown, declining 0.2% in June after no change in May and a gain of 0.8% in April. The Federal Reserve reported that factory production was down 0.5% for the second month in a row. The oil and gas industry drove mining sector output up 1.7% from May. Compared to the year before, total industrial production was 4.2% ahead. Meanwhile, annual revisions in Fed data showed the capacity utilization rate for industries above the 50-year average for the fourth month a row, another sign of inflationary pressures.
Record-low consumer sentiment in June barely picked up in early July, according to preliminary survey results from the University of Michigan. Respondents' assessments of current economic conditions improved slightly from June, with more citing an ease in supply constraints. But about half of the consumers (49%) blamed inflation for eroding their living standards, matching a record high set during the Great Recession.
MARKET CLOSINGS FOR THE WEEK
Nasdaq – 11452, down 183 points or 1.6%
Standard & Poor's 500 – 3863, down 36 points or 0.9%
Dow Jones Industrial – 31286, down 52 points or 0.2%
10-year U.S. Treasury Note – 2.93%, down 0.17 point
Send us a question for our next podcast.
Not a Landaas & Company client yet? Click here to learn more.
More information and insight from Money Talk
Money Talk Videos
Follow us on Twitter.
Landaas newsletter subscribers return to the newsletter via e-mail.