Money Talk Podcast, Friday Jan. 13, 2023
Podcast: Play in new window | Download
Subscribe: iTunes | Android | Google Play | RSS
Landaas & Company newsletter  January edition now available.
Advisors on This Week's Show
Week in Review (Jan. 9-13, 2023)
Significant Economic Indicators & Reports
Monday
Credit card debt rose to a record $1.18 trillion in November, a sign that consumers remain confident spending amid rising interest rates and decades-high inflation. The Federal Reserve Board reported that overall consumer credit outstanding, including vehicle financing and student loans, rose at an annual rate of 7.1% from October. Revolving credit card debt rose at a 16.9% annual pace, up from 10.3% in October and 8.2% in September. Consumer spending drives about 70% of U.S. economic activity and has been expected to slow as the Fed tries to tamp down inflation.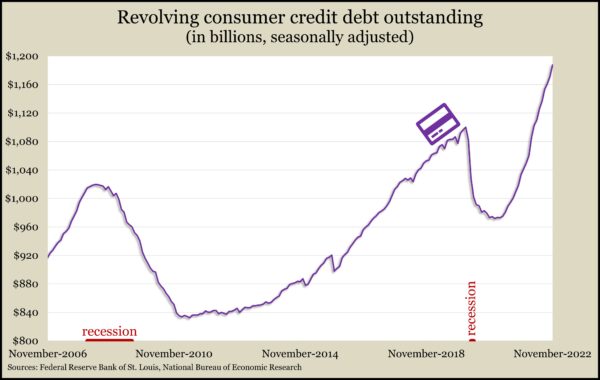 Tuesday
No major announcements
Wednesday
No major announcements
Thursday
The broadest measure of inflation showed prices rising at the slowest annual pace since October 2021. The Consumer Price Index rose 6.5% in the 12 months since December 2021. Down for the sixth month in a row since reaching a 40-year high of 9% in June, the rate is still well above the Fed's long-range target of 2%. Lower prices for gasoline and airline travel helped slow both the one-year and one-month inflation rates overall, but they offset increased costs for food and shelter. The core CPI, which excludes volatile prices for food and energy, rose 5.7% from December 2021, the lowest in a year.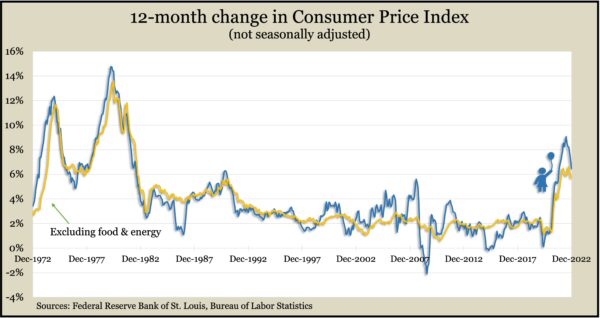 The four-week moving average for initial unemployment claims fell for the fifth week in a row, staying 42% below the long-term average and hitting its lowest point since mid-October. The Labor Department said 1.7 million Americans claimed jobless benefits the week after Christmas, up 8% from the week before but down from 2.1 million the year before, vs. 19.4 million the year before that.
Friday
A preliminary January reading of consumer sentiment suggested attitudes continuing to brighten, though they're still historically low. The University of Michigan said its longstanding index rose to 64.6 mid-month, up from 59.7 in December and down from 67.2 in January 2022. The survey-based index showed improvements both in expectations and in assessments of current conditions. Sentiment toward personal finances was the highest in eight months amid rising incomes and lower inflation. Expectations for inflation eased a bit but remained fraught with uncertainty.
MARKET CLOSINGS FOR THE WEEK
Nasdaq – 11079, up 510 points or 4.8%
Standard & Poor's 500 – 3999, up 104 points or 2.7%
Dow Jones Industrial – 34303, up 672 points or  2.0%
10-year U.S. Treasury Note – 3.51%, down 0.06 point
Not a Landaas & Company client yet? Click here to learn more.
More information and insight from Money Talk
Money Talk Videos
Follow us on Twitter.