Money Talk Podcast, Friday Dec. 2, 2022
Podcast: Play in new window | Download
Subscribe: iTunes | Android | Google Play | RSS
Landaas & Company newsletter  December edition now available.
Advisors on This Week's Show
Week in Review (Nov. 28-Dec. 2, 2022)
Significant Economic Indicators & Reports
Monday
No major releases
Tuesday
Higher mortgage rates continued to slow housing price increases in September, as the year-to-year gain decelerated for the sixth month in a row. The S&P CoreLogic Case-Shiller national index rose 10.6% from September 2021, down from a 13% gain in August and a record rise of nearly 21% in March. Adjusted for seasonal fluctuations, the price index actually declined from the month before, as it did for all 20 cities in a composite index. A spokesman for S&P said Federal Reserve increases in interest rates should continue to raise financing costs for housing, which likely will further slow prices.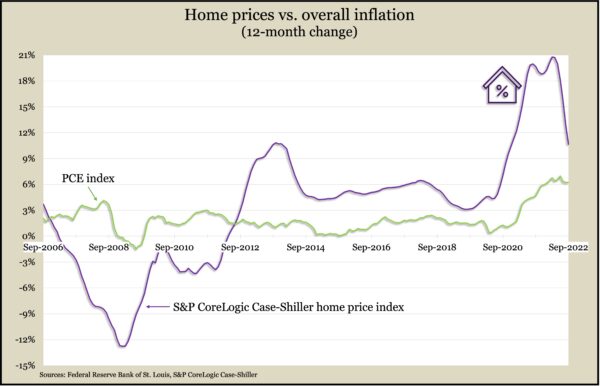 Concerns about inflation—especially gas prices—lowered consumer confidence in November, the Conference Board reported. The business research group said consumer assessments of current conditions suggested "the economy has lost momentum" heading into year-end. It called short-term outlook "gloomy." Consumers' expectations of inflation rose to the highest level since July, even though inflation generally and gas prices particularly have dropped in recent weeks. The Conference Board said in a statement that the likelihood of recession remained high.
Wednesday
The U.S. economy grew faster than previously estimated in the third quarter, rising at an annual pace of 2.9%, the Bureau of Economic Analysis reported. Stronger consumer spending on health care and other services, greater business investments and increased exports of industrial materials helped push gross domestic product higher than the prior estimate of 2.6%. Without annualizing the figures, inflation-adjusted GDP grew 1.9% from the third quarter of 2021 and was up 5.5% from the quarter just before the COVID pandemic. The Federal Reserve's favorite measure of inflation, the personal consumption expenditure index, rose 6.3% from the year before, down from 6.6% in the second quarter.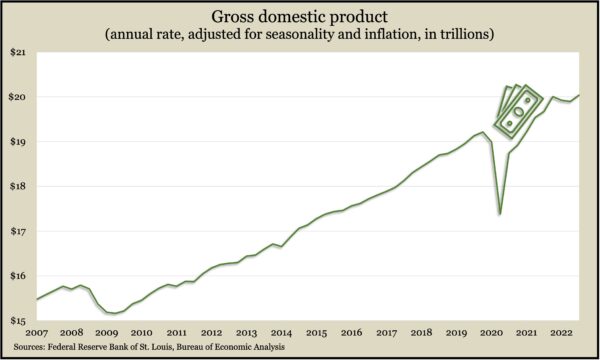 The Bureau of Labor Statistics said job openings receded in October, sinking for the fifth time in seven months. Employers posted 10.3 million openings, down from a record 11.8 million in March. The number of hires also fell, for the seventh time in eight months. Still, openings continued to outnumber the 6 million unemployed job seekers in October, supporting worker confidence. Some 4 million workers quit their jobs in October, down slightly from September but still historically high.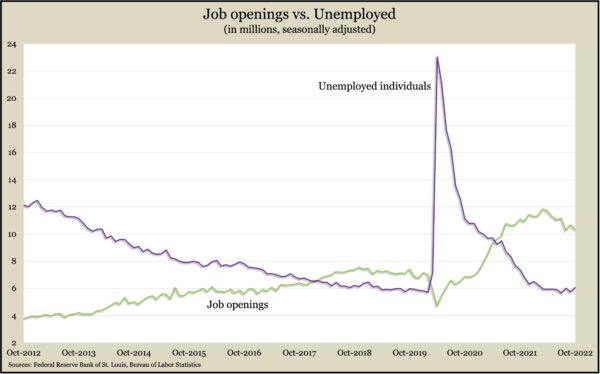 In a sign that residential real estate sales will continue to erode, pending home sales data sank in October for the fifth month in a row. The index of contract signings, from the National Association of Realtors, declined nearly 5% from September and was down 37% from the year before. The trade group cited the highest mortgage rates in 20 years as a deterrent to home buyers, but it also suggested rates peaked in mid-November, having declined in the last couple of weeks.
Thursday
The four-week moving average for initial unemployment claims rose for the seventh time in nine weeks, reaching its highest point since early September. An indicator of layoffs, the average continued a short-term trend of creeping up but remained 38% below the 55-year average. The Labor Department also reported that a total 1.5 million Americans claimed unemployment compensation in the latest week, up 2% from the week before but down from 2.1 million the year before.
A key driver of the U.S. economy, consumer spending, outpaced personal income in October. The Bureau of Economic Analysis said spending rose by 0.8% from September while income gained 0.7%. Adjusted for inflation, spending advanced 0.5%, vs. a 0.4% increase in income. As a result, the personal saving rate dropped to 2.3% of disposable income, the lowest since mid-2005. The same report showed the Personal Consumption Expenditures index, the Fed's favorite measure of inflation, rose 6% from the year before, the lowest rate since December.
Manufacturing receded in November for the first time since May 2020, according to the Institute for Supply Management. The trade group's survey of manufacturing executives showed companies preparing for lower output after six months of weakening orders. Production grew at a slower pace in November, but components for new orders and employment contracted. On the other hand, supplier deliveries reached their strongest measurement since 2012.
A cutback in residential spending led to a 0.3% decline in the pace of construction spending in October. The Commerce Department said the annual rate of expenditures fell for the second time in three months after hitting an all-time high of $1.8 trillion in June. Despite the monthly setback, construction spending in October was still 9% above the year-ago level. Housing, which accounts for half of construction spending, declined 0.3% from September's pace and was up 8.5% from the year before.
Friday
U.S. employers added 263,000 jobs in November, slowing down from its 2022 pace of 392,000 jobs a month, which was below the 2021 average of 562,000. Still, employment reached 1 million positions above the peak prior to the COVID pandemic. Since April 2020, 23 million jobs have returned to the economy, according to data from the Bureau of Labor Statistics. The leisure and hospitality industry accounted for one-third of the job gains in November, though it employs less than one-tenth of all workers. It remains 980,000 jobs (5.8%) below its staffing in February 2020. Average wages rose 5.1% from November 2021, the 19th consecutive month in which wages did not keep pace with overall inflation. The same report showed the unemployment rate staying at 3.7%, near its lowest level in more than 50 years.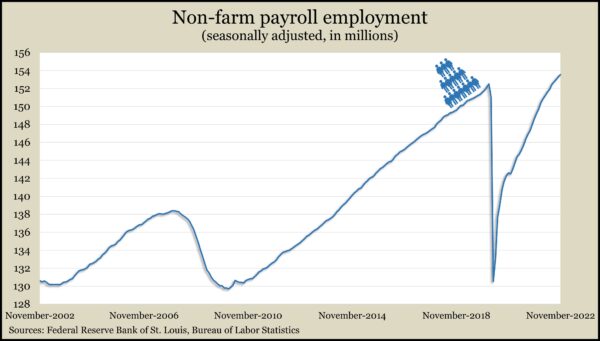 MARKET CLOSINGS FOR THE WEEK
Nasdaq – 11462, up 235 points or 2.1%
Standard & Poor's 500 – 4072, up 46 points or 1.1%
Dow Jones Industrial – 34429, up 82 points or  0.2%
10-year U.S. Treasury Note – 3.52%, down 0.18 point
Not a Landaas & Company client yet? Click here to learn more.
More information and insight from Money Talk
Money Talk Videos
Follow us on Twitter.