Money Talk Podcast, Friday Dec. 16, 2022
Podcast: Play in new window | Download
Subscribe: iTunes | Android | Google Play | RSS
Landaas & Company newsletter  December edition now available.
Advisors on This Week's Show
Week in Review (Dec. 12-16, 2022)
Significant Economic Indicators & Reports
Monday
No major announcements
Tuesday
The broadest measure of inflation continued to ease in November, declining on a year-to-year rate for the fifth month in a row. The Bureau of Labor Statistics said its Consumer Price Index added 0.1% from October and was up 7.1% from November 2021 after a 40-year high of 9.1% in June. Inflation remained near 1982 levels and far above the Federal Reserve Board's long-range target of 2%. Shelter costs accounted for most of the monthly increase while the price of gasoline got cheaper. Excluding volatile costs for energy and food, the core 12-month inflation rate was 6%, a second monthly decline since hitting a 40-year high of 6.6% in September.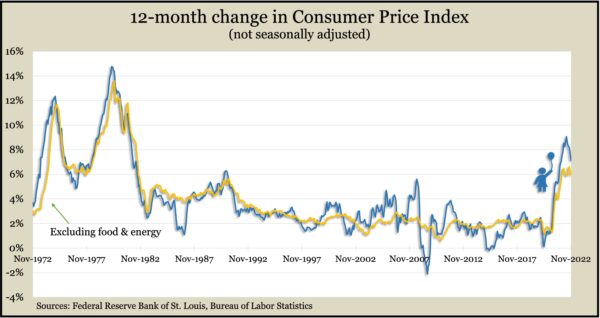 Wednesday
The policy-making committee of the Federal Reserve Board announced a unanimous decision to raise short-term interest rates another half a percentage point. It was the Fed's seventh hike this year in its attempt to lower economic demand and ease inflation. The half-point increase was down from recent moves of three-quarters, but the Federal Open Market Committee said it expects more raises ahead.
Thursday
The Commerce Department reported a 0.6% decline in retail sales in November, following a 1.3% gain in October. The drop was broadly distributed: Nine of 13 major categories had lower sales in November, including car dealerships, furniture stores, appliance centers and home-and-garden centers. Consumer spending rose notably at grocery stores and bars and restaurants. Compared to November 2021, only two retail categories had lower sales: Furniture stores and appliance centers. Adjusted for inflation, retail sales fell 0.7% in November, the fifth decline in seven months.
The four-week moving average for initial unemployment claims fell for the first time in six weeks but still close to 40% below its 55-year average. Although data can be marginally affected by seasonal downtime, including around Thanksgiving, the Labor Department reported total claims rising 24% from the week before to nearly 1.6 million. That's down from almost 2.5 million the year before, suggesting employers' reluctance to let workers go.
U.S. industrial output fell 0.1% in November, its second drop in a row and the third in four months. The Federal Reserve reported a broad decline in industrial production, led by manufacturing — particularly automakers. Factory output had advanced in the four previous months. Overall industrial production was up 2.5% from the year before. Reflecting the monthly drop in production, the capacity utilization rate fell for the second month in a row, reaching its lowest level since June but still up slightly from its long-term average. The capacity utilization rate is an indicator of inflationary pressure.
Friday
No major announcements
MARKET CLOSINGS FOR THE WEEK
Nasdaq – 10705, down 299 points or 2.7%
Standard & Poor's 500 – 3852, down 82 points or 2.1%
Dow Jones Industrial – 32920, down 556 points or  1.7%
10-year U.S. Treasury Note – 3.48%, down 0.09 point
Not a Landaas & Company client yet? Click here to learn more.
More information and insight from Money Talk
Money Talk Videos
Follow us on Twitter.