Money Talk Podcast, Friday Aug. 5, 2022
Podcast: Play in new window | Download
Subscribe: iTunes | Android | Google Play | RSS
Landaas & Company newsletter  August edition now available.
Advisors on This Week's Show
CHRIS EVERS
Week in Review (August 1-5, 2022)
Significant Economic Indicators & Reports
Monday
The manufacturing sector expanded in July for the 26th month in a row, though at the slowest pace in two years, according to the Institute for Supply Management. The trade group's index, based on surveys of purchasing managers, showed demand weakening for the second consecutive month, which has helped unclog some supply chains and ease price pressures. Executives expressed optimism for their businesses despite observations of the economy slowing.
The Commerce Department said construction spending contracted 1.1% in June. Seasonally adjusted annual spending on single-family housing led a broad array of declines. Residential projects made up more than half of total construction spending.
Tuesday
Employers' demand for workers eased slightly in June, with job openings falling to 10.7 million, down for the third consecutive month after peaking at nearly 12 million in March. Data from the Bureau of Labor Statistics showed openings still well above the pre-pandemic high of 7.5 million. Meantime, the levels of hires and separations stayed steady. Volunteer quits, a measure of employee confidence, remained historically high at 4.2 million.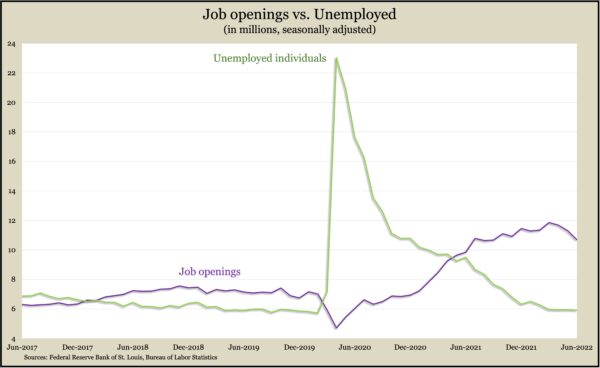 Wednesday
Demand for manufactured goods continued in June as factory orders rose for the 13th time in 14 months. The value of orders rose 2% from May, with double-digit increases for military aircraft, household appliances and photographic equipment. The Commerce Department reported that orders increased 14% from June 2021. Excluding volatile orders for transportation equipment, demand rose 13% from the year before.
The service sector grew in July at the fastest rate in four months, according to the Institute for Supply Management. The trade group's service index showed expansion for the 26th month in a row with more orders and business activity. Hiring slowed, but so did back orders and prices. The ISM said its index suggested the gross domestic product was growing at a 2.4% annual rate.
Thursday
The U.S. trade deficit narrowed 6.2% in June to $79.6 billion, the lowest since December, according to the Bureau of Economic Analysis. Exports grew 1.7% from May, led by non-monetary gold and natural gas. Imports declined 0.3%, led by automotive products. Through the first half of 2022, the gap between what the U.S. sells abroad and what it consumes from other countries rose 33% from the year before, with exports growing 20% and imports gaining 23%.
The four-week moving average for initial unemployment claims rose again, as it has every week since hitting an all-time low in early April. The average reached 254,750, the highest since November, though it remained 31% below the 55-year average. The Labor Department said nearly 15 million Americans claimed jobless benefits in the latest week, down 0.3% from the week before and down from 13 million the year before.
Friday
U.S. employers added 528,000 jobs in July, pushing employment back to where it dropped off at the onset of the COVID-19 pandemic in February 2020. The unemployment rate also returned to 3.5% for the first time since February 2020, the Bureau of Labor Statistics reported. The jobs recovery represents a rebound of 22 million positions lost little more than two years ago. The unemployment rate was down from a record 14.7% in April 2020. While many measures were at or better than their pre-pandemic marks, notable exceptions included a lower participation rate in the labor force, more long-term unemployment and permanent job losses and a deficit of 1.2 million jobs (7%) in the leisure and hospitality industry.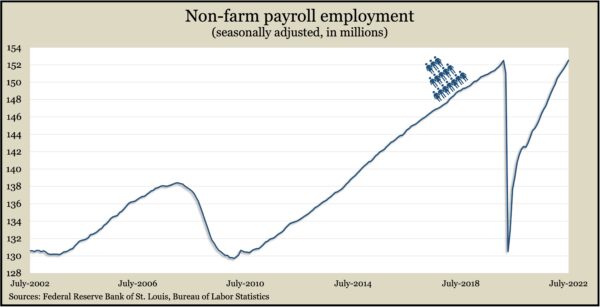 MARKET CLOSINGS FOR THE WEEK
Nasdaq – 12658, up 267 points or 2.2%
Standard & Poor's 500 – 4145, up 15 points or 0.4%
Dow Jones Industrial – 32803, down 42 points or 0.1%
10-year U.S. Treasury Note – 2.84%, up 0.2 point
Send us a question for our next podcast.
Not a Landaas & Company client yet? Click here to learn more.
More information and insight from Money Talk
Money Talk Videos
Follow us on Twitter.
Landaas newsletter subscribers return to the newsletter via e-mail.