Money Talk Podcast, Friday Aug. 4, 2023
Podcast: Play in new window | Download
Subscribe: iTunes | Android | Google Play | RSS
Landaas & Company newsletter  August edition now available.
Advisors on This Week's Show
Week in Review (July 31-Aug. 4, 2023)
Significant Economic Indicators & Reports
Monday
No major reports or releases
Tuesday
Employers' demand for workers eased slightly in June, with job openings falling to 9.6 million, the lowest in more than two years. Both hires and separations fell 5% in June, and the number of workers voluntarily quitting their jobs dipped to 3.8 million, also the lowest since 2021. That suggested employees were less confident in finding new jobs. Data from the Bureau of Labor Statistics showed openings remained still well above the pre-pandemic high of 7.5 million. Openings continued to far outnumber unemployed job seekers in June.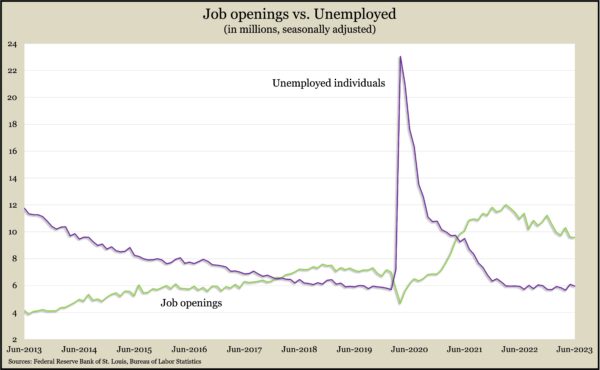 The manufacturing sector contracted in July for the ninth month in a row, though at a slower pace than in June, according to the Institute for Supply Management. The trade group's index, based on surveys of purchasing managers, showed demand and production strengthening marginally. Employment indicators in manufacturing worsened with expectations that they'll continue to decline. Based on past relationships between the index and gross domestic product, the ISM said the U.S. economy was receding at an annual rate of 0.8%.
The Commerce Department said construction spending rose for the sixth month in a row in June, gaining 0.5% from May and adding 3.5% from the year before. Housing accounted for 45% of all construction spending and was up 0.9% from the seasonally adjusted annual pace in May. Year to year, residential construction declined, except for multi-family housing. Spending on manufacturing construction increased 80% from June 2022.
Wednesday
No major reports or releases
Thursday
Worker productivity increased at a 3.7% annual rate in the second quarter, the strongest showing since the end of 2021, the Bureau of Labor Statistics. The gain came on 2.4% higher output as workers worked 1.3% fewer hours. It was the first quarter that work hours declined since the onset of the COVID-19 pandemic. Year to year, productivity rose 1.3%, the first gain since the end of 2021. Unit labor costs rose at a 1.6% annual rate and rose 2.4% from the year before. Hourly compensation, adjusted for inflation, rose at a 2.7% pace in the second quarter, but it was down 0.3% from the same time last year.
The four-week moving average for initial unemployment claims fell for the fifth week in a row, reaching its lowest level since March, 38% below the all-time average. A measure of employers' willingness to let go of workers, the jobless claims suggested continued tightness in the labor market. The Labor Department said fewer than 1.9 million Americans claimed jobless benefits in the latest week, down nearly 3% from the week before but up 27% from the year before.
The service sector of the U.S. economy grew at a slower pace in July, according to the Institute for Supply Management. The trade group's service index showed expansion for the seventh month in a row with fewer orders, less business activity and decreased hiring. The ISM said deliveries continued to improve following supply chain delays during the COVID-19 pandemic. The index suggested GDP was growing at a 1% annual rate.
Demand for commercial aircraft and parts propelled further growth in factory orders in June. The Commerce Department reported that total orders rose 2.3% from May, the fourth increase in a row and the sixth in seven months. Orders for commercial aircraft soared 69% from May. Excluding volatile orders for transportation equipment, orders rose 0.2% for the month and were down 1.3% from the year before, vs. a gain of  0.9% with transportation included. Core capital goods orders, a proxy for business investments, rose 0.1% from May and were up 2.6% from June 2022.
Friday
U.S. employers added 187,000 jobs in July, the Bureau of Labor Statistics reported. And while the jobs report was below the 12-month average of 312,000 additions, it marked the 31st consecutive month of gains despite a year of higher interest rates meant to slow the economy to lower inflation. The construction industry was among employers continuing to add jobs at an increased rate in July. Employment in temporary help services declined for the sixth month in a row. The unemployment rate ticked down to 3.5% from 3.6% in June, hovering around the lowest level since 1969.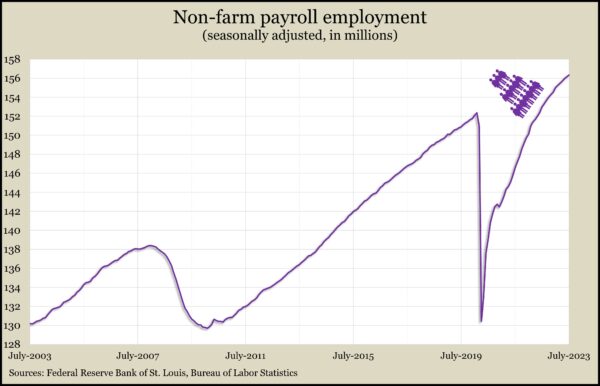 MARKET CLOSINGS FOR THE WEEK
Nasdaq – 13909, down 407 points or 2.8%
Standard & Poor's 500 – 4478, down 104 points or 2.3%
Dow Jones Industrial – 35067, down 392 points or 1.1%
10-year U.S. Treasury Note – 4.06%, up 0.09 point
Not a Landaas & Company client yet? Click here to learn more.
More information and insight from Money Talk
Money Talk Videos
Follow us on Twitter.