Money Talk Podcast, Friday Aug. 26, 2022
Podcast: Play in new window | Download
Subscribe: iTunes | Android | Google Play | RSS
Landaas & Company newsletter  August edition now available.
Advisors on This Week's Show
Week in Review (Aug. 22-26, 2022)
SIGNIFICANT ECONOMIC INDICATORS & REPORTS
Monday
No significant releases
Tuesday
The annual sales rate of new houses sank 12.6% in July and was 30% below the year-ago pace. The yearly rate of 511,000 houses sold was the lowest in six and a half years, according to the Commerce Department. The median sales price for a new house rose 8% from July 2021 to a record $439,400, Commerce reported. Meantime, the inventory of new houses for sale rose to 464,000, the most since March 2008.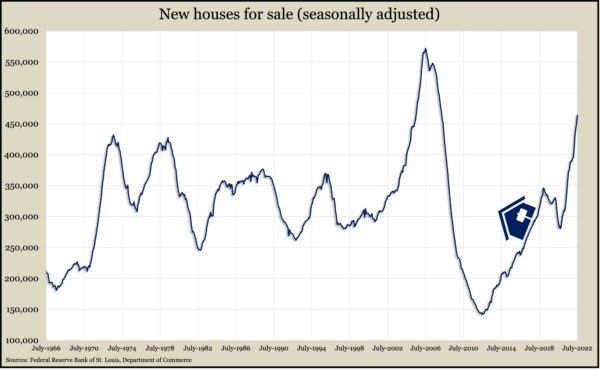 Wednesday
In another sign of weakened housing, the National Association of Realtors reported a second consecutive drop in pending home sales in July. The trade group said its index declined 1% from June, the eighth fall in nine months. The index was down 20% from July 2021. The association said affordability is at its lowest point since 1989, with the typical mortgage payment up 54% from the year before. However, it suggested the housing market could revive in early 2023 if mortgage rates steady and the labor market stays strong.
The Commerce Department said new orders for durable goods fell less than 0.1% in July, the first decline in four months. Commitments for commercial aircraft led a broad array of gains. Excluding the volatile transportation sector, orders rose 0.3% from June, better than analysts expected. Overall, demand for long-lasting manufactured items was up 11% from July 2021. Core capital goods orders, a proxy for business investments, rose 0.4% from June and were 10% ahead of the year before.
Thursday
The four-week moving average for initial unemployment insurance claims rose for the 18th time in the 20 weeks since hitting an all-time low in early April. At 247,000 claims, the average was the highest it has been since Thanksgiving, although it was still 33% below the 55-year average. The Labor Department reported that 1.4 million Americans claimed jobless benefits in the latest week, down 2% from the week before and down from 12 million the year before.
The U.S. economy receded at a 0.6% annual rate in the second quarter, down from an initially estimated decline of 0.9%, the Bureau of Economic Analysis reported. Consumer spending, which drives about 70% of  gross domestic product, rose at a pace of 1.5%, slightly better than the previous estimate of 1%. Upward revisions for inventories, exports and spending by state and local governments also moderated the second-quarter decline. Adjusted for inflation, the economy expanded by 1.7% from the second quarter of 2021; it grew 2.6% from the end of 2019, just before the pandemic.
Friday
The Bureau of Economic Analysis said consumer spending rose by 0.1% in July, suggesting continued economic growth though at a slower pace. That was down from a 1% gain in June. Personal income also weakened in July, a trend that has contributed to lower savings for consumers. In July, Americans saved 5% of disposable income, down from 8.3% in February 2020, at the onset of the COVID-19 pandemic. The report also showed that the Federal Reserve's main gauge of inflation declined by 0.1% in July and was up 6.3% from the year before. In June, the one-year inflation rate was 6.8%, still far above the Fed's long-term target of 2%.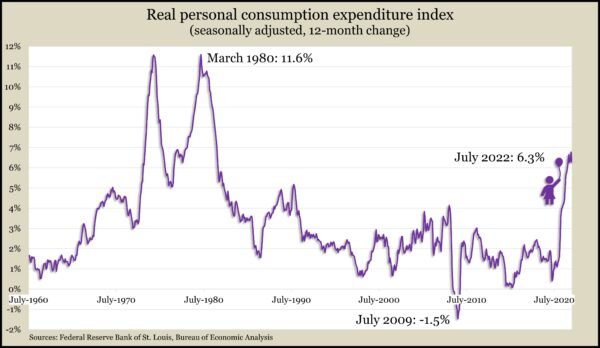 Considered a precursor to spending, consumer sentiment rose in August as slower inflation boosted economic expectations. Noting that "overall sentiment remains extremely low by historical standards," the University of Michigan said its index rose to 58.2 in August from 51.5 in July. It read 70.3 the year before. The survey's director said consumers' economic outlooks rose after two months at the lowest level since the Great Recession. Expectations for personal finances rose broadly with a slight easing in concerns about inflation.
MARKET CLOSINGS FOR THE WEEK
Nasdaq – 12142, down 564 points or 4.4%
Standard & Poor's 500 – 4058, down 171 points or 4.0%
Dow Jones Industrial – 32283, down 1424 points or 4.2%
10-year U.S. Treasury Note – 3.04%, up 0.05 point
Send us a question for our next podcast.
Not a Landaas & Company client yet? Click here to learn more.
More information and insight from Money Talk
Money Talk Videos
Follow us on Twitter.
Landaas newsletter subscribers return to the newsletter via e-mail.