Money Talk Podcast, Friday Aug. 12, 2022
Podcast: Play in new window | Download
Subscribe: iTunes | Android | Google Play | RSS
Landaas & Company newsletter  August edition now available.
Advisors on This Week's Show
Week in Review (Aug. 8-12, 2022)
Significant Economic Indicators & Reports
Monday
No major releases
Tuesday
The Bureau of Labor Statistics said second-quarter worker productivity sank by a record 2.5% from the year before. The decline, the worst in 74 years of data, resulted from a 1.5% increase in output and a 4.1% increase in hours worked. At an annualized rate, productivity fell 4.6% from the first quarter. Productivity is a volatile indicator of how well the U.S. economy is performing based on labor input. On average, productivity has gained 2.1% per year since 1948. The average annual growth since the pandemic has been 0.6%. The same report showed unit labor costs rising 9.5% over the last four quarters. That was the most in 40 years.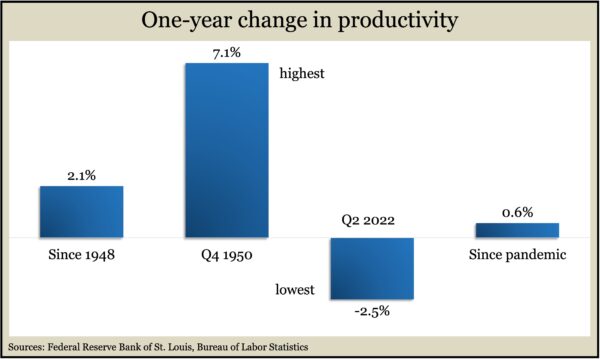 Wednesday
The broadest measure of inflation eased in July as gasoline prices continued to decline. The Bureau of Labor Statistics said the Consumer Price Index was unchanged from June after rising every month for more than two years. Although the price of food rose more than 1% for the month, the average cost of gas fell nearly 8%. The core CPI, which excludes volatile food and energy costs, rose 0.3% from June but with notable declines for used cars and air fares. Compared to July 2021, the CPI gained 8.5%, down from 9.1% in June, which was the highest since November 1991. The core CPI rose 5.9% from the year before, falling from the previous level for the fourth month in a row.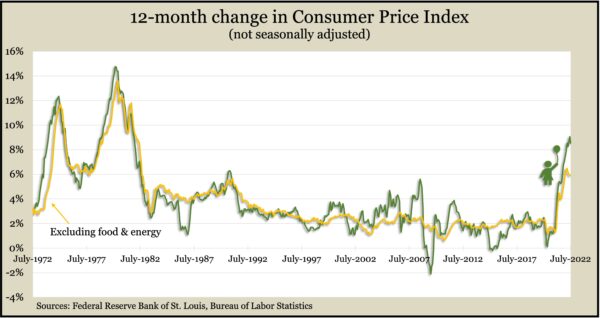 Thursday
The four-week moving average for initial unemployment claims continued to rise after hitting an all-time low 17 weeks before. The level of 252,000 new applications was the highest since Thanksgiving, and although it was 32% below the 55-year average, it was 31% above where it was just before the pandemic. A report from the Labor Department said the total number of claims rose 2% in the latest week to nearly 1.4 million. That was down from nearly 3 million the year before.
Inflation on the wholesale level declined 0.5% in July, led by a drop in gasoline prices. The Bureau of Labor Statistics said its Producer Price Index showed the demand for goods falling 1.8% from June — 80% owed to a 17% fall in gas prices. Excluding volatile prices for energy, food and trade services, the core PPI rose 0.2% for the month. Since July 2021, the PPI rose 9.8% — the lowest since October but still well above the Federal Reserve's target for 2% annual inflation. In the last year, the core PPI rose 5.8%, the lowest in 13 months.
Friday
Consumer attitudes improved slightly in early August from record low levels in June and July, according to the University of Michigan consumer sentiment index. The longstanding index rose to 55.1 in a preliminary August reading from 51.5 in July. It stood at 70.3 August 2021. Expectations rose broadly, especially among low- and middle-income respondents. Inflation continued to concern consumers, with 48% of respondents blaming it for eating into their living standards. Consumers' expectations of future inflation continued to settle at lower levels.
MARKET CLOSINGS FOR THE WEEK
Nasdaq – 13047, up 390 points or 3.1%
Standard & Poor's 500 – 4280, up 135 points or 3.3%
Dow Jones Industrial – 33761, up 958 points or 2.9%
10-year U.S. Treasury Note – 2.85%, up 0.01 point
Send us a question for our next podcast.
Not a Landaas & Company client yet? Click here to learn more.
More information and insight from Money Talk
Money Talk Videos
Follow us on Twitter.
Landaas newsletter subscribers return to the newsletter via e-mail.