Money Talk Podcast, Friday April 8, 2022
Podcast: Play in new window | Download
Subscribe: iTunes | Android | Google Play | RSS
Landaas & Company newsletter  April edition now available.
Advisors on This Week's Show
Week in Review (April 4-8, 2022)
SIGNIFICANT ECONOMIC INDICATORS & REPORTS
Monday
The Commerce Department reported a 0.5% decline in manufacturing orders in February, the first setback in 10 months. Demand for big-ticket commercial aircraft led the declines; automotive orders also fell. Excluding the volatile transportation equipment category, factory orders rose 0.4% from January and have been up every month since the pandemic recession ended in April 2020. Compared to February 2021, total orders were up 14.3% and up 12.9% excluding transportation. Core capital goods orders, a proxy for business investments, fell 0.2% for the month and were up 10.8% from the year before.
Tuesday
The U.S. trade deficit declined a smidge from its record gap in January to $89.2 billion in February. The Bureau of Economic Analysis reported that imports grew at a slightly slower rate than exports in February. Imports rose by 1.3%, led by crude oil and other industrial chemicals, which offset a decline in automotive shipments. There also was a surge in payments for intellectual property associated with broadcast rights to the winter Olympics. U.S. exports rose 1.8%, led by industrial supplies, consumer goods and travel services. The deficit, which detracts from gross domestic product, results from the value of imports exceeding that of exports.
The U.S. services sector continued expanding in March, accelerating for the first time in four months, according to the Institute for Supply Management. The trade group's services index showed the 22nd consecutive month of growth and has expanded all but two of the latest 146 months. Despite health momentum, purchase managers surveyed for the index repeated ongoing concerns about supply chains, inflation and geopolitical uncertainty. They suggested hiring challenges have eased somewhat with fewer public health restrictions.
Wednesday
No major reports
Thursday
After the Labor Department updated calculation methods to better reflect seasonal fluctuations, the four-week moving average for initial unemployment claims fell to its lowest level in 55 years of data. Average claims reached 170,000 in the week ended April 2, down 54% from the all-time average and 11% below the low just before the pandemic. Low unemployment insurance claims reflect the reluctance of employers to part with workers.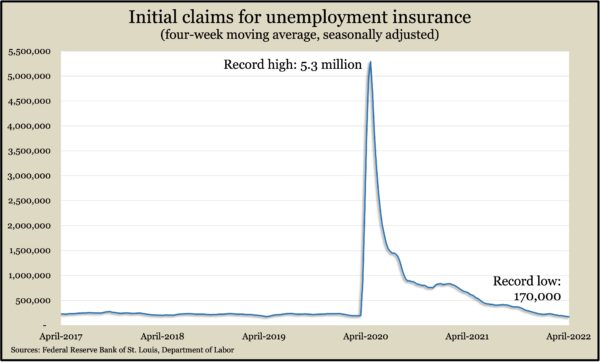 The Federal Reserve reported that consumer credit card debt rose in February for the ninth month in a row. With consumer spending driving about 70% of U.S. economic activity, credit card debt can signal consumers' ability and willingness to spend. Since peaking just before the pandemic, such debt is still down $34 billion or 3.1%, unadjusted for inflation. It took almost 10 years for credit card debt to recover from the Great Recession.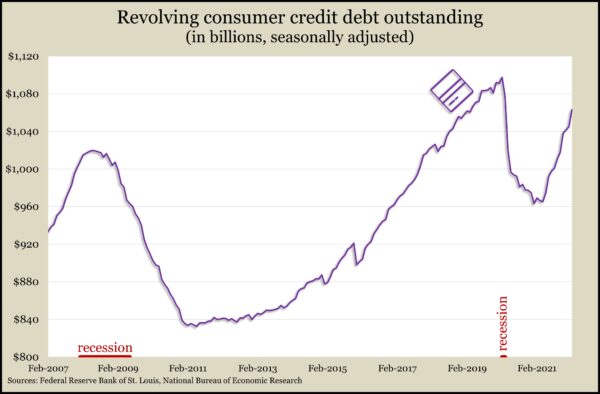 Friday
No major reports
MARKET CLOSINGS FOR THE WEEK
Nasdaq – 13711, down 551 points or 3.9%
Standard & Poor's 500 – 4489, down 57 points or 1.3%
Dow Jones Industrial – 34723, down 95 points or 0.3%
10-year U.S. Treasury Note – 2.71%, up 0.34 point
Send us a question for our next podcast.
Not a Landaas & Company client yet? Click here to learn more.
More information and insight from Money Talk
Money Talk Videos
Follow us on Twitter.
Landaas newsletter subscribers return to the newsletter via e-mail.