Money Talk Podcast, Friday April 28, 2023
Podcast: Play in new window | Download
Subscribe: iTunes | Android | Google Play | RSS
Landaas & Company newsletter  May edition now available.
Advisors on This Week's Show
Week in Review (April 24-28)
Significant Economic Indicators & Reports
Monday
No major releases
Tuesday
Elevated mortgage rates and economic uncertainty continued to weaken demand for housing, resulting in lower gains in residential prices in February, according to the S&P CoreLogic Case-Shiller home price index. The national index rose by 2% from the year before, the lowest 12-month increase since August 2012. The year-to-year gain has decelerated every month since hitting a record 20.8% in March 2022.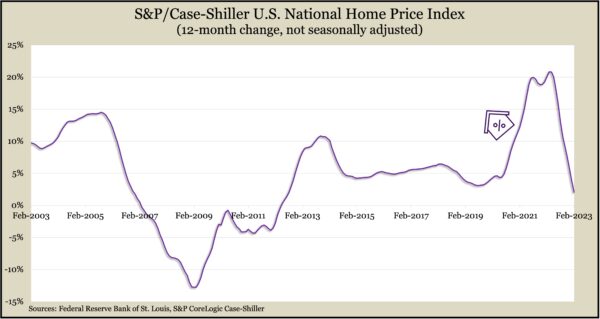 The Commerce Department said the annual rate of new home sales rose 9.6% in March, though it was down more than 3% from the year-earlier pace and just below the level going into the COVID-19 pandemic. The supply of new houses for sale rose to the highest level since November, according to seasonally adjusted estimates. The cost of ownership continued to rise. The median sales price was up 3% from March 2022 to $449,800.
The Conference Board said its consumer confidence index declined in April with expectations falling below a level associated with impending recession for the 13th time in 14 months. The business research group said consumer attitudes toward current economic conditions picked up from March and expectations for inflation in the next year were unchanged, at around 6%. But fewer consumers reported plans to spend on big-ticket items such as cars, appliances and vacations. Consumer spending accounts for about two-thirds of U.S. economic activity.
Wednesday
Manufacturing demand picked up in March, with durable goods orders rising 3.2% from February, the first increase in three months, according to the Commerce Department. Gains were led by a 78% rise in commercial aircraft orders. Excluding volatile transportation equipment, durable goods orders rose 0.4%. Since March 2022, all orders rose 3.3%, including 1.5% without transportation. Core capital goods orders, a proxy for business investment, declined 0.4% from February and were up 1.4% from March 2022.
Thursday
The U.S. economy grew at an annual pace of 1.1% in the first quarter, the slowest rate for the gross domestic product since back-to-back declines to start 2022. The Bureau of Economic Analysis reported consumer spending rose at a 3.7% rate in the first three months of 2023, which was the fastest pace in seven quarters. Offsetting that were weaker spending by businesses and the eighth consecutive quarter of declines for housing. Adjusted for inflation, GDP was up 1.3% from the first quarter of 2022 and 5% above the peak prior to the pandemic. The Federal Reserve Board's preferred measure of inflation rose 4.9%, the lowest in six quarters.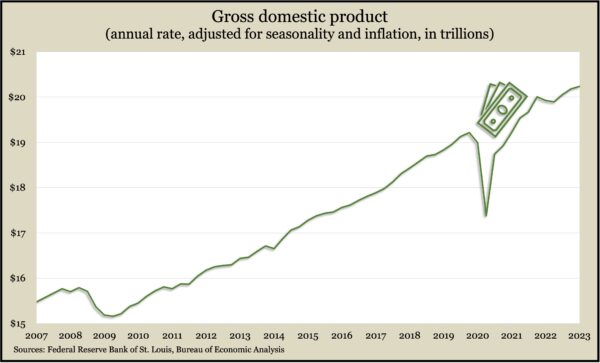 The four-week moving average for initial unemployment claims fell for the second week in a row and the third time in four weeks. The average was 36% below the 56-year average, according to Labor Department data. In the latest week, 1.8 million Americans claimed jobless benefits, down 0.4% from the week before and up from 1.6 million the year before.
The National Association of Realtors said its index of pending home sales fell 5.2% in March, the first decline in four months. The trade group's index was down 23% from the year before. An economist for the association blamed low inventory for the latest setback, noting that there's still enough demand for houses that about a third of March sales involved multiple offers and 28% sold for more than the asking price. The Realtors forecast a 9% drop in houses sold this year and projected a 15% rebound in 2024.
Friday
The Bureau of Economic Analysis said consumer spending rose less than 0.1% in March as increased expenditures on services such as housing and health care were offset by lower outlays for goods, including cars. The pause in spending came as personal income rose 0.3% from February, resulting in the personal savings rate (5.1% of disposable income) rising for the sixth month in a row. The personal consumption expenditures index, which the Fed follows for inflation, rose 4.2% from March 2022, the lowest inflation rate in nearly two years. The Fed's long-range target is 2%.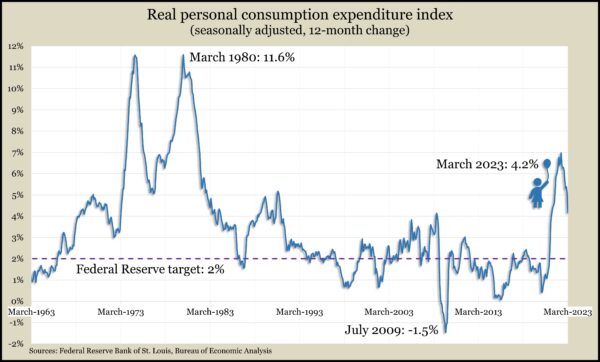 Often a pre-cursor to spending, consumer sentiment, rose slightly in April but stayed low historically. The longstanding survey from the University of Michigan showed consumer outlooks barely budging while feelings toward current conditions improved marginally. The university said ongoing expectations of elevated inflation were eating into consumers' assessment of their personal finances.
MARKET CLOSINGS FOR THE WEEK
Nasdaq – 12227, up 154 points or 1.3%
Standard & Poor's 500 – 4170, up 36 points or 0.9%
Dow Jones Industrial – 34099, up 290 points or 0.9%
10-year U.S. Treasury Note – 3.45%, down 0.12 point
Not a Landaas & Company client yet? Click here to learn more.
More information and insight from Money Talk
Money Talk Videos
Follow us on Twitter.