Money Talk Podcast, Friday April 14, 2023
Podcast: Play in new window | Download
Subscribe: iTunes | Android | Google Play | RSS
Landaas & Company newsletter  April edition now available.
Advisors on This Week's Show
Week in Review (April 10-14, 2023)
SIGNIFICANT ECONOMIC INDICATORS & REPORTS
Monday
No major announcements
Tuesday
No major announcements
Wednesday
Overall inflation kept slowing in March, reaching a 5% year-to-year rate, falling from as high as 9% in June. The Consumer Price Index, the broadest measure of inflation, remained above the Federal Reserve's long-range target of 2%, but it was the lowest 12-month rate since May 2021. The Bureau of Labor Statistics said shelter costs accounted for the bulk of a 0.1% CPI increase from February. Grocery prices dropped for the first time since September 2020, and gasoline receded nearly 5%. Excluding prices for volatile food and energy products, the core CPI rose 0.4% from February. The core rate rose to 5.6% from the year before, up from 5.5% in February.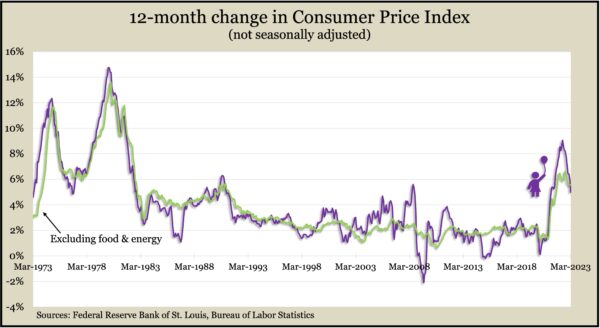 Thursday
Inflation on the wholesale level sank 0.5% in March with the Producer Price Index declining for the second time in four months. Lower prices on goods – particularly gasoline – accounted for two-thirds of the drop in the index, but services also cost less overall. The Bureau of Labor Statistics reported the index rose 2.7% from March 2022, the lowest 12-month gain since the beginning of 2021 and down from 11.6% in March 2022. The core Producer Price Index – which excluded volatile prices for energy, food and trade services – rose 0.1% from February, the lowest since May 2020.
The four-week moving average for initial unemployment claims rose for the ninth time in 10 weeks, reaching nearly the highest level since November 2021. Claims averaged 240,000 in the most recent reading from the Labor Department, down 35% from the average level dating back to 1967. Altogether, 1.9 million Americans claimed jobless benefits in the most recent week, down 1.7% from the week before but up from 1.7 million at the same time last year.
Friday
Lower gas prices helped fuel a 1% decline in retail sales in March, the fourth drop in five months. Of 13 categories, gas stations were among eight where sales fell in March. Lower prices meant gas stations took in less revenue than the month before. Other retailers with declining sales included home-and-garden centers, appliance stores and car dealerships. The Commerce Department reported total retail sales rose 2.9% from March 2022, with five categories reporting declines. Since February 2020, just before the COVID pandemic, retail sales have risen 31%; they're up 13% after adjusting for inflation.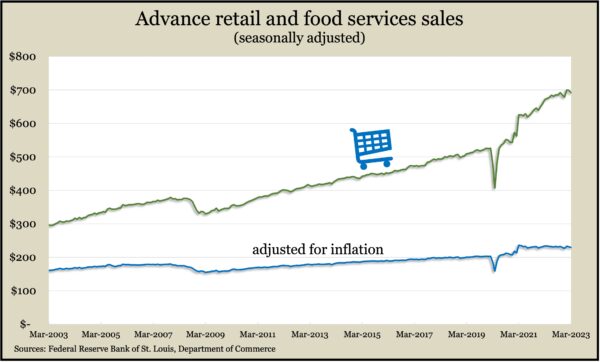 The Federal Reserve said a return to more seasonal weather in March accounted for a 0.4% rise in industrial production, the third consecutive increase. Output from utilities rose 8.4% after an unseasonably warm February. Production for mining operations and manufacturers declined in March. Manufacturing shrank in particular in building supplies, business equipment and durable consumer goods. Overall industrial production rose at a 0.2% annual pace through the first three months of 2023. Capacity utilization, a measure of potential inflation, ticked above its long-term average for the first  time since December. Manufacturing and utilities were below their long-term levels while mining remained above normal.
A preliminary April reading of consumer sentiment suggested Americans are marginally more optimistic about the future, though they still worry about inflation. The survey-based index from the University of Michigan was up 27% from its all-time low in June but about 3% below where it was a year ago. An economist with the study said respondents acknowledged a recent slowing in the rate of price increases, but they raised their expectations of inflation a year from now to 4.6%, up from 3.6% in March. Consumers' longer-range inflation forecast stayed around 3%.
MARKET CLOSINGS FOR THE WEEK
Nasdaq – 12123, up 35 points or 0.3%
Standard & Poor's 500 – 4138, up 33 points or 0.8%
Dow Jones Industrial – 33886, up 401 points or 1.2%
10-year U.S. Treasury Note – 3.52%, up 0.23 point
Not a Landaas & Company client yet? Click here to learn more.
More information and insight from Money Talk
Money Talk Videos
Follow us on Twitter.