Uncertainties distract from fundamentals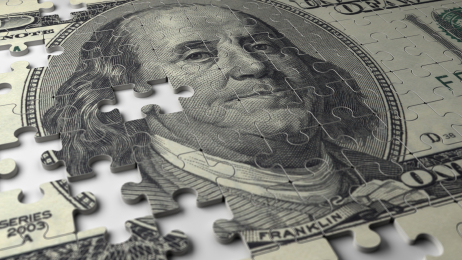 By Kyle Tetting
Stock market volatility abruptly returned in October after a stretch of 74 trading days without as much as a 1% change in the S&P 500. The CBOE Volatility Index – known as the fear gauge – doubled during the month, suggesting traders believe the wider swings may persist.
Big fluctuations and a string of losses can be disconcerting, but it's important to remember that volatility is the norm – especially this late in an economic expansion that has lasted more than nine years.
At the root of October's volatility is ongoing uncertainty over a variety of matters. Of course, a bit of uncertainty can encourage those investors who are willing to exchange certainty for higher potential returns, but too much uncertainty can create a negative feedback loop and slow economic growth as businesses and consumers wait for clarity.
Near the top of uncertainties for both businesses and investors is the impact of trade wars on corporate profitability and economic growth. Concern about tariffs has made its way into dozens of earnings calls ranging from U.S. retailers to heavy equipment manufacturers. For such businesses, higher input costs will be passed on to customers or damage the bottom line. Without a clear end to escalating trade tensions, businesses have been less willing to invest, despite the intention of corporate tax cuts.
The impact of rising interest rates also contributes to uncertainty, especially given the rhetoric surrounding the Federal Reserve. Investors tend to cheer the early stages of rate increases as they signal an economy that is regaining its health. But now, after eight interest rate hikes by the Fed, concerns are emerging over how far, and how quickly, the central bank will go and what its actions might mean for stocks.
The Fed's moves and weakness in many non-U.S. economies has led to a strengthening dollar for much of 2018. While the recent trend may have swung a little too far to dollar strength, a major reversion appears unlikely as long as the U.S. remains the only central bank in the world raising rates.
A stronger dollar may seem encouraging, but it hurts the competitiveness of U.S. businesses selling in foreign countries because it makes U.S. products more expensive abroad. With more than 43% of S&P 500 sales occurring outside the U.S., uncertainty about the direction of the dollar will weigh on earnings in 2018 and beyond.
Renewed economic weakness in Europe and an ongoing slowdown in China have heightened uncertainties outside the U.S. For Europe, economic sluggishness and political unrest raise questions about how soon other central banks can join the Federal Reserve in raising interest rates. In China, slower global growth and a transition from government spending to consumption have weighed on economic momentum.
Such factors have challenged non-U.S. stocks as well as the U.S. multinationals that rely on global growth, which has broken away from the synchronized expansion that occurred in 2017.
Finally, here in the U.S. we face a high-stakes midterm election that could provide more clarity about the direction of domestic politics the next two years. While there is no shortage of prognostications about what market impact the various political outcomes might have, even a decisive win by one side or the other will still leave many questions unanswered.
Bob Landaas spoke of strong corporate profits and a cautiously optimistic economic outlook, at least in the near-term, at our investment seminar in September. Despite all the uncertainties – most of which existed at the time – little has changed about the fundamental outlook.
And, importantly, valuations have improved. The S&P 500 now trades at about a 5% discount to its 25-year average forward P/E. While the current discount can certainly widen, stocks are once again providing some potential return for the uncertainty investors are taking.
October's S&P decline will go down as one of the worst months since the Great Recession, and the latest uncertainties won't disappear overnight. Fortunately, proper diversification worked again in the October decline. High-quality short-term bonds held their own, providing ballast to portfolios and buying time to gain more certainty around some of the questions that are confounding investors. Removing some uncertainty should allow investors to refocus on the things that matter.
Kyle Tetting is director of research and an investment advisor at Landaas & Company.
(initially posted November 1, 2018)
Send us a question for our next podcast.
Not a Landaas & Company client yet? Click here to learn more.
More information and insight from Money Talk
Money Talk Videos
Follow us on Twitter.
Landaas newsletter subscribers return to the newsletter via e-mail.