Bob's View: This time, it is different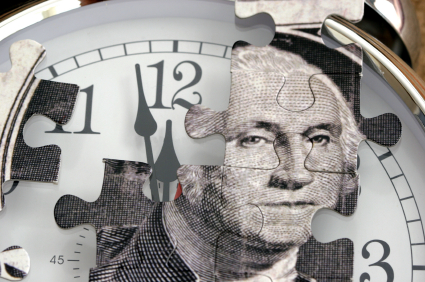 By Bob Landaas
I normally cringe when people tell me, "This time, it's different." This time, though, it truly could be different when it comes to corporate earnings.
Typically, when corporate earnings decline, it can indicate that stocks are headed for a fall, that we're heading into an economic recession, that we're heading into an earnings recession.
This time around, though, it's clearly different. Earnings are going down mostly because of lower oil prices and the stronger dollar.
Analysts expect first-quarter earnings to decline 3%-4% compared to a year earlier. Much of the decline can be explained by lower oil prices and the strong dollar. So, earnings forecasts for the next few years are dependent on an oil recovery and a stable dollar.
It would be the first time in six years that earnings have declined so much. This time, though, we're looking at fairly unique circumstances.
If you look at oil companies, their earnings year-over-year for the first quarter are supposed to plunge 64%. That's a big number.
Also, take a look at the pressure that the stronger dollar is putting on U.S. multinational corporations. A stronger dollar makes U.S. exports more expensive. It has already reduced the earnings of large multinationals that do a significant amount of international business. When U.S. corporations repatriate their earnings back to U.S. dollars, it takes more foreign currency to buy the same dollar, so that further diminishes their earnings.
Much depends on when oil prices recover. Forecasts show that if they rebound by the end of the year, we'll have strong earnings growth in 2016. If oil does not recover by the end of the year, the earnings recovery will be delayed.
Always keep in mind that stocks trade on future expectations.
Oil prices plunged dramatically this past year, based on oversupply and weak demand, and it really upset the apple cart. Schlumberger announced recently that it's laying off 11,000 workers. That's after Halliburton and Baker Hughes and others have laid off thousands of people.
Their earnings are taking a big hit. As a result, you're seeing negative comparisons with the first quarter of last year. Yet, the markets have held up relatively well, despite that earnings drought.
We may be approaching a point where oil prices have bottomed out, and the dollar may have peaked against the euro and other major currencies.
One of the chief reasons why the dollar is stronger is that it is widely perceived that the U.S. is on the cusp of raising rates while the rest of the world has either lowered rates or is going to lower rates fairly shortly. As a result, money migrates to whatever environment favors higher rates.
The U.S. rate increase is starting to fade into the background. Just a couple of months ago, everybody thought it was a foregone conclusion that rates were going to head higher in June. Now two-thirds of the analysts think the Fed won't raise rates even in September. They keep kicking that proverbial can down the road.
If it seeps into the collective consciousness that the Fed is not in a hurry to raise rates – that the economic numbers are not yet strong enough – you're going to see the dollar level off. The dollar can't keep rallying if it's perceived that the Fed is in no hurry to raise the rate.
If the Fed came right out and said we are not going to raise in June or September or even November, that could lay the foundation for the dollar to stabilize. In fact, the dollar has fallen against the euro lately on hopes that the Fed will postpone a rate increase.
At $56 a barrel for West Texas Intermediate, we're on our way to a recovery in oil as well. If you get a decent recovery in oil prices this year, we've got a shot at double-digit earnings growth next year.
By this summer – which is only a couple of months away, the pros are going to be looking at 2016. They're no longer going to be glued to what happens this year.
That's what investors have to position for. That's what you need to take advantage of – not what you so often see as headlines in the news about what has been. What has happened is already baked into the cake. It's already part of the equation. That's already factored into the stock prices.
What isn't factored into the stock prices is an eventual rebound in oil prices, a stabilization of the dollar and, as a result, a nice increase in earnings.
Bob Landaas is president of Landaas & Company.
(initially posted April 24, 2015)
More information and insight from Money Talk
Landaas newsletter subscribers return to the newsletter via e-mail.